Virginia Tile hosted their first National Sales Meeting to celebrate their teams record breaking sales in 2022 and set the team up for greater success in 2023. This event brought together over 135 of Virginia Tile's sales force from throughout the Midwest for a two-day conference focused on training, collaborating, and team building. The National Sales Meeting was held near Elk Grove, IL, where Virginia Tile opened their second flagship showroom and distribution center.
The first day featured renowned keynote speaker Carlos Mendez from Echelon Front, an organization that helps businesses develop high-performance teams through ownership, strategy, and leadership. The sales team received training on customer engagement and topped the night off with a Trade Show featuring their top vendor partners.
"We are thrilled to have hosted our first National Sales Meeting in 2023," said Virginia Tile CEO, Sunil Palakodati. "This event is an important opportunity for our sales teams to come together, share insights, and collaborate on ways to better serve our customers. This event was a tremendous success, and we look forward to seeing the impact it will have on our business."
Virginia Tile's second day started out with an award ceremony recognizing our sales team for their 2022 accomplishments. Nathan Jamail, continued training by expanding on sales in the field, coaching, and skill development to achieve goals. He is the author of multiple books, including "The Sales Leaders Playbook" and "The Sales Professionals Playbook" and professional keynote speaker.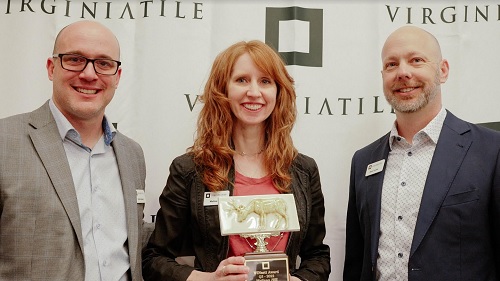 The National Sales Meeting is part of Virginia Tile's ongoing commitment to providing their sales teams with the tools and resources they need to be successful. Virginia Tile has been a leader in the tile industry for over 90 years, and this event will further solidify its position as a top provider of high-quality tile products and services.
---
Virginia Tile
Virginia Tile Company ("VTC," or the "Company") is the leading specialty distributor of ceramic, porcelain, and natural stone tile in key metropolitan markets throughout the Midwest. Founded in 1928 by the Stephenson family, Virginia Tile serves trade professionals in both residential and commercial end markets with a broad selection of premium tile and related products. VTC was acquired from the family ownership group in 2014 and was expanded through the purchase of ISC Surfaces (Kansas) and RBC Tile & Stone (Minneapolis) in 2016