The Houzz 2020 Bathroom Trends Study reveals popular features, styles and colors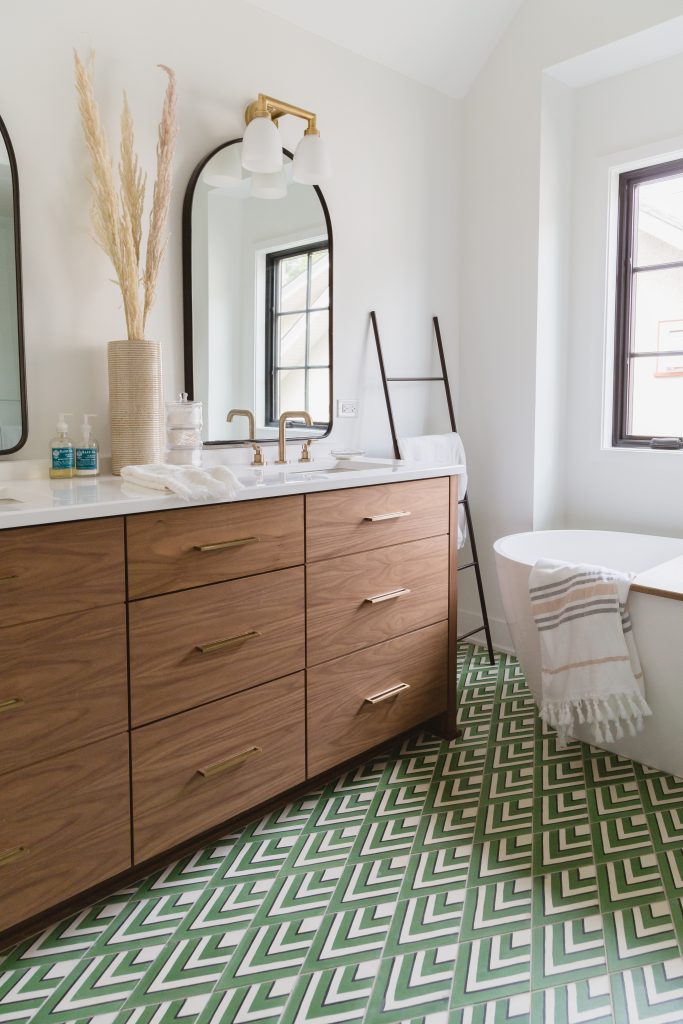 Wall finishes, floors and showers – all target areas for the use of tile in a bathroom – tie at 83% of upgrades in a home bathroom, coming in second only to faucets at 87%, according to the 2020 U.S. Houzz Bathroom Trends Study. 79% of homeowners seek new countertops in bathroom renovations – another perfect application for porcelain slab or engineered stone. The study surveys nearly 1,600 U.S. homeowners using Houzz who are in the midst of, are planning, or recently completed a master bathroom renovation.
An old or outdated space is by far the leading pet peeve for homeowners prior to a master bathroom renovation (69%, up from 59% in 2019), according to the study. Nearly nine in 10 renovating homeowners change the style of their master bathrooms as one way to bring it up to date (89%), with modern leading the way (20%), followed by transitional and contemporary (18%, each).
Insufficient storage, small showers, poor lighting and limited counter space are among homeowners' other leading grievances (34%, 34%, 29% and 25, respectively). These coincide with the features most often upgraded during a master bathroom renovation including showers, light fixtures, countertops and vanity cabinets (83%, 80%, 79% and 74%, respectively). To address small showers, a majority of homeowners renovating their master bathrooms are increasing the size of their showers (54%), more than twice as many as those choosing to increase their bathroom's overall size (20%).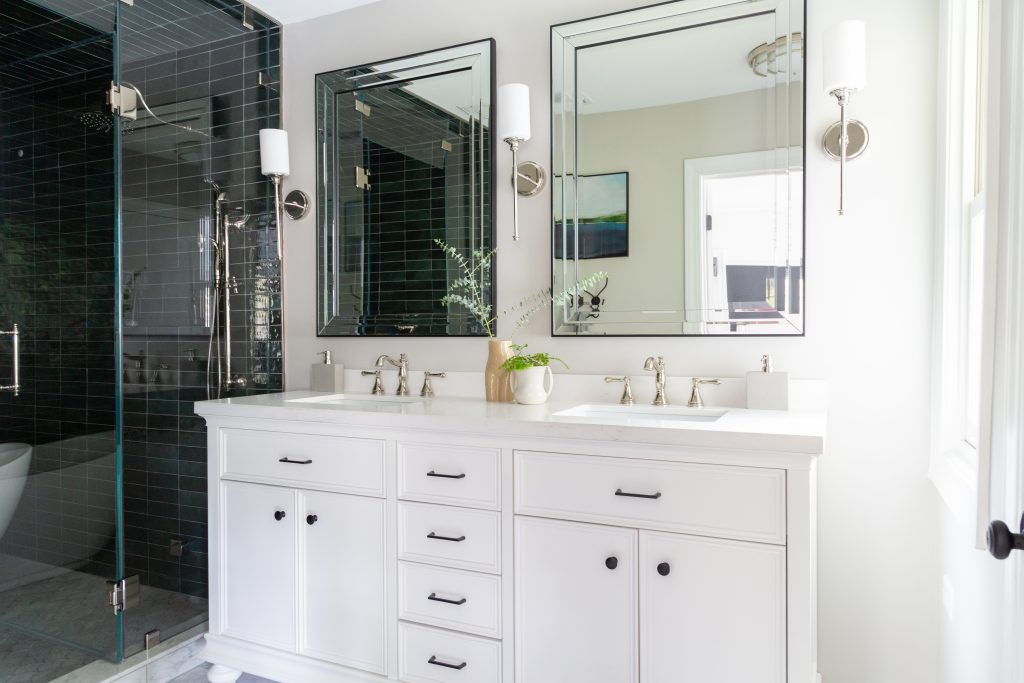 "We're seeing that spending so much time at home is bringing a functional, beautiful bathroom to the top of the priority list for many homeowners," said Liza Hausman, Houzz vice president of Industry Marketing. "They're enlisting home professionals to bring bathrooms up to date with more current styles, and upgraded features like storage and lighting."
More than four in five homeowners hired a professional to help with their master bathroom project (82%). General contractors were enlisted most often (43%), though renovating homeowners also hire specialists including bathroom remodelers and bathroom designers (20% and 12%, respectively).
Bathroom renovations continue to command significant investment, with homeowners undergoing a major remodel, including a shower update, spending three times more than those doing minor remodels and leaving the shower as is (median spend of $14,000 versus $4,500). Bathroom size also impacts budget. Homeowners who remodel a master bathroom larger than 100 sq.ft. have a median spend of $7,000 more than those with a bathroom smaller than 100 sq.ft. ($17,000 versus $10,000, respectively). That said, the median national spend on master bathroom remodels is $8,000.
Top trends
Additional bathroom trends from the study include:
Designing for R&R: Two in 5 renovating homeowners report using their bathroom to rest and relax (41%). The bathtub and shower are equally important features, with 55% of renovators saying soaking in the tub helps them to relax and 54% enjoying long showers.
Bathtub soakingis down seven percentage points from last year, which might explain why only 10% of renovators are adding a bathtub (down two percentage points from 2019). In fact, renovators often opt to remove tubs in favor of enlarged showers. Those who do replace tubs most often (53%) choose flat-bottom, freestanding tubs, with deck-mounted tubs falling out of favor. Acrylic tops the material list for tubs (55%), with fiberglass falling five percentage points to 14%, while ceramic or porcelain increased six percentage points to 11% from 2019.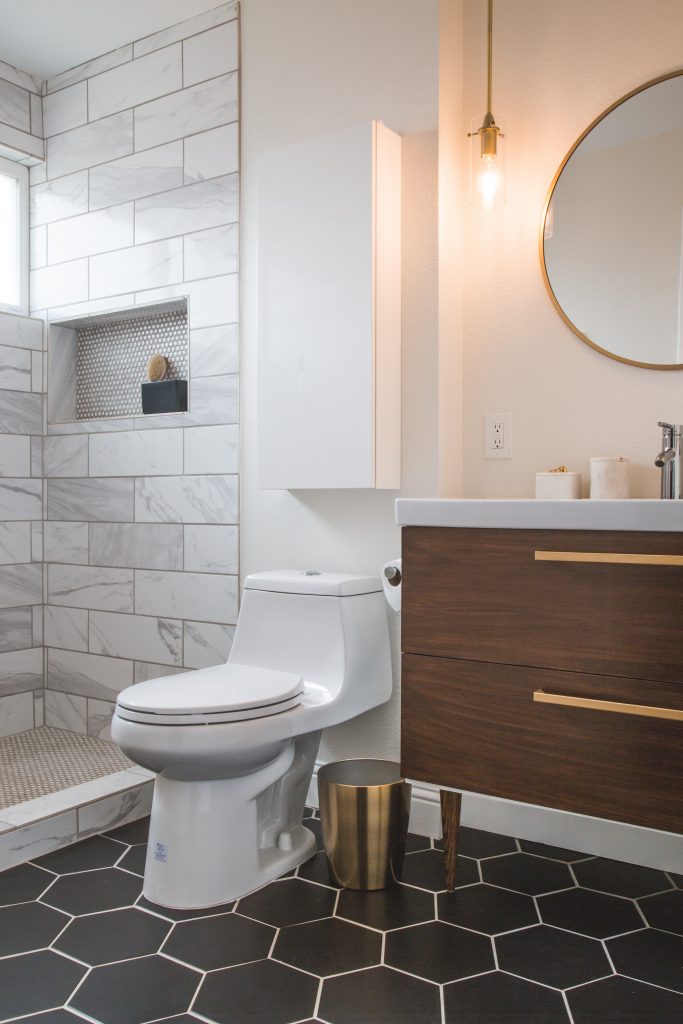 Ceramic and porcelain rule for shower floors and walls: For those tackling shower walls, 70% favor ceramic or porcelain for wall finishes, up four percentage points from 2019. A majority of homeowners (56%) choose ceramic or porcelain for shower floors too. Marble comes in second for walls but only at 15%, and 13% for floors, the latter down five percentage points from 2019. Paint is the favorite for walls outside of showers (77%) but ceramic or porcelain bathroom walls come in next at 26%. Ceramic or porcelain is the runaway favorite for floors outside showers (59%), though it's dipped four percentage points from 2019, with vinyl/resilient increasing four percentage points to 11%.
Light and bright: White continues to be the top choice in master bathroom colors, with more than half of homeowners choosing white countertops (51%) and a significant portion opting for white walls both inside and outside of the shower (45% and 32%, respectively).
Surface material distinguishes accent walls: More than a third of homeowners add or upgrade an accent wall during a master bathroom renovation (37%). Top colors include white (23%, up from 15% in 2019), followed by gray (21%) and blue (19%). Many use surface material to distinguish accent walls (51%, up seven percentage points from 2019), while standout color, pattern, and texture are also popular (45%, 41% and 28%, respectively).
Customized, built-in and floating vanities abound: Of the three quarters of renovating homeowners who upgrade their vanity (74%), the majority choose to go with custom or semi-custom options (36% and 21%, respectively). Vanities are twice as likely to be built-in as opposed to freestanding (56% versus 28%, respectively), and floating vanities are growing in popularity (15% in 2020 versus 11%
in 2019).
Lighting features are key: Among the eight in 10 renovating homeowners who update light fixtures during their master bathroom renovation, wall lights and recessed lights remain the favorites (58% and 55%, respectively), followed by lighted mirrors and pendant lights (17% and 15%, respectively). Six percent install under-cabinet lights, likely tied to the popularity of floating vanities.
Installing many lit mirrors: Of the three in four homeowners who install new mirrors during a master bathroom renovation (77%), more than half install two or more mirrors (62%). The percentage of renovators installing three or more mirrors is growing (10%, compared with 7% in 2019). One in five renovators also install LED lighting in their mirrors, a significant increase from 2019 (20% versus 14%, respectively).
Touch-Free features on the rise: Nearly half of all new faucets and one-third of toilets (48% and 34%, respectively) include high-tech features. Water efficiency is the leading faucet technology (28%), but a growing percentage of faucets offers touch-only or touch-free activation (5%, up two percentage points from 2019). Nearly one in five homeowners who upgrade their toilet add a seat with a bidet (17%), up four percentage points from 2019.
You can download the full 2020 U.S. Houzz Bathroom Trends Study here.
The "U.S. Bathroom Trends Study" is an online survey fielded to U.S. Houzz users between June and July 2020.