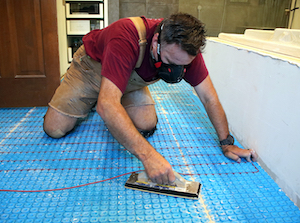 Lake Zurich, Ill., Sept. 30 2021 – According to a recent industry report, floor heating sales growth in Q2 2021 was largely driven by increased purchases of floor heating rolls and floor heating cables.
WarmlyYours, a manufacturer specializing in electric floor heating, released their "Q2 2021 Industry Report" earlier this week. This quarterly report analyzes the sales of radiant heating products within the wider context of the national housing and remodeling markets. One of the primary conclusions drawn in the report was that large floor heating growth in the second quarter of the year (floor heating sales were up 23% compared to prior year period) was due to increased sales of both floor heating rolls (up 18.9%) and floor heating cables (up 22.5%) which were the largest volume contributors to floor heating sales (the TempZone Cable and the TempZone Flex Roll made up 68% of all floor heating sales for WarmlyYours in the second quarter).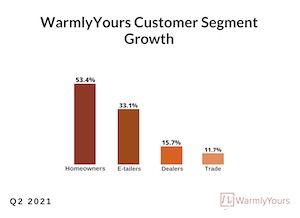 Julia Billen, owner and president of WarmlyYours, said that she believes that cable and roll related heating elements have been enjoying a resurgence in popularity due to word of mouth amongst professional installers.
"Many professional installers will trade tips and tricks with one another in person and online," said Billen. "And once they find a system that they like—one that is easy to install, simple to understand, and most importantly, reliable—then they're going to not only continue to purchase that system but to also advocate for it to their colleagues and clients. And the trusted word of a professional is the best kind of advertising in the world!"
Billen also said that the products themselves are just one part of pairing professionals with the right floor heating system— the design process is an often overlooked but extremely important part of any successful installation.
"Making sure that your design team is asking the right questions during the entire process and then using that information to design the system is the secret of our success," said Billen. "And I don't mind sharing that information with the industry because it's not easy to do. We put a lot of time and resources into training our teams to do this effectively and it's clearly paying off."
Billen said that she fully expects to see continued sales growth for both floor heating cables and rolls moving forward.
###
To read the full report, click here.
---
About WarmlyYours Radiant Heating:
For over 20 years, WarmlyYours Radiant Heating has offered the industry's most innovative solutions in radiant heating technology, from our flagship floor heating systems and radiant wall panels to snow melting systems, as well as comfort products, including towel warmers, mirror defoggers, shower floor and bench heating, and countertop heaters. With locations in the United States and Canada, WarmlyYours provides unrivaled personalized customer support from start to finish, featuring measuring and design services, 24/7 technical support, and our No Nonsense™ Warranty.
For more information, visit www.WarmlyYours.com.