Warmup is excited to announce the latest addition to its programmable thermostat line. The Warmup Tempo
®

 
thermostat provides energy-efficient programming features on a user-friendly display.

 
For customers looking for an easy way to control the underfloor heating in their homes, the Tempo
®
thermostat is an affordable solution with a familiar interface.
The Tempo
®

 
thermostat was delivered by Warmup's R&D team to address the need for an attractive and user-friendly programmable thermostat to be used with its underfloor heating cables. The thermostats turn-dial operation is comparable to the original iPod design making its adoption virtually seamless for many consumers.
No Fuss Features
Like Warmup's sophisticated 4iE®

 

Smart thermostats, the

 

Tempo®

 

thermostat

 

is designed to minimize energy usage. By simply following the suggested programming and Early-Start features, users can limit energy consumption while maintaining a comfortable space.
Installation and Operation
The Tempo®

 

is a line voltage thermostat that mounts horizontally and is suitable for 120 and 240 volt systems. The unit is designed to be used in conjunction with Warmup's underfloor heating cables and can handle a load of 15A. The thermostat has the capability to receive temperature input from the floor sensor or the unit's built-in air sensor.

 
To program, move the sliding levers on the right-hand side and along the bottom. To change the temperature, use the turn-and-click dial.
If the space is vacant the unit can be switched to off mode or to frost protection mode depending on consumer needs. Selecting frost protection on the Tempo®

 

thermostat will ensure that the heating target does not fall below 41°F (5°C).
Where can I purchase the Tempo® thermostat?
For more information, please visit www.warmup.com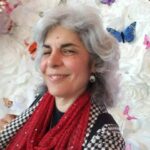 Editorial Director and Senior Writer for TileLetter and TileLetter ARTISAN
Lesley Goddin has been writing and journaling since her first diary at age 11. Her journey has taken her through a career in publishing and publicity, landing her the editor position of TileLetter and its special publications in 2006. Her goal is to educate, inspire, recognize and encourage those in the tile industry -- especially the tile and stone contractor. Other interests include the soft, purring marvels known as cats, labyrinth walking, drumming and percussion, and a range of spiritual, musical and artistic pursuits.