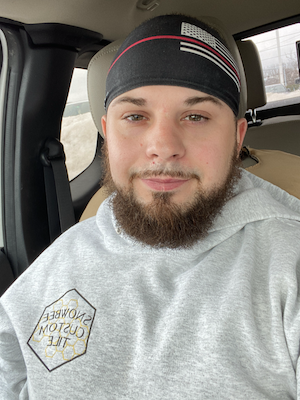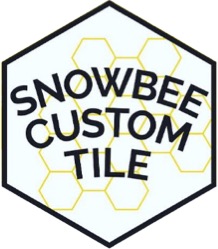 Aryk Snowberger and his wife Rochelle, started Snowbee Custom Tile LLC (www.snowbeecustomtile.net) in Canton, Ohio in January 2021. Not only was this in the middle of the pandemic, Snowberger was battling digestive-related illness most days, and then a long, arduous recovery after surgery.
With the help of brother and apprentice Stephen Panar, Jr., Snowbee tackles high-end residential work, primarily, custom showers, with an artisan approach to tile and a customer-centric approach to business. "We set ourselves apart with our customer service," Snowberger said. "First and foremost, we are customer advocates with a goal of educating on the best practices, standards, etc. I am detail-oriented and highly skilled – and I'm just getting started."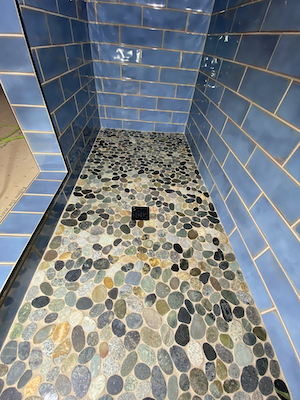 Snowbee has only been installing tile for two years, but the company's work is spectacular, with individually hand-set river rock shower pans with no cuts, custom glass mosaic inlays, and glass penny tile feature walls. Snowberger learned his craft working over two years for Portage Tile and Marble in Kent, Ohio, as a fourth-generation tile setter.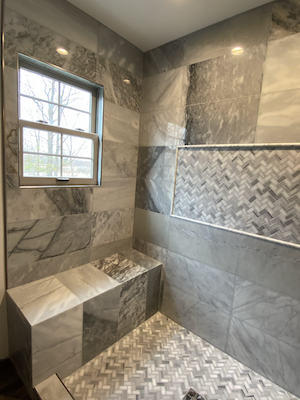 Despite the trials of a start-up in the midst of a pandemic, Snowberger said, "It was very challenging, but I wanted this badly, and put in the extra work. I'm just glad to be a part of the tile community. 2023 looks to be another very strong year. Professional tile installers are in high demand; we are in a great spot if we put in the hard work!"
Snowberger has been an NTCA member for less than a year, but adhering to industry standards has always been important to him. "I want myself and my brand to be associated and aligned with the NTCA for many reasons, including demonstrating to customers that Snowbee is aligned with a professional organization, raising their confidence in the company. Snowberger also values the continuing education, and following and knowing standards that come with NTCA membership.
>> Learn about the benefits of becoming an NTCA Member!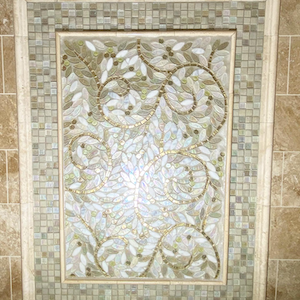 ---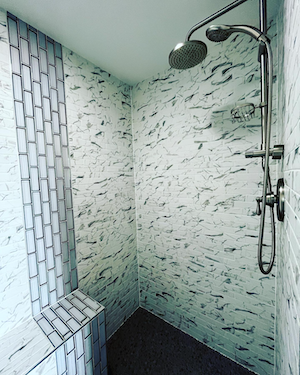 He said, "The greatest value of NTCA is knowledge – knowledge is power. I wouldn't be in this position without knowledge. I don't know it all, and that is where the NTCA Technical Team shines! I use it in my business to help me stay educated, which helps me better serve my customers."
Snowberger is enthusiastic about attending the new "Mind Your Business" program for new NTCA members, taking place this month. This Schluter program focuses on the business of running your business. The two-day workshop takes place at Schluter's Dallas facility with Schluter covering hotel and meals and Dal-Tile LLC covering airfare.
The excitement of building the business into a family endeavor galvanizes Snowberger. "My greatest joy is being respected by my peers, having success, and a feeling of brotherhood," he said. "It feels good to be really competent at it. It's changed my entire life. I worked very hard for this, and my wife and kids were by my side. Now we all benefit, grow as a team and have more time together. It's truly become a family business, and sharing my success and passion with my wife and kids is so rewarding."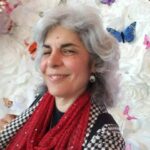 Editorial Director and Senior Writer for TileLetter and TileLetter ARTISAN
Lesley Goddin has been writing and journaling since her first diary at age 11. Her journey has taken her through a career in publishing and publicity, landing her the editor position of TileLetter and its special publications in 2006. Her goal is to educate, inspire, recognize and encourage those in the tile industry -- especially the tile and stone contractor. Other interests include the soft, purring marvels known as cats, labyrinth walking, drumming and percussion, and a range of spiritual, musical and artistic pursuits.