Life can be beautiful. Maybe you're not feeling that so much this year, but it's my observation that where there's tile, there's beauty!
This month's issue focuses on artisan tile installations and decorative tile – breathtaking installations that bring form and color and poetry to settings, sometimes literally. For instance, you'll find a story in this issue about the ALMA (Apprenticeships for Leaders in Mosaic Arts) Summer Institute, that employs youth aged 16-25 each summer to conceptualize, design, create and glaze mosaic tiles, then install them in public sites around Albuquerque and other cities in New Mexico.
Another stunning project detailed in this issue is the Corte Madera Pool Grotto, a spectacular example of tile setting by Heritage Marble & Tile, Inc., from Mill Valley, Calif., which won the Coverings Installation & Design Award for Residential Tile Installation. In addition to the level of precision required in this design, challenges along the way required complex on-site adjustments to complete the job within the desired time frame.
Any trade needs new blood to keep things fresh, and the tile trade is no exception. In our Business section, tile artisans Lee Callewaert of Dragonfly Tile & StoneWorks and Joshua Nordstrom from Tierra Tile talk about how to attract young people to the tile trade, and why it is a great option for those seeking a career that allows them to exercise their creativity.
Our Member Spotlight, Shawn King of Shawn King, Inc., exemplifies this principle. A true artist, he chose the world of tile setting to practice his art in a new way, executing kitchen and bathroom remodels from his New Port Richie, Fla., location.
Bart Bettiga wraps up his One-to-One interview with legendary industry expert Dave Gobis in this issue. And if you are feeling a hankering for all that great education and training that NTCA is known for, fear not – our Training and Education feature details fabulous online opportunities for you to learn from NTCA Workshops and take part in NTCA Roundtables Live. Plus, learn about a new NTCA VIP Text Messaging Program that alerts you to educational opportunities in your area, virtually and – God willing – when our trainers get back on the road. Just text NTCA to 31996 from your mobile phone to get connected!
Hope you find some content in this issue to inspire you, lift your spirits, and remind you that you are part of a timeline of stunning workmanship and craftsmanship, with a rich history and a bright future.
God bless,
Lesley
[email protected]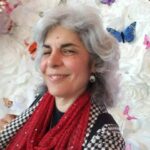 Editorial Director and Senior Writer for TileLetter and TileLetter ARTISAN
Lesley Goddin has been writing and journaling since her first diary at age 11. Her journey has taken her through a career in publishing and publicity, landing her the editor position of TileLetter and its special publications in 2006. Her goal is to educate, inspire, recognize and encourage those in the tile industry -- especially the tile and stone contractor. Other interests include the soft, purring marvels known as cats, labyrinth walking, drumming and percussion, and a range of spiritual, musical and artistic pursuits.