Modern Room Remodels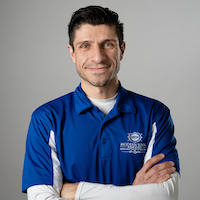 Joe Macaluso, Owner of Modern Room Remodels (MrRemodels.com) in East Hanover, N.J., excels in residential artisan tile installations, light commercial and bathroom renovations, particularly gauged porcelain panel installations. He lists many accreditations and certifications from manufacturers, Certified Tile Installer (CTI) #1498 credentials, and serves as NTCA Ambassador for North Jersey.
These accreditations are par for the course for Macaluso, who also holds many within the finance world, where he obtained a B.A. in Finance and Management early on in his career, and gained experience in selling everything from life insurances to mortgages.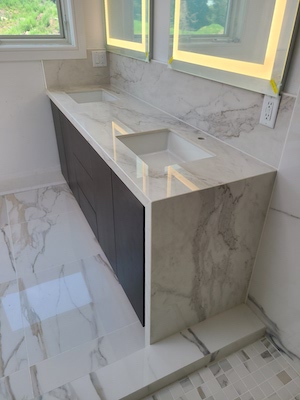 Macaluso is an expert in the tile craft and in knowing the technical details and science behind tile shower installations. But eight years ago, he wasn't aware of NTCA or the Ceramic Tile Education Foundation (CTEF) and the benefits they offer.
"Then one evening, after numerous lost bids due to price rejection, I had to rework my sales pitch from touting my expert corporate expertise to being an expert in my tile craft, despite growing up into the business as a second generation installer," he said. He had plenty of selling experience, but there was an "element I needed," he explained. He discovered the NTCA and CTEF, and got even more information on these organizations when he encountered Schluter's Shannon Huffstickler at a local tile store, shortly afterwards. "We chatted about the Schluter products she had on display, and that's when I was formally introduced to the NTCA," he said. "I never looked back from that moment! I owe the NTCA introduction to Shannon and I'm grateful for it!"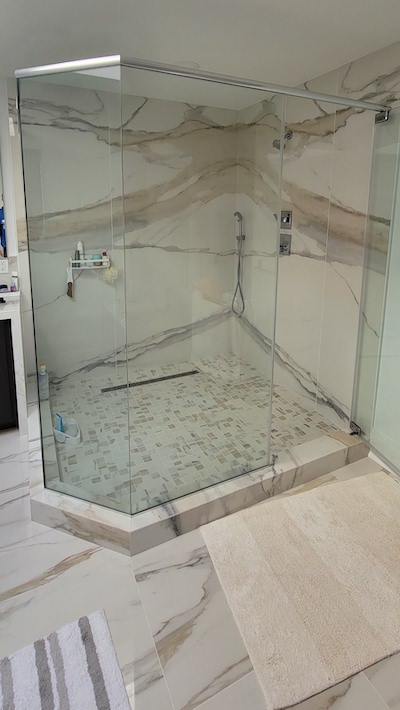 The value of NTCA
"The NTCA has shown tremendous value from day one and continues to this day," he said. For Macaluso, it opened the door to great connections within the industry across the nation and enforced pride in the tile craft. "Having access to anyone within the industry isn't solely limited to the NTCA, due to social media connections i.e. Instagram and Facebook, but it provides value of sharing the same ideology of successful and permanent installations," he said.
NTCA membership has given Macaluso "great confidence to perform the more complicated and unique installs…from exterior installations from wall cladding to terraces to gauged porcelain."
He said NTCA membership elevates installers from the "that's the way it's always been done" mentality to standards-based tile setting. "There are actual guidelines and diagrams that provide immense value with a purpose," he explained, noting that these are beneficial when added to a "contract as an exhibit on the method or manner the install will be performed. In addition, I enjoy adding ANSI language to the proposals as a true indication we are experts in our craft, not only by experience but by technicals!" And Macaluso said he thirsts for more knowledge and to help others.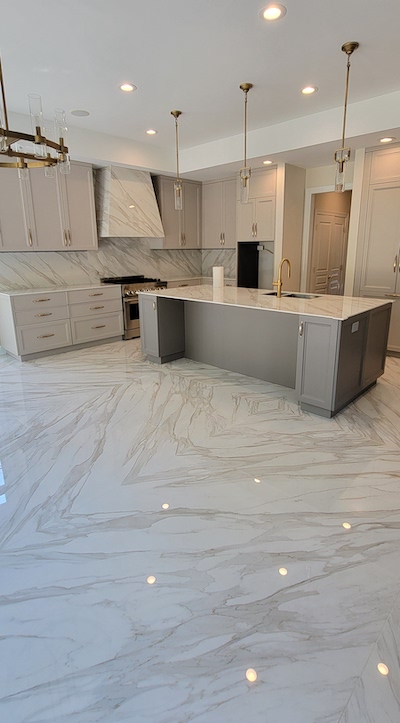 One of the ways he is helping others – and his company – is by training apprentices in the ANSI requirements, terminology and methods. Next year, he intends to add another CTI to his company. He personally plans to take the Advanced Certifications for Tile Installers (ACT) exam for Gauged Porcelain Tile Panels since that segment of his business has seen robust growth and his company is the regional expert to install these panels. "Securing the ACT and NTCA Five-Star [credentials] are my ultimate certification goals," he said.
Adjusting for uncertainty
Macaluso's business acumen helped him sail through COVID and turn that trying time into a boom. In 2020, a team member left to go out on his own, but Macaluso said, "It actually made us more nimble and organized," as the company regrouped. Maintaining a safe working environment was a challenge, but by early 2021, business began trending upward and by 2022, Modern Room Remodels experienced a boom that far surpassed the 2003-2006 era.
He forecast the inflation in 2021, which he prepared for by stockpiling materials that lasted into the third quarter of 2021. He had to improvise ANSI-compliant replacements for foam boards in wet spaces, and schedule around delayed imports, especially for porcelain panels. "We always knew of the delays ahead of time and moved into the next project to fill in while we waited," he said.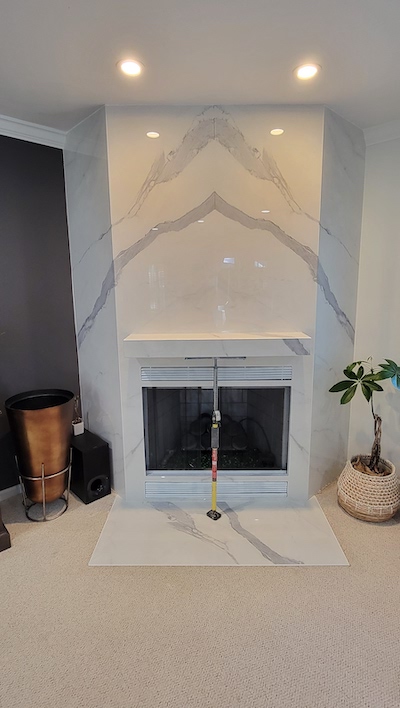 Navigating and updating price sheets for tile materials on a monthly basis with vendors for nine months straight was harrowing. "It was insanity," he said. "We had to include 30-day expiration language to insulate our proposals and contracts to state the volatility of month-to-month material increases. We tried to minimize the percentage hits to our bottom line to get out ahead."
Acting on his "inkling" of prices rising at the pump, Macaluso traded the company's pickup truck and van for Ford Transit Connect Cargo Vans for the team, and opted for jobsite delivery of large ticket items, which reduced gas consumption and expenses three times over, while increasing efficiency.
In recent months, call volume dropped 30% while sales remain constant and job sizes are steady and booked through end of Q1 2023, Macaluso said.
Forecast: 2023
Macaluso has some wisdom about the coming year.
"As we enter into 2023, it appears the rhetoric of a recession is getting louder and more difficult, with higher interest rates," he said. "We're prepared and ready to deploy alternative services to weather a downturn if need be. Maintaining contacts and relationships is also key. We've tightened our belts and reduced inventory holds and new asset purchases until after the first quarter of 2023. Operating in uncertainty in the midst of calls of a recession is scary, but one must remain vigilant and steadfast.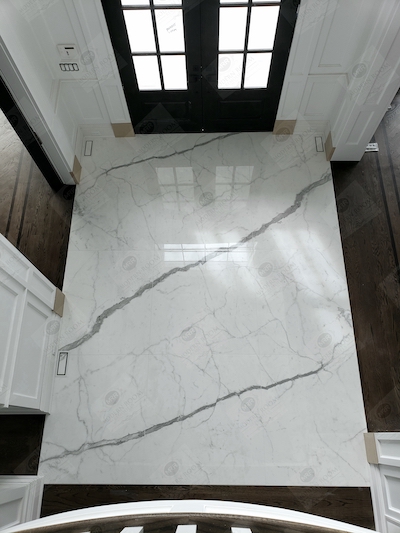 "I'm predicting a second wave of inflation with a pivot of supply chains," he added. "I think this 'stagflation' environment will become the term used through 2030. I'd hope consolidation within our industry will help alleviate the shortages of craftsmen/women for the time being. The State Apprenticeship Program is also another avenue we still need to entertain and/or implement."
Making it all worthwhile
Why do Macaluso and his team do what they do? "Creating art with one's bare hands with a joy and happiness from a client's expression after a finished product is satisfying!" he exclaimed. He also values "gorgeous photo shoots" for social media "to express your pride and art to the world with a simple click of a button. And he said that "receiving an excellent review on social media and/or hand written notes just pays dividends and motivation to keep pushing the bars!"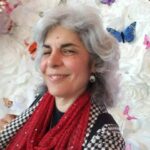 Editorial Director and Senior Writer for TileLetter and TileLetter ARTISAN
Lesley Goddin has been writing and journaling since her first diary at age 11. Her journey has taken her through a career in publishing and publicity, landing her the editor position of TileLetter and its special publications in 2006. Her goal is to educate, inspire, recognize and encourage those in the tile industry -- especially the tile and stone contractor. Other interests include the soft, purring marvels known as cats, labyrinth walking, drumming and percussion, and a range of spiritual, musical and artistic pursuits.