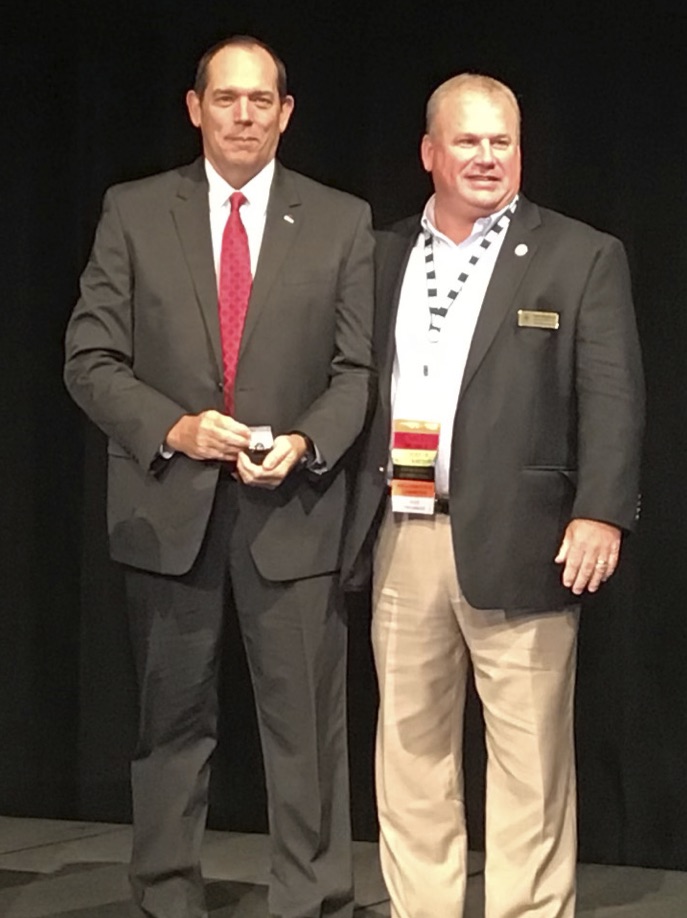 During the tenth annual Total Solution Plus conference in Nashville, Tenn., the National Tile Contractors Association (NTCA) awarded James Woelfel, President of Artcraft Granite Marble and Tile Company in Mesa, Ariz., the NTCA Ring of Honor.
The NTCA Ring of Honor is a lifetime achievement award that recognizes NTCA contractors and associate members whose efforts have helped grow the association and assisted in achieving its objectives. Recipients are chosen by NTCA executive officers. 
Bart Bettiga, Executive Director of the NTCA, said Woelfel was chosen because of his dedication to the association and the tile installation trade. "James has provided leadership and passion to our association. He has been a constant advocate for the professional tile contractor in the development of standards and methods and is a staunch proponent of qualified labor. He has served on the executive committee for many years and is most deserving of this prestigious recognition."
Along with Bettiga, industry leaders such as Butch Woelfel of Artcraft Granite Marble and Tile Company, John Cousins of Dal-Tile, Noah Chitty and Mark Shannon of Crossville, Inc., Mary Yocum of Schluter Systems, Rod Sigman of Custom Building Products, John Cox of Cox Tile, Eric Astrachan of the Tile Council of North America (TCNA), Nyle Wadford of Neuse Tile Service, and Martin Brookes of Heritage Marble & Tile participated in the video honoring Woelfel for his achievements and this prestigious honor.
In the video, Bettiga, who was last year's NTCA Ring of Honor recipient, commended Woelfel's service to the association. "I can't think of anyone in my 18 years of being with the NTCA that has done a better job as a volunteer than James Woelfel of Artcraft Granite Marble and Tile Company. James has chaired our technical committee for many years, has been our president, and has represented us all over the country in presentations and in training and education programs."
Among his accomplishments, Woelfel has been the chairman of the NTCA Technical Committee since 2007 and is a voting member of the TCNA Handbook and ANSI A108, 118, and 137.1 Committees. He served as president of the NTCA from 2015-2017 and was the 2011 recipient of the NTCA Tile Person of the Year Award. Woelfel is also an NTCA Recognized Consultant and a highly rated speaker at industry shows such as Coverings, The International Surface Event (TISE), and Total Solutions Plus.
"Receiving the Ring of Honor shows that James' peers have recognized the years of meaningful work he has done for the NTCA," said Bettiga. "There is nothing more honorable and laudable than what this award represents."
Woelfel credits his wife, Chris, for much of his success. "I owe a ton of credit to my wife; she pumped me up when I was down and kicked my butt when I needed it. She showed me how to set and attain goals. She made me spend time in the industry and she took on all of the responsibilities for our family and work while I was out of town. She has an incredible professional background but she immersed herself in our industry and took it upon herself to learn everything she could so that she could support me and our family in making our business stronger. I love and appreciate my wife so much; she is the main reason I have achieved this dream."
Woelfel said being chosen as this year's recipient was humbling. "My first thought was how lucky I am to be associated with the other Ring of Honor recipients, people like Tom Ade, Bob Roberson, John Cox, Dan Welch, Bart Bettiga and, of course, my father Butch Woelfel."
Woelfel's father was the 2007 NTCA Ring of Honor recipient recognized for his career contributions to the association. The Woelfels are the only father and son to both receive the NTCA Ring of Honor recognition. 
"In 2007, when I presented the ring to my father, Butch Woelfel, I was amazed at the work he had put into the industry over many years that led to him getting the honor," Woelfel said. "My wife, Chris, asked me if it was a goal of mine, as well, to earn the Ring of Honor. I told her that my reasons for being involved in the NTCA were to make the industry stronger and support tile contractors who often don't have the necessary and strong voice at the table…and in doing that, if I ever received the Ring of Honor, it would be amazing."