Ancient practice helps keep workers' bodies flexible and pain free
Two years ago, we presented a Hot Topics story about how tile setters manage back issues that invariably crop up in the course of their career. The participants in that story (www.tileletter.com/dealing-with-back-issues/) discussed a range of approaches, including massage and chiropractic, supplements, hydration and anti-inflammatory foods, inversion tables and decompression, a TENS machine, stretching, exercise, medication, and prayer.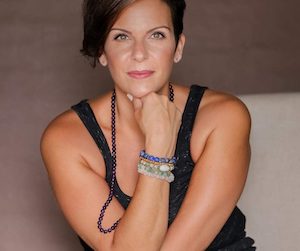 Informed by these approaches and inspired by the session of morning yoga by Faten Gazaleh, RYT, founder of Corporate Yoga Jax (corporateyogajax.com or https://www.facebook.com/corporateyogajax) in Jacksonville, Fla., during last year's virtual Total Solutions Plus (TSP), I figured it might be time for this installment of Workplace Wellness to explore the role of yoga in strengthening the body and maintaining flexibility for tile installers – or ANYONE who has a back, for that matter. 
"I have always been familiar with yoga but never necessarily used it to protect my body," said NTCA member Drue Hernandez, owner of Warwick Tile in Overland Park, Kan. "After being in the industry for a handful of years and meeting lots of different installers it came to my attention that the installers who had the least aches and pains typically were extremely flexible."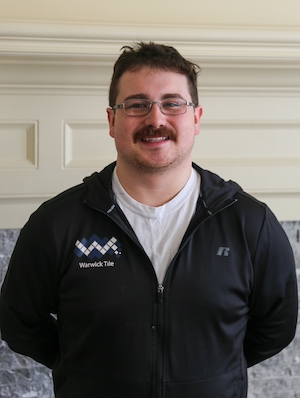 Hernandez said yoga is easy to fit into his schedule and helps promote a healthy mind and body. "After a long day of installing tile and carrying materials, it's the obvious choice for making sure your body can keep going day to day with minimal pain," he said.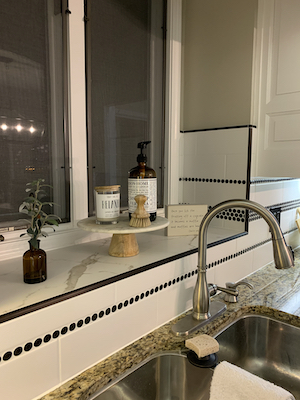 Yoga was actually developed in Asia 2,500-5,000 years ago as a way for young men to develop mindfulness, focus and concentration, Gazaleh said, and then it grew to incorporate movement. "Mental health is where it all begins," she said. "It is the most important part we can tune into and take care of. Once we have mental capacity to understand mental health is most important – we can move the body in a healthy manner."
Okay, mental health is great, but my back and knees hurt now, you may be thinking. You may wonder how yoga can help you be stronger, more flexible and reduce pain.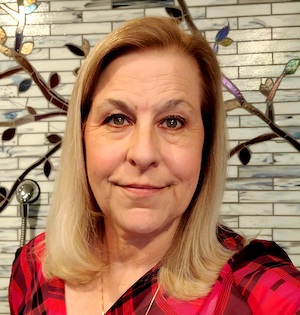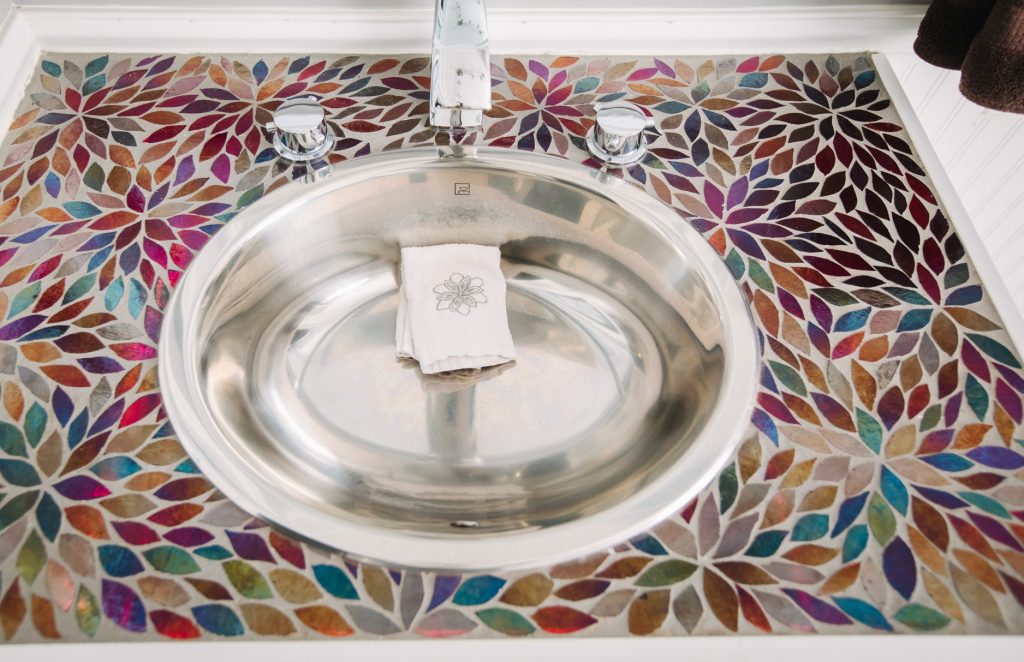 Lisa Bustamante, mosaic artist extraordinaire, and owner of Custom Mosaic Creations in Fairview, Ore., starts her day with yoga, as a way to prevent tendonitis in her arms and wrists. She starts with Easy Pose "to relax and meditate," she said. "I then move onto Cat Cow which I love the most, and it helps me so much by stretching and strengthening my spine. Tree Pose helps me strengthen my whole body and it also helps with balance and flexibility. Plank Pose, I feel is the most helpful for strengthening my arms and hands so I can cut all this beautiful stained glass and create custom tile."
Let yoga come to you
If you are interested in incorporating yoga in your life, Gazaleh suggested putting social media to work for you. "I would suggest switching up social media to consciously start following more mindfulness, meditation pages and people," she recommended. "It will be in your face, and something will speak to you that may address your lower back, sciatica."
In fact, Hernandez said that he's found YouTube tutorials extremely helpful to advance his recovery from a neck injury. He frequents Fightmaster Yoga and MadFit on YouTube. "My favorite stance is called the Child's Pose." Yoga with Adriene is another excellent YouTube channel with beginner videos.
Second, finding a yoga teacher or class can help immensely. Those new to yoga can feel a little intimidated or exposed at first, but Gazaleh, had reassuring words. "Most yoga studios have no expectations or judgment," she said. "Everyone's anatomy is so unique and different. If an instructor is asking you to perform a posture, it's a suggestion. They will align you with cues, but it's a non judgment zone."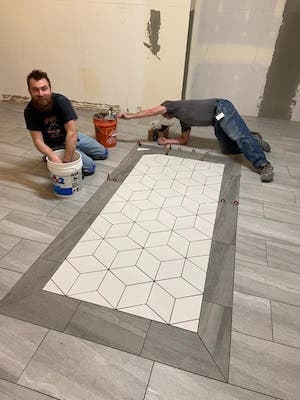 Fourth generation artisan tile setter Andrew Krehbiel of Krehbiel Tile Inlays, Grants Pass, Ore., suffered a slipped disc in his lower back when he was 16. Chiropractic didn't give him lasting relief and he struggled with pain and mobility. "I was offered a job as a helper for a tile setter and experienced the pain until my school offered a yoga class," he said. "I took the class and I soon felt like the yoga corrected the issues. I no longer had the reoccurring pain. I could stand straight after bending. I strongly believe in yoga for mind body and soul."
Gazaleh offers three basic postures for beginners that target overall wellness, your back and your knees.
Inversion/legs up the wall – To try this pose first in the morning first thing, before getting out of bed, put your feet up on your headboard or lay on the floor with your legs up the wall for up to seven minutes. This pose can reverse high blood pressure, cleanse the lymphatic, cardiovascular and digestive systems and signal the nervous system to "chill out," she said, allowing blood to flush through your system when you stand up. She cautions people new to this pose to do only in a minute or two at first and work up to seven minutes to avoid
dizziness.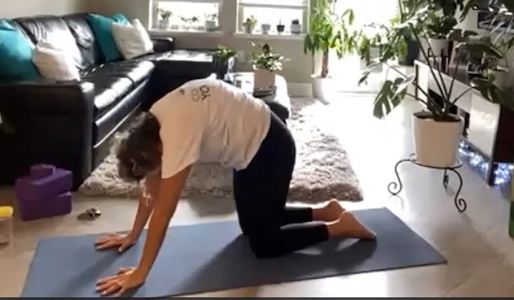 Cat Cow – Gazaleh showed attendees this spine-strengthening pose during virtual TSP last year. "If we have the health of our spine, we have youth," she said.
Start on all fours, with wrists stacked underneath your shoulders, and knees stacked under your hips, she said. "Taking deep breath in, drop the belly, bring your gaze and tailbone up to the sky (Cow). As you exhale, you curl or arch the back, tuck the chin and tuck the tailbone (Cat). It's key to slowly, mindfully link the breath with these movements." She added, "There is a lot that gets stuck in between our vertebrae. This literally releases all the debris from our spine. When I started teacher training – I was doing yoga 40 hours a week, and it was intense – I grew a full inch!"
Forward fold – To help with knee problems, Gazaleh recommended a forward fold, which helps strengthen the sartorius muscle – the longest muscle in the body that runs from the anterior thigh over the hip and knee joints.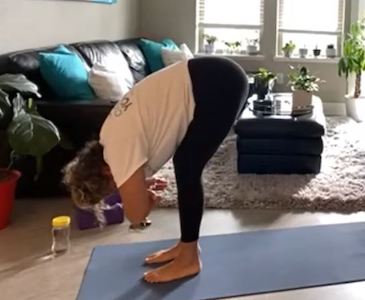 Start by standing up, with your back long and belly pulled in to create core strength that supports you. With hands at hips, fold forward at your hip in a hip hinge. "Realign your spine midway, and continue to fold until the crown of your head is towards the earth," she said. "You may have a small or big bend in knees to protect hamstrings; lengthen the spine and bring oxygen to mind, which creates a sense of balance and equanimity. This allows your neck and shoulders to relax, as you let the crown of your head constantly shine down at the earth."
View Gazaleh's presentation from TSP last year to explore some of these poses and enjoy an at-home workout at your convenience. https://www.ctdahome.org/tsp/2020/yoga_trim.mp4.
What do you think about when you are doing yoga?
"First, come with a completely open mind," Gazaleh said, reminding us that it is a "practice – we will never perfect it. Have no expectations or demands on yourself that you're going to 'get this right' – let it all go. That IS the practice: the constant back and forth with ourselves, and no expectations or demands on yourself."
At the core of yoga is breathing – indeed, the most important aspect or tool of yoga, Gazaleh said. When you allow breath to move in and out, a sense of calm comes over you. The inbreath or inhale energizes you, and the outbreath or exhale that leaves is meant to ground and help you relax, comfort you, she explained. A mantra or phrase may help anchor your mind to your breath, and bring quiet. Gazaleh said an effective, simple mantra from Deepak Chopra is: "I am breathing in; I am breathing out."
Her final suggestion is to "bring an image or feeling that lifts you up high, like your dog, a new book, a baby, a walk in a beautiful place, flowing water," she recommend. "Keep a feeling or pictures in your mind that helps you vibe a little higher. You can even have an image of happiness that you have a job that makes money to pay bills, a body that is healthy enough to do work or create a work of art or beauty for your client."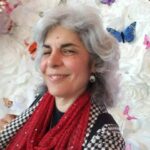 Editorial Director and Senior Writer for TileLetter and TileLetter ARTISAN
Lesley Goddin has been writing and journaling since her first diary at age 11. Her journey has taken her through a career in publishing and publicity, landing her the editor position of TileLetter and its special publications in 2006. Her goal is to educate, inspire, recognize and encourage those in the tile industry -- especially the tile and stone contractor. Other interests include the soft, purring marvels known as cats, labyrinth walking, drumming and percussion, and a range of spiritual, musical and artistic pursuits.