"Year's end is neither an end nor a beginning but a going on, with all the wisdom that experience can instill in us." – Hal Borland
Wasn't I just sitting at my computer writing the January 2022 Editor Letter? It sure seems like it! This year had its own set of challenges and joys, and yet here we stand, poised at the precipice of a new year again.
But we are ready for it! And our December TileLetter is one of the tools that NTCA offers to help equip its membership and keep installers tile-strong no matter whatever comes your way.
December kicks off with an opening letter from new NTCA President Sam Bruce of Visalia Ceramic Tile. Learn what's on Sam's mind and what wisdom he offers the membership.
>> There are many benefits offered to NTCA members, including discounts, educational opportunities, tile installation publications, programs to assist with business operations, and additional resources.
Read about the precision and perfection that Joe Macaluso of Modern Room Remodels prides himself on in our Member Spotlight. And find out why the so-called "Miami Mud Job" is a disaster waiting to happen in our Technical story by CTEF's Scott Carothers.
Bart Bettiga interviews an enterprising young man from Western Germany in his One-to-One story. Noah Stocker chose to pursue a five-week apprenticeship in the U.S. as part of his tile training in Germany, and Dan Welch of Welch Tile not only took him on as temporary apprentice, but also gave him lodging as he learns.
One thing Stocker said he learned a lot of in Germany is mortar bed installation. And it just so happens that after two pilot NTCA Regional Trainings in Columbus, Ohio, and Downey, Calif., this year, the NTCA Training Team will be offering mortar bed installation as a regular module in its Regional Training Schedule. Find out more about it in our Training and Education story.
Twelve months can seem like a long time, but Bart Bettiga offers us a recap of milestones this year at NTCA and a forecast of what is to come in 2023.
At a recent meeting of the American Institute of Architect (AIA) MasterSpec® Review Committee, NTCA Technical Committee Chairman James Woelfel explained the addition of a five-category product use classification system in ANSI A326.3 American National Standard Test Method for Measuring Dynamic Coefficient of Friction of Hard Surface Flooring Materials. In our A&D Corner, discover the importance of this standard and product use categories for the A&D community, as well as tile installers and manufacturers.
Have you experienced any stress this last year? If you are human, I bet you have! Well, the tile industry and the good folks at Coverings have your back. Read our Workplace Wellness story and start planning to attend a series of mindfulness sessions that will be presented by mindfulness guru Gianna Vallefuoco, Co-Owner of NTCA Five-Star Contractor Vallefuoco Contractors LLC, in the Wellness Lounge at Coverings next April. These mini-classes will help anchor you in a peaceful place in your personal and work life.
Last but not least, enjoy the case study of TQL Stadium in Cincinnati, and find out how Daltile ONE Quartz Surfaces selections – as well as a collection of tile products – made the project shine.
As we move into the quiet of winter and the bustle of the holidays, remember to make some time to enjoy family and friends and the sweetness they bring to your life.
God bless and Happy Holidays,
Lesley
[email protected]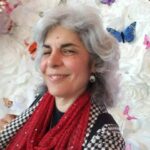 Editorial Director and Senior Writer for TileLetter and TileLetter ARTISAN
Lesley Goddin has been writing and journaling since her first diary at age 11. Her journey has taken her through a career in publishing and publicity, landing her the editor position of TileLetter and its special publications in 2006. Her goal is to educate, inspire, recognize and encourage those in the tile industry -- especially the tile and stone contractor. Other interests include the soft, purring marvels known as cats, labyrinth walking, drumming and percussion, and a range of spiritual, musical and artistic pursuits.