"Your focus determines your reality." – Qui Gon Jinn, Star Wars
Happy May. How is everyone doing? We have had quite the wild ride for the last few months. We've seen the cancellation of Coverings, and other events – and heavens knows what else between March 20, when I am writing this – and by the time you receive your issue. We are all doing our best to manage the tremendous challenges that we are facing personally and professionally. Since this is a fast-changing situation, we are addressing things as they come up on www.tileletter.com and in our digital newsletters which allow us to post pertinent information for you as it arises and as it shifts. We also are posting links and resources on www.tile-assn.com. But look to Tileletter print edition for evergreen topics and informative, educational and inspirational articles with information you can incorporate into your business and successes in the industry we can all celebrate, even while social distancing.
For your reading pleasure in this issue, check out Bart Bettiga's interview with Robert Roberson of David Allen Company. As this company celebrates its 100-year anniversary, Mr. Roberson, a legend in his industry, shares a long-term perspective of the industry, the company and involvement with NTCA.
Are you a qualified installer who yearns to work with Cosentino's Dekton ultracompact panels? Now's your chance. Learn about the emergence of Dekton University, which Cosentino has fully committed to and invested in to train tile contractors to handle and install this material, blowing the market wide open for Cosentino and adding to the skill set of dedicated contractors across the country.
We get to know Michelle Blomquist Hamilton – originator of the Tile Chix group on Facebook – in this issue's Member Spotlight, that focuses on how her passion and desire to excel and create are powering the business she shares with her husband.
Stumped by the estimating process? Luke Miller of Tile Money walks you through a clear, concise process of determining cost and profit in our Business article. And in our Technical section, ARDEX's Mark Pennine explores proper substrate preparation, even more important these days with large-format and gauged porcelain slabs growing in popularity.
A special report takes a look at the news coming out of the Cevisama show, held in Spain in early February.
Finally, if you're a Star Wars fan, you'll want to read our Case Study this month. Jonathan Stanton transforms the old broken-down bathroom in his company's new shop into a mosaic masterpiece and homage to Star Wars, complete with a shower mural of Luke Skywalker, Darth Vader and Yoda, and other intentional finishing and accessory touches that make the space a true delight.
Whatever you do this month, be kind and gentle to yourself and to those around you. These are some crazy times. But our industry – and our country – can get through them if we work together, respect each other, and stay mindful of what's needed to emerge healthy from this current adventure. May the Force be with you.
God bless,
Lesley
[email protected]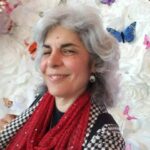 Editorial Director and Senior Writer for TileLetter and TileLetter ARTISAN
Lesley Goddin has been writing and journaling since her first diary at age 11. Her journey has taken her through a career in publishing and publicity, landing her the editor position of TileLetter and its special publications in 2006. Her goal is to educate, inspire, recognize and encourage those in the tile industry -- especially the tile and stone contractor. Other interests include the soft, purring marvels known as cats, labyrinth walking, drumming and percussion, and a range of spiritual, musical and artistic pursuits.