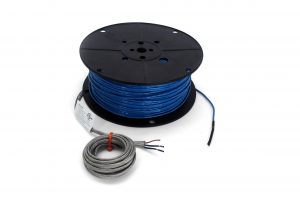 SunTouch recently enhanced its WarmWire floor heating cables that use an electric wire to heat floors in bathroom, entryways, and kitchens.  An affordable alternative to radiant heated mats, WarmWire provides the flexibility to install easily around curves, angles and cut-outs to fit rooms of all shapes and sizes.
Contractors can install WarmWire using self-leveler or thin-set, whichever they prefer, when WarmWire is secured using CableStraps.  Recent enhancements give WarmWire a lower profile, allowing less thin-set or self-leveler to be used during installation.
WarmWire is compatible with a variety of uncoupling membranes designed for use with heating wire.  An installer can vary the wire spacing in these uncoupling membranes to reach a desired heat output.   WarmWire comes with a 25-year warranty.
SunTouch offers a full line of products to meet indoor and outdoor floor warming and ice melting project needs. For more information visit suntouch.com
#  #  #
About SunTouch
SunTouch, a Watts Water Technologies company, provides a wide range of electric floor heating and snow melting products that are widely used in residential, commercial, and institutional projects to create comfortable, warm, safe, inviting spaces. With more than 30 years of experience in radiant heating, SunTouch offers quality products, simple design services, and world-class support.