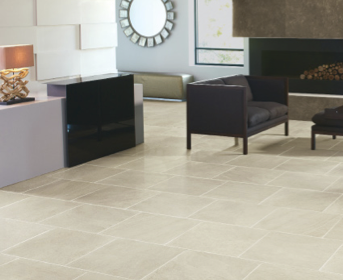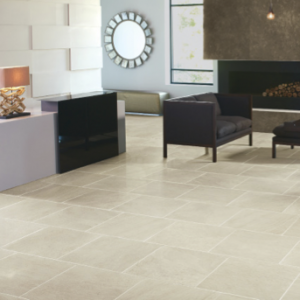 Crossville's Oceanaire porcelain tile collection captures the look of sea- and sand-swept natural stone. The line is noted for its multidirectional striations interpreted in five gradient colors in 24" x 24", 12" x 24", 18" x 36", and 6" x 36" field sizes plus 4" x 24" bullnose and 2" x 6" mesh-mounted mosaics.
Oceanaire's five color options come in both unpolished and honed finishes. Oceanaire is suitable for commercial and residential interior floors, walls, countertops, and exterior walls in both residential and commercial applications. It is made using third-party certified, sustainable processes, is Green Squared certified, and contains a minimum 4% recycled content. www.crossvilleinc.com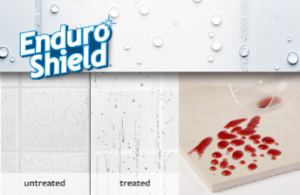 EnduroShield offers more than traditional sealers, since it creates a breathable, semi-permeable membrane, and changes the properties of the surface to make it hydrophobic and oleophobic, repelling water and oil. The easy-clean surfaces behave like a non-stick frying pan – water and contaminants bead up, dramatically reducing cleaning time. A single application will remain easy-clean for three to five years, backed by a true performance warranty. Tangible green benefits for the homeowner include elimination of harsh cleaners on treated surfaces: in most cases just a mild dish soap or vinegar is sufficient for cleaning. EnduroShield for Tile & Grout works on all porcelain, ceramic, and glazed tiles, as well as grout lines. It's available as both consumer DIY kits for retailers, and in commercial quantities and formulation for professional applications. www.enduroshield.com
Florida Tile introduces Span HDP, one of over 25 Green Squared Certified Products manufactured at Florida Tile's Advanced Manufacturing Center in Lawrenceburg, Ky. It's made from 100% raw materials and sourced within 500 miles of the production plant. During the manufacturing process, waste is almost eliminated in Florida Tile's closed-loop system where dust, unfired tile, and water are recycled back to raw materials, to be reused and reformed, allowing for 40% pre-consumer recycled content. This product is also Greenguard Gold certified by UL Environmental to not contain or emit any VOCs. As a PTCA-certified porcelain tile, Span HDP's water absorption rate is half of 1%, making it inhospitable to mold and mildew formation; it will not absorb allergens or other contaminants. Maintenance can be accomplished without toxic chemicals, but rather simply cleaned with low-VOC, neutral pH cleansers and water. Porcelain tile from Florida Tile can remain in service up to four times longer than other floor coverings with an average lifespan of 50+ years, protecting the environment for future generations. www.floridatile.com.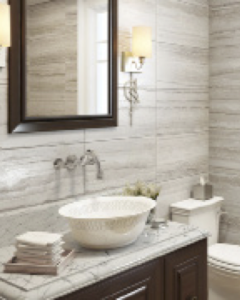 Interceramic offers San Giulio, a High Density ceramic tile. It was inspired by Italian Silver Rainbow Travertine's texture and the earthy hues of a classic cream with dark highlights of ochre, silver and dark graphite. San Giulio offers four rich colors: Bianco Valetta, Isola Beige, Borgo Brown and Via Grey, all available in 12" x 24" or 16" x 16," complemented with a 12" x 12" (2" x 2") mesh-mounted mosaic. LumenFX® inks, the latest-generation digital technology, highlight the shine and texture for an unmatched natural look and feel. This special process replicates the infinite beauty found in nature by adding distinct and specific highlights to each individual tile. The unique ink adds depth to the space by adding the right touch of reflectivity to the tile's design. High Density ceramic tiles by Interceramic® are produced using advanced technology that allows ceramic products, such as San Giulio, to perform at the high standards of porcelain tile. San Giulio is a Green Squared Certified product that is in accordance with the certifications' rigorous sustainability criteria. Interceramic extracts the raw materials from company-owned mines, produces molds and punches in company-owned factories, and manufactures products with state-of-the-art machinery designed to achieve the most efficient manufacturing process possible. www.interceramic.com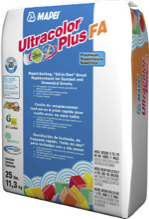 MAPEI employs the use of a fine aggregate in its new rapid-setting Ultracolor Plus FA grout, making it an all-in-one grout replacement for both sanded and unsanded grout. It can be used for joint widths from 1/16" to 3/4" (1,5 to 19 mm).Ultracolor Plus FA is specially formulated with MAPEI's High-Hydrated Cement Technology (HCT™) to eliminate the common problems related to portland-cement grout, such as color consistency and efflorescence. This new grout also has the added benefit of DropEffect™ technology, which reduces surface absorption to help repel water, dirt and grime from penetrating grout joints. In addition, Ultracolor Plus FA is formulated with 10% recycled content, meeting the ANSI A138.1 specification for Green Squared certification by TCNA, joining MAPEI's portfolio of Green Squared products. It carries the ISO 13007 classification CG2WAF – a cementitious grout (CG) that is improved (2), has reduced water absorption (W), exhibits high abrasion resistance (A) and is rapid-setting (F). Ultracolor Plus FA grout is easy to install and stain-resistant, does not require a sealer and is available in all 40 colors of the new MAPEI color palette. www.mapei.com
Metropolitan Ceramics® by Ironrock has 15 of its ceramic quarry tile colors Green Squared Certified, which all meet the certification's multi-attribute sustainability standard for product characteristics, manufacturing, product life management, progressive corporate governance, and
innovation.
Metropolitan Ceramics quarry tile is made from locally sourced raw materials combined with both fired and unfired production waste material for an unglazed, extruded product that is fired at temperatures over 2,000° Fahrenheit. These quarry tiles are inert materials that will not promote mold or bacteria growth and when properly installed and maintained, will help contribute to a healthy work and living environment. Metropolitan Ceramics quarry tiles are 1/2" thick for added durability, have a 60+ year lifespan, and can be re-used or re-purposed (as road bed material for example) at demolition or removal. These low absorption, vitreous tiles can be used as tile pavers for outdoor hardscapes. Indoors, the thermal mass of the tiles allows them to aid in creating a more consistent environment. www.metroceramics.com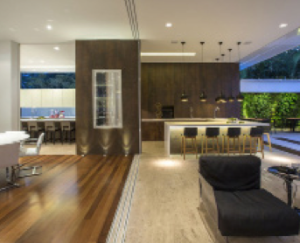 Neolith, manufactured by TheSize Surfaces, is a high-performance surfacing material that is virtually indestructible, as well as being both sustainable and hygienic. Neolith is 100% natural, all of the collections are 100% recyclable, and up to 52% of ANY slab is comprised of recycled raw materials. It has less than .08% porosity, and holds Greenguard, Greenguard Gold, and CE certifications; and is a LEED Point Earner. Neolith is suitable for both commercial and residential projects and is applicable for a variety of applications from façades, flooring, wall cladding, kitchen and bathroom countertops and more. www.thesize.es/neolith/en/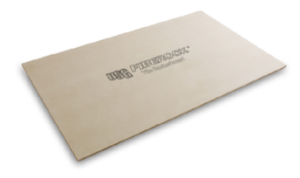 USG Fiberock® Brand Tile Backerboard and Underlayment panels are made from 97% recycled content. Ideal under tile, stone, vinyl, hardwood flooring, laminate flooring and carpeting, the products' uniform composition provides strength and water resistance. The superior tile bond is three times the industry standard. These products are free of resins, adhesives and solvents that might stain a vinyl floor. The panels provide a smooth, flat, paintable surface for wall applications and are easy to cut, fasten and install. www.usg.com/tileandflooring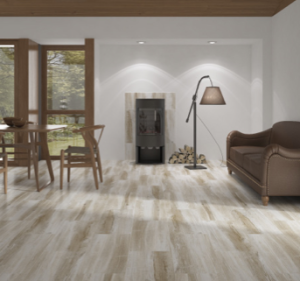 Vitromex offers Bossa Nova, a modern and beautiful design, inspired from music playing in the background. It's a different type of porcelain wood product, giving you the sensation of being in an beautiful place like Copacabana.  It combines a mix of subtle experience and melodies that blend the exotic and tropical atmosphere with the modern and sexy.  This product is Green Squared Certified and has a positive impact on the environment and society with its sustainable attributes such as recycled content. www.vitromex.com