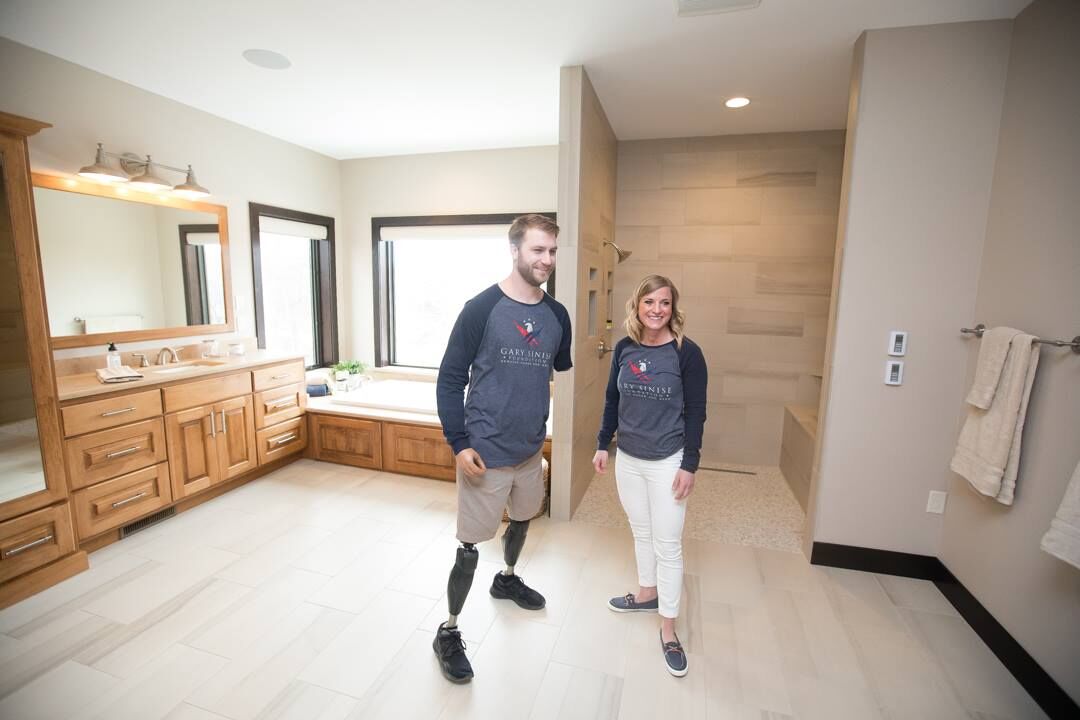 As the exclusive tile supplier for the Gary Sinise Foundation's R.I.S.E. program (Restoring Independence Supporting Empowerment) program, Crossville is honored to have contributed all the tile for the specially adapted smart home for U.S. Navy Explosive Ordnance Disposal (EOD) Tech Taylor Morris and his family. The house was dedicated in a ceremony on April 5th in Iowa.
"It's exciting to know a deserving wounded warrior and his family are enjoying the comforts of a brand new, specially adapted smart home—and that our tile is a part of their everyday surroundings," shares Lindsey Waldrep, Crossville's vice president of marketing. "The tile options specified for EOT Tech Morris' home are not only beautiful but also practical for a busy family."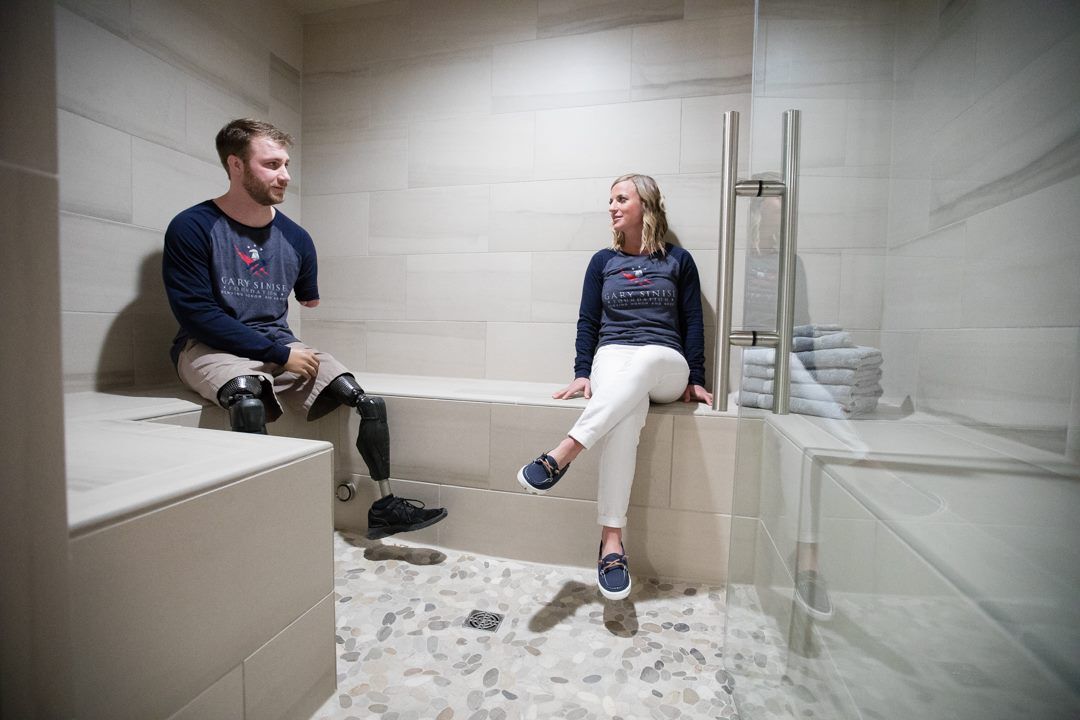 More than 1,800 square feet of Crossville tile was installed in the master bath, the guest bath, and the mudroom/sunroom. BK Flooring of Cedar Falls, Iowa was the installer for all the tile, as well as the wood flooring, for the Morris home.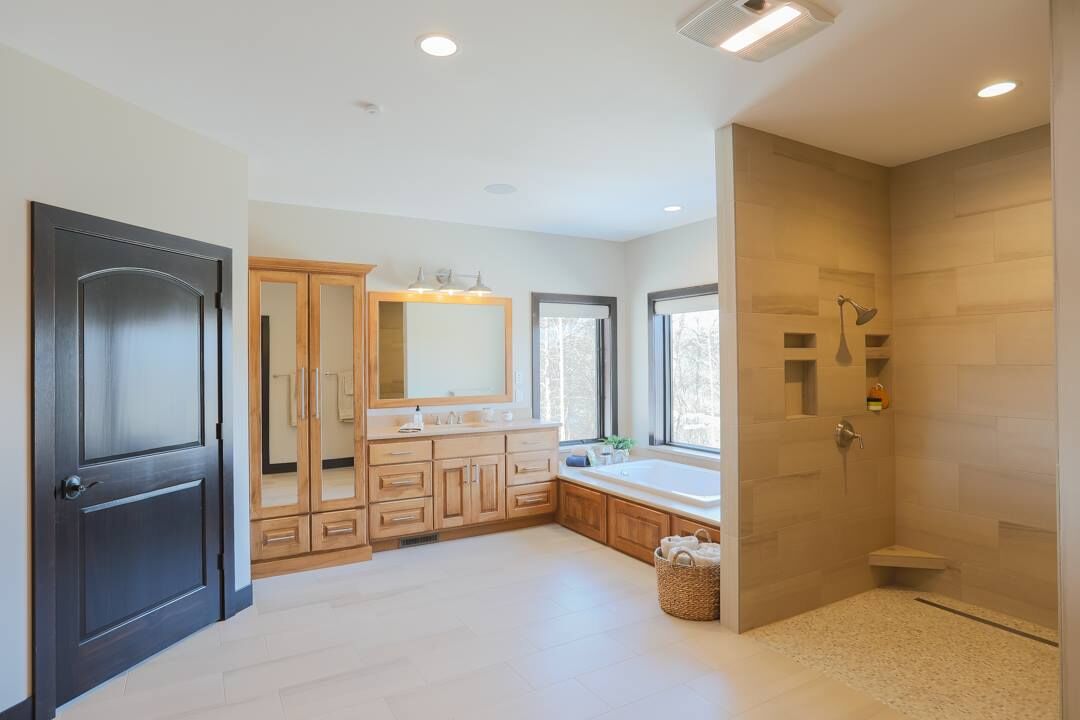 The master bath floor and shower feature Crossville's Moonstruck collection in the Kosmos hue, a color that beautifully incorporate sandstone-textures and rich striations reminiscent of ancient native rock formations. The style helps to create a relaxing, neutral-toned space. In addition, the design team specified Yin + Yang for the shower floors. This specification adds a sense of balance with its mix of shape and sizes and offers the slip resistance required for wet area applications.
The designer also specified Moonstruck in Kosmos for the guest baths. In the mudroom/sunroom, the Moonstruck collection in Gemini provide a natural, rugged aesthetic and offers the lasting performance desired for such a busy area of the home.
"Our tile collections are a beautiful fit for this unique home, both in terms of its aesthetics and technical performance," Waldrep summarizes. "The Morris family will be able to enjoy tile that will look great and stand u- to constant use for years and years to come."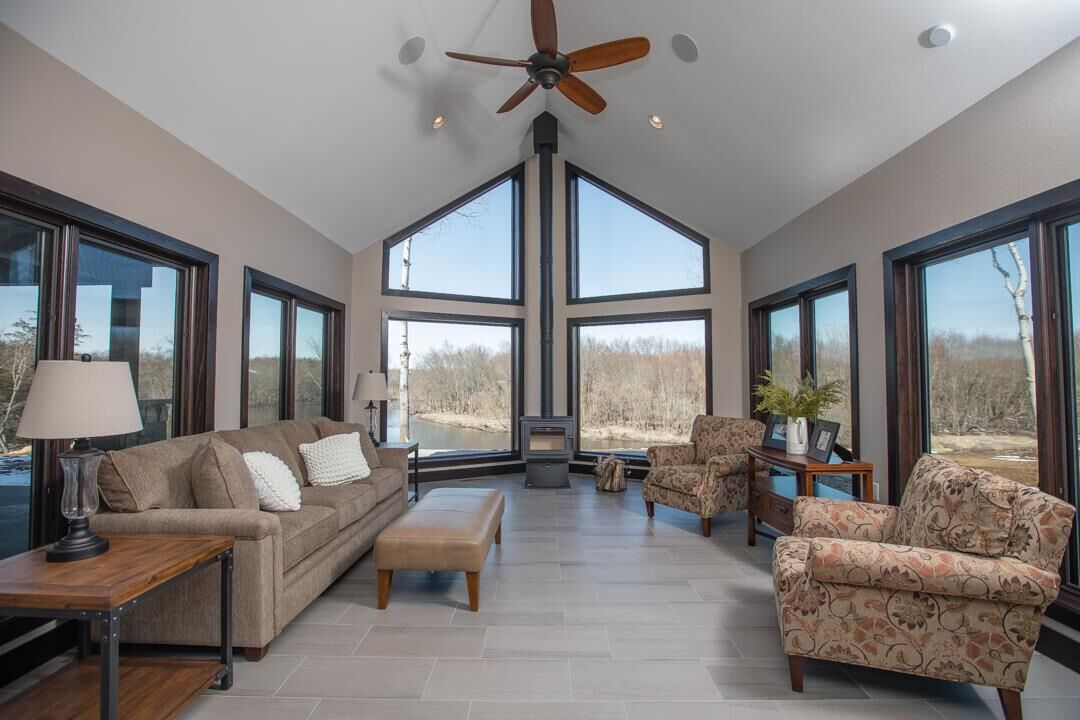 About U.S. Navy EOD Tech Taylor Morris
Explosive Ordnance Disposal (EOD) Tech Taylor Morris was leading a team in Afghanistan when an improvised explosive device (IED) detonated beneath him. He lost all four limbs. Morris recalled the moment, "As soon as I stepped on it, I knew…Then I heard the blast. I felt the heat. I knew I had lost my legs. As I somersaulted through the air, I watched my legs fly off."
Even though Morris was bleeding to death, he told oncoming medics not to approach. Putting their safety ahead of his own, he worried there were other mines the medics wouldn't see. He did not want anyone else to get hurt.
Morris' family and his longtime girlfriend, Danielle, provided him ongoing support and love throughout recovery. He proposed to Danielle in 2015, and they are now married. They look forward to starting a new chapter of their lives in their specially adapted smart home.
About Crossville, Inc.
Founded in 1986, Crossville Inc. is a U.S.-owned and operated manufacturer of award-winning tile collections for residential and contract applications. Its headquarters and manufacturing facilities are located in Crossville, Tennessee. Crossville, Inc. is a wholly owned subsidiary of Curran Group, a privately held holding company renowned for its core values of family, respect, partnership, integrity, and improvement.
An industry innovator, Crossville is the first U.S. tile manufacturer to achieve the following:
– production of large format tile on site,
– manufacturing of tile with certified recycled content,
– development the Tile Take-Back® Program for recycling fired porcelain tile,
– attaining of certification for waste recycling programs,
– earning of TCNA's Green Squared certification for all of its U.S.-produced tile lines,
– distribution of a complete line of porcelain tile panels (Laminam by Crossville), and
– designation as a net consumer of waste in the domestic tile industry.
For more information on Crossville, visit crossvilleinc.com.
About Gary Sinise Foundation
The Gary Sinise Foundation honors America's defenders, veterans, first responders, their families and those in need. Through its R.I.S.E. program (Restoring Independence Supporting Empowerment), specially adapted smart homes are being constructed for severely wounded veterans nationwide. Each one-of-a-kind home is customized to ease the everyday burdens of a wounded hero, their family, and caregivers. Other programs include Relief & Resiliency Outreach, Invincible Spirit Festivals, Gary Sinise & the Lt. Dan Band, Arts & Entertainment Outreach, Serving Heroes, and First Responders Outreach. Its latest program, Soaring Valor, is sending WWII veterans to The National WWII Museum and documenting their first-hand accounts of the war.
For more information, please visit GarySiniseFoundation.org