What is it like to be a trainer for NTCA? I'm asked that question often. This article will shed some light on my experiences.
I am very proud to represent the NTCA as a trainer. I'm still a bit confused how they decided I would be a good choice with all the other qualified candidates who expressed their interest in the position, but I'm very thankful they did. I'm happy to be part of the terrific team at NTCA that collaborates to come up with creative ideas on current and relevant topics to bring to our workshop gatherings.
Being a trainer requires a lot of travel, so the home situation needs to be conducive to it. For instance, this amount of travel would be very difficult for a married person with children at home.
I would describe this position four ways: it's one part professor because of the teaching and training; it's one part over-the-road truck driver, due to all the hours spent on the road. It's one part campaigning politician because of all the personalities with whom you work and interact. Finally, it's one part traveling evangelist since you spread the gospel of good tile setting with the hope of bringing new members into the NTCA fold.
Early on, my biggest surprise was the amount of effort that goes into preparing a workshop or regional training program. Having attended workshops as a contractor, it appeared to simply involve standing up and talking about tile for an hour or two. I rapidly discovered there is much more to it than that. A typical three-hour program workshop requires many days invested in building a PowerPoint presentation, rehearsing the program, building the hands-on demos, calling managers, board members, and ambassadors, acquiring and packing the tools, long drives, hotel
check-ins, setup and breakdowns of all the equipment and more. Definitely much more work than meets the eye.
The schedule is a challenge in itself. My typical day starts with breakfast, phone calls, emails, getting dressed for the day's event and checking out of the hotel. I arrive at the location around 1 pm to meet the host, review the plan and set up the area, checking that all the necessary components are ready to do the event. Workshops generally start at 5 pm, when most people get off from work. After the workshop, I break down the equipment and load everything back in the van. I then drive a couple of hours to get closer to the next day's event, and find a hotel. Many times it is after midnight before I am able to get to sleep. Then I repeat the schedule again the next day. A typical day on the road is generally between 11 to 14 hours, depending on the distance between venues and the amount of help I receive during break down.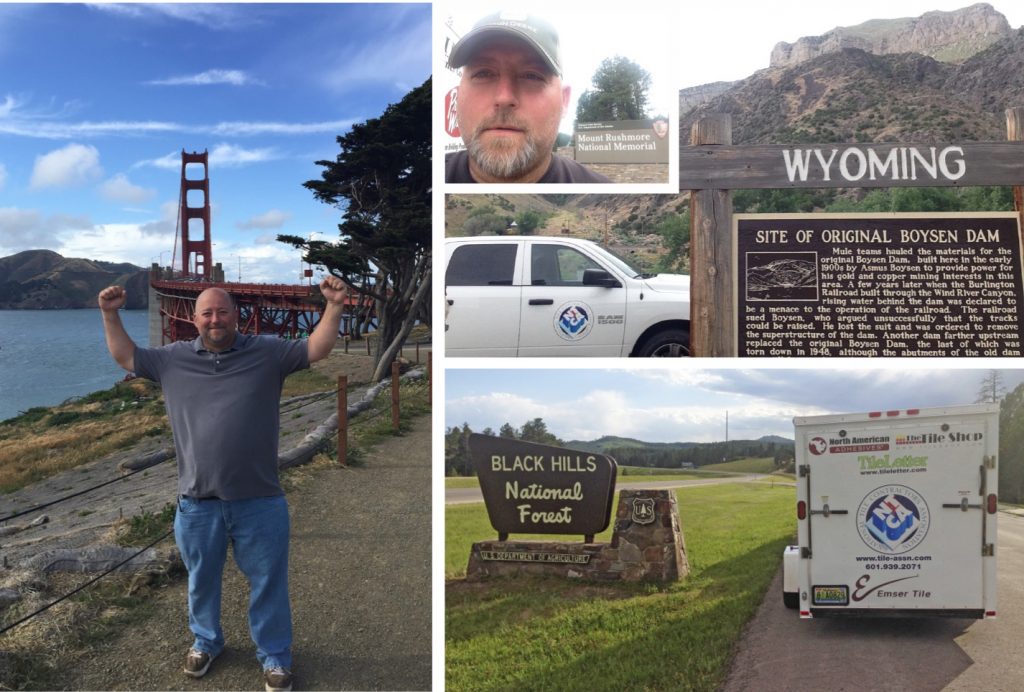 Traveling is the name of the game. Since taking this position my work week and some weekends are filled with either traveling and giving educational programs or preparing to travel. I live in Springfield, Mo., and have the normal responsibilities of an employee and homeowner. I need to mow, take care of my property, cook, clean, wash my clothes (often two weeks' worth of dirty clothes from my time on the road) and then pack to go again. I also need to restock, reload and organize the van along with its typical maintenance and cleaning.
That all sounds like a lot of logistical juggling, travel and prep work – and it is. But it is truly worth it to work with tile contractors, salespeople and A&D professionals all over the country, helping them understand important aspects about tile setting. And when a contractor decides to become an NTCA member at a workshop, it's icing on the cake!
Be a trainer; see the country!
The greatest benefit of the job is all the terrific places I travel to and all the wonderful people I meet. I've made lasting friendships with members, state ambassadors, and board members. Their participation in our training really increases the program's effectiveness.
I normally have workshops scheduled on Tuesday, Wednesday and Thursday. I generally travel on Monday and Friday, so on the weekends I have the opportunity to discover some of the great places far from my home. I've visited National Parks, memorials and many different landmarks. I have been to beaches on the Pacific, Atlantic and Gulf Coast. I have fished in California, Florida and some of the best lakes this country has to offer – all because my work took me there. I would never have seen these places or met so many people without being a trainer for the NTCA.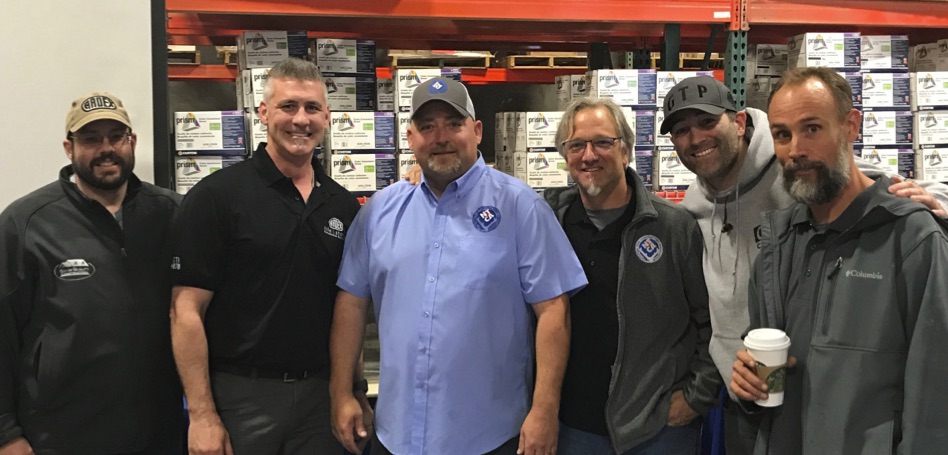 The impact of COVID-19
COVID-19 has made my life as a trainer very different. Travel restrictions suddenly emptied my schedule. A plan was quickly made for conducting virtual workshops – something we had never done before. These required meetings, videos, and rehearsals. I was also asked to shoot NTCA TileTV videos, review NTCA University curriculum and write articles for the TileLetter. I continued to receive and answer technical questions, plus the usual organization of materials and tools.
It is good to have work during a time when so many don't. I'm thankful, but like many others, I'm ready to get back to my normal schedule. What will the job look like after coronavirus? It's hard to say. The goal of each NTCA event is to have as much participation as possible with many people in attendance. Will the virus affect the numbers of people wanting and able to attend? In the short term, yes. Eventually I hope we can return to a new normal.
This is an overview of what it is like to be a trainer. I would like to thank all the members of the NTCA who allow me to represent you in this capacity. My desire is to always make you proud and do the best job possible.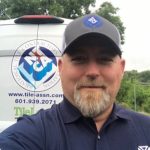 Robb Roderick has been in the tile industry for nearly 25 years. He has worked with homeowners, builders, architects, and interior design professionals on projects in both residential and commercial settings. Prior to coming onboard with NTCA, Roderick was a member of the association for several years and is a CTEF Certified Tile Installer. He graduated from Missouri State university in 2000 and has also served in the United States Army as a medic. Roderick tours the country bringing NTCA Workshops and CTEF Educational Programs to local audiences nationwide.