QUESTION
Any chance you've seen discoloration on grout that's brownish red? I have a few theories, but I honestly, never seen anything quite as grungy as the discoloration on this client's shower.
ANSWER
Sometimes mold that appears on grout is superficial and resides only on the surface of the installation. Most shampoos and soaps contain organic matter, some more than others. When you have organic materials, temperatures and moisture, you have a great environment for mold to grow. Proper and regular cleaning of showers removes those materials. When used and not cleaned regularly you can end up with a "grungy" situation. Always use a neutral pH cleaner approved for cleaning the stone or tile in your shower. And always test them in an inconspicuous area to make sure you will have no adverse reactions. Double check for mold or wet areas outside the shower as well to ensure there are no leaks. If water has escaped the shower assembly and has reached the wood substructure this can also provide the organic matter needed for mold to grow.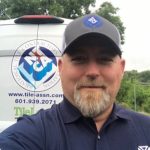 Robb Roderick has been in the tile industry for nearly 25 years. He has worked with homeowners, builders, architects, and interior design professionals on projects in both residential and commercial settings. Prior to coming onboard with NTCA, Roderick was a member of the association for several years and is a CTEF Certified Tile Installer. He graduated from Missouri State university in 2000 and has also served in the United States Army as a medic. Roderick tours the country bringing NTCA Workshops and CTEF Educational Programs to local audiences nationwide.