"Your thoughts are seeds, and the harvest you reap will depend on the seeds you plant." – Rhonda Byrne
Here we are in September, slouching toward fall and the holidays and…a new year! Kids are back in school, weather is cooler and more bearable, and we're looking forward to fall events, pumpkin spice (sorry, it's unavoidable), and the string of holidays that starts with Labor Day (though if you are a crafter, it's been Halloween and Christmas in the hobby stores for months now!). For your reading pleasure, we bring you a harvest of information and opportunity.
One of those fall events coming up next month is Total Solutions Plus (TSP), an industry event sponsored by NTCA, TCNA, CTDA and TCAA, this year in New Orleans. TSP differs from other industry events due to its emphasis on networking and education, with plenty of opportunity to visit with suppliers during the Table Top event and group meals. Check out the preview in this issue and if you haven't registered yet, hop to it! We want to see you there!
When it comes to tiling stairs, take it one step at a time – and start by reading our Technical story on the subject in this issue, penned by CTEF's Scott Carothers. He gives a step-by-step approach to a successful stair installation in his informative article.
President Sam Bruce delivers part two of a message on preparing for your financial future in his President Letter. Give it a read and start thinking about what the future may hold for you and your business.
Contributing Writer Amanda Mourelatos connected with Jeremy and Jennifer Barker of Bathmatic Custom Tile and Shower Company for our Member Spotlight. Learn about this husband-and-wife duo and how they bring excellence and service to their customers.
In April, a new slate of Coverings Rock Stars was announced. In our Rising Stars feature, we chat with some of the contractor honorees and learn about their path in the industry – and what the industry is doing right or can improve on to attract young people in the future.
We are hearing a lot of pros and cons about AI lately. Two flooring installers – Ken Ballin and Jason Potts – have partnered in a new AI initiative called "Ballin Knows Best" that offers AI-powered answers to floor and tile installation questions via text, website and an upcoming app. Read the story and give the service a try. 
In June, personnel from NTCA Five-Star Contractor Member Wirtz Quality Installation, Inc., partnered with Custom Building Products to offer a ceramic tile day in the weeklong Camp NAWIC program in San Diego for high-school aged girls. The team guided the first-time apprentices (aka "campers") and returning journeywomen in creating mosaic coasters that required several skills used in tile settings to acquaint these young women with the creative potential of ceramic tile, and maybe instill a passion for the trade as a career.
Finally, our cover story details how a systems approach from MAPEI helped transform the Suzanne and Walter Scott Aquarium at Omaha's Henry Doorly Zoo and Aquarium in Omaha, Neb., into an updated facility that benefits the community and delights visitors.
Happy autumn. Enjoy every moment of this colorful season.
God bless,
Lesley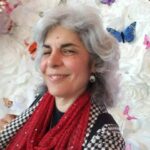 Editorial Director and Senior Writer for TileLetter and TileLetter ARTISAN
Lesley Goddin has been writing and journaling since her first diary at age 11. Her journey has taken her through a career in publishing and publicity, landing her the editor position of TileLetter and its special publications in 2006. Her goal is to educate, inspire, recognize and encourage those in the tile industry -- especially the tile and stone contractor. Other interests include the soft, purring marvels known as cats, labyrinth walking, drumming and percussion, and a range of spiritual, musical and artistic pursuits.