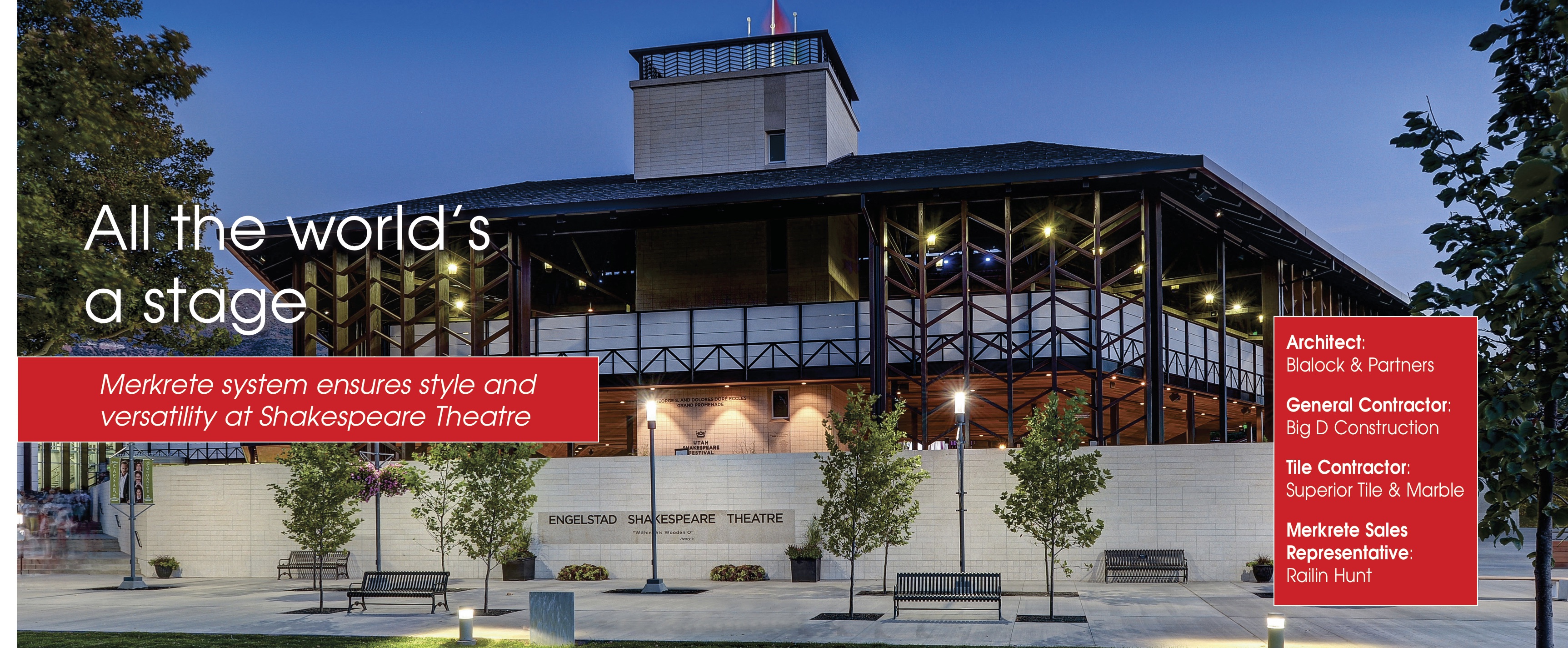 Theatre is considered a collaborative form of fine art that uses live performers to present the experience of a real or imagined event before an audience in a specific place, often a stage. The performers may communicate this experience to the audience through combinations of gesture, speech, song, music, and dance.
In a project where collaboration is the name of the game, each and every detail, no matter how large or small, makes all the difference in the final presentation – or the final act. The Engelstad Shakespeare Theatre in Cedar City, Utah, celebrated its opening night on July 7, 2016 and the collaborative efforts of all involved shaped the debut into a resounding success.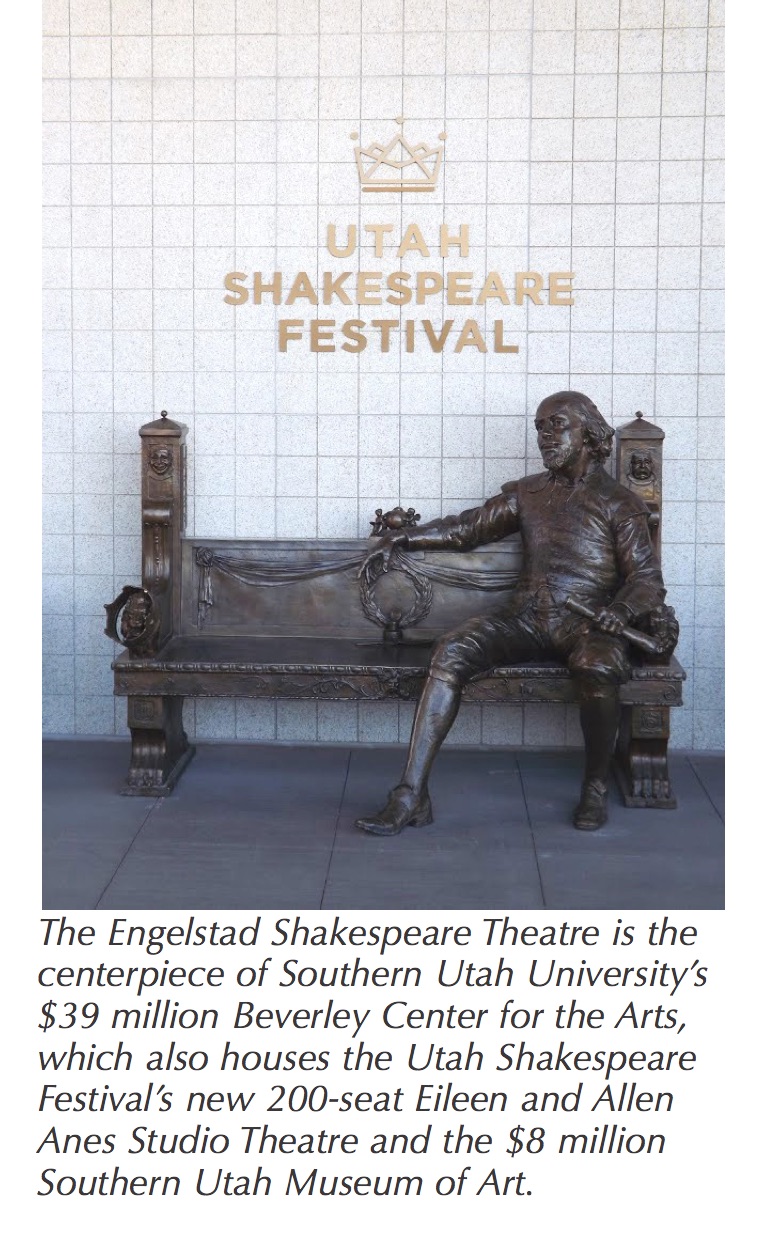 An open-air space, The Engelstad Shakespeare Theatre is reminiscent of Elizabethan theaters but with modern amenities and technology. As the symbolic home of the Utah Shakespeare Festival (USF), it features plays by Shakespeare and other playwrights whose works are appropriate for its outdoor Elizabethan-inspired architecture.  It is also used for educational programming for Southern Utah University. 
The new outdoor Engelstad Shakespeare Theatre is the centerpiece of Southern Utah University's $39 million Beverley Center for the Arts (named for the late philanthropist Beverley Taylor Sorenson), which also houses USF's new 200-seat Eileen and Allen Anes Studio Theatre and the $8 million Southern Utah Museum of Art.  The arts complex, built around the existing Randall L. Jones Theatre, spreads across two city blocks. Theater company facilities include a new ticket office, administrators' offices, costume and scenic shops and rehearsal halls, as well as company dressing rooms and a multiplicity of patron restrooms.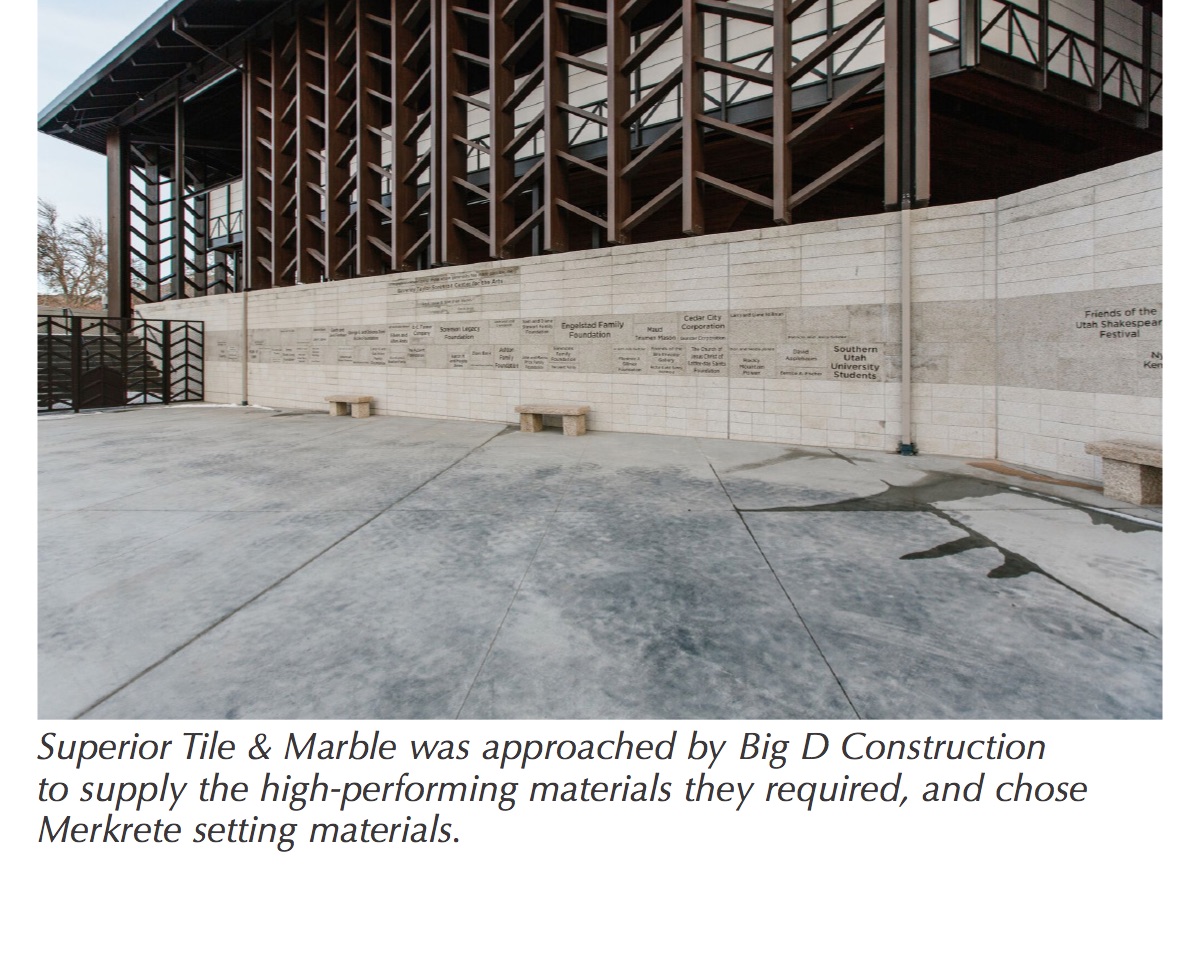 Developed in collaboration between Big D Construction, NTCA Five Star Contractor Superior Tile & Marble, and Blalock & Partners, the theater seats approximately 921 and is named for the Ralph J. and Betty Engelstad family, which was a major donor toward the building.  

Vision and functionality come together
Blalock and Partners teamed with Brooks + Scarpa, and Coen + Partners to create the new arts campus, which includes the new USF facility, the new Southern Utah Museum of Art (SUMA), and the existing Randall Jones Theater. The three buildings are connected by an intricate landscape design inspired by medieval gardens of England and France. The new Engelstad theater pays respect to the old Adams Theatre in its overall configuration, yet adds a touch of refinement and modernism in its execution.
The exterior tile and stone installations throughout the building perfectly match this high-class, theatrical aesthetic, as each piece was masterfully chosen and strategically placed for an extra touch of glamour and ensured functionality.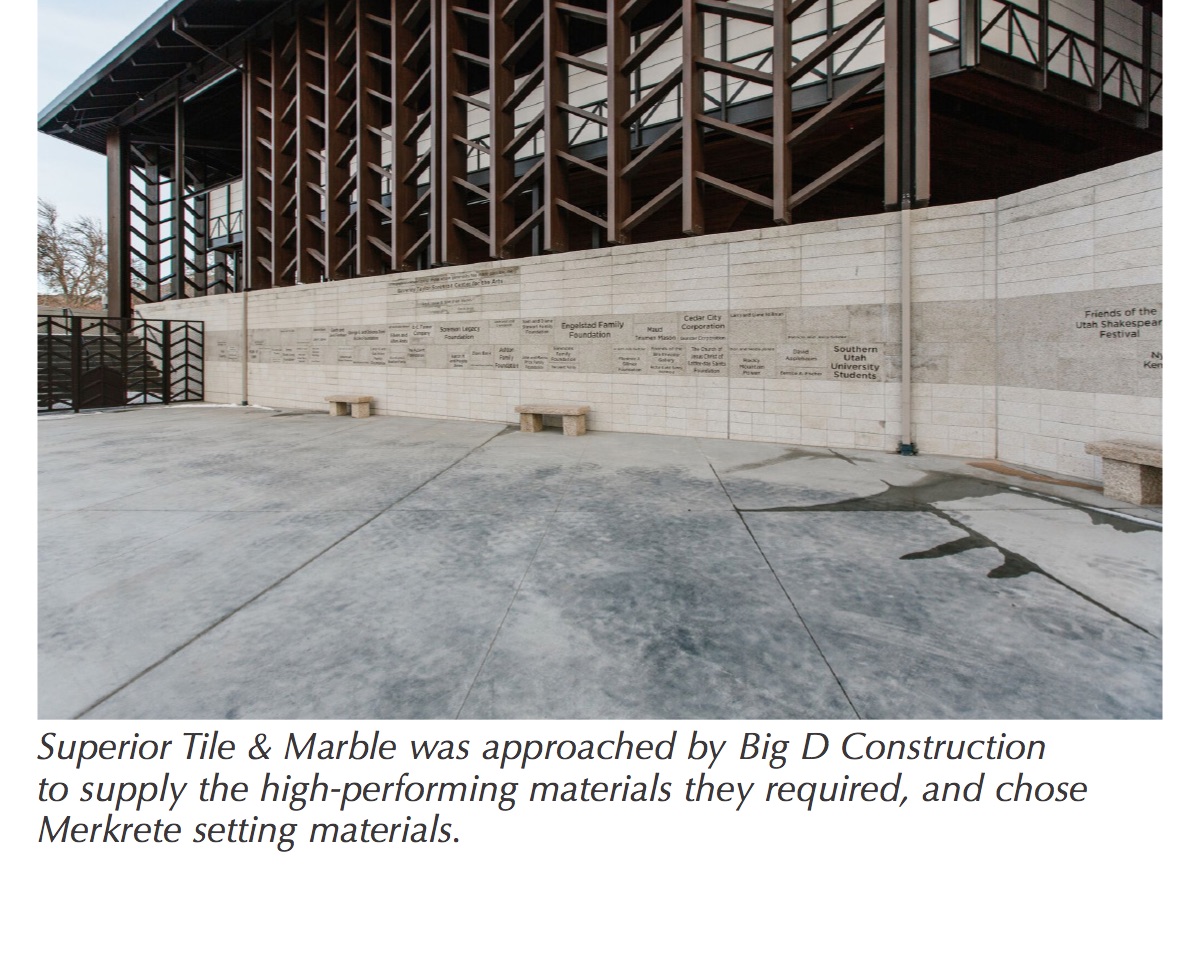 When Superior Tile & Marble was approached by Big D Construction to supply the high-performing materials they required, Superior knew they'd need a trusted and top-quality installation system to ensure a job well done. Upon reviewing the scope of the project, all answers pointed definitively to Merkrete, a leader in waterproofing, crack-isolation and setting-materials technology. 
Superior's work on the exterior of SUU's Shakespeare Theatre consisted of over 15,000 sq.ft. of bush-hammered granite, 2,000 sq. ft. of 6" thick cubic granite, and almost 1,800 sq.ft. of mechanically anchored granite. Due to the exceptionally harsh weather, Superior partnered with Merkrete for versatile and high-performing installation products they can trust.

A versatile solution fastens the deal
The stone cladding provided elegance and durability on the walls and entryway to the building. "For those types of exterior installations, we generally use Merkrete's 200/211 System," said Casey Stewart, Superior Project Manager. "This easy-to-use, two-part system has excellent physical properties in adhesion, resiliency, water resistance, and shock and weather resistance." 
Operations Manager Todd Robinson added, "The 200/211 System from Merkrete has excellent results when used in challenging exterior facade installations. For many projects, particularly this one, we relied on Merkrete for their technical expertise."
Because of the size and thickness of the stone (up to 24" x 36" x 1" thick), Superior needed a versatile product that could address several specific needs at the same time: a high-performing adhesive product that will stand up to the extreme weather conditions and also double as a grout. Since both Robinson and Stewart have experience with Merkrete's Integra, an all-in-one thinset and grout product, he knew Merkrete could assist with a solution.
Merkrete's Sales Representative on the job, Railin Hunt, said, "I immediately knew that Merkrete's 200/211 System could be modified in color and would be the perfect product for these requirements. Its flexibility allows it to perform as a grout and the color could be matched to the jobsite requirements. You don't usually get that in a single product." 
This solution was tested and perfected prior in another Superior Tile & Marble installation when the term, "The Lombard Method" was coined because the walls were spread with the adhesive, then mortar was placed on two sides of each tile and set, similar to the methods of striking brick. 
Merkrete proved the perfect match for a specific challenge again, considering the strength of the mortar it called for. "We used large and heavy natural stone, which requires a mortar with a super-high bondability that can handle the weight of the panels," said Robinson. Hunt added, "Merkrete 200/211 System is a two-component, multi-purpose, polymer-modified setting adhesive for installing extra-large-format porcelain, ceramic tile and natural stone for both floors and walls, and can be used as thin- or medium-bed setting adhesive for stone. Merkrete proved it could hold its weight, eliminating the need for different grout products and allowing Superior the versatility it required."
Neither snow nor rain nor heat nor gloom of night…
Part of the challenge in this project involved extreme weather. It was critical that Superior chose a company who would be able to get the products delivered when required and the job completed on time. Merkrete is a member of ParexGroup, one of the largest companies and a worldwide leader in tile setting materials, façade finishes and technical mortars, established in 22 countries with 68 manufacturing plants and over 4,100 employees. "Merkrete was perfect for this project's requirements, because we have plants and distribution centers all over the country, so our turnaround time and ability to get customized products there quickly were no problem," said Hunt. 
The Festival now plays to over 110,000 patrons who view nearly 300 plays each year in three theaters over a 16-week season. Each year the Festival produces eight or nine professional plays. In keeping with its mission to entertain, enrich, and educate its audiences, the Festival also offers a variety of activities such as orientations, literary and production seminars, classes, workshops, and backstage tours – making it a true destination theater, and one of Utah's cultural treasures.