Editor's Letter – April 2018
"The spring wakes us, nurtures us and revitalizes us. How often does your spring come? If you are a prisoner of the calendar, it comes once a year. If you are creating authentic power, it comes frequently, or very frequently." –Gary Zukav
---
By now, hopefully, weather has stabilized around the country, and the folks on the east coast who have been battling nor'easter after nor'easter are reaping the benefits of all that moisture in beautiful buds and blooming flowers and all of the glories of spring.
The tile industry is also reaping the benefits of budding ideas and emerging products. In this issue, you'll read a summation of an in-depth paper on gauged porcelain tile panels that TCNA's Bill Griese and Crossville's Noah Chitty presented in Spain at the Qualicer 18 conference. This Tech Talk selection updates you on the evolution of GPTP and the standards that now guide successful manufacturing and installation of these products.
Our product section in this issue presents a new crop of tile and accessory materials that blossomed at the TISE West/Surfaces show in Las Vegas in January. Many of these were shared on the TileLetter and National Tile Contractors Association Facebook pages during the show (so stay tuned to those social media outlets for the upcoming Coverings show), but we've gathered a sampling of them here, for the convenience of reading in print.
In NTCA University Update, Becky Serbin has presented a number of testimonials from students who have taken the first wave of apprentice courses. Her article demonstrates how these courses are being used for personal enrichment and also for overall training within a company.
It's no surprise that tile sizes are growing (and shrinking, but that's a different story) and that large-format product is here to stay. In our Large-Format section, we present three case studies of challenging large-format installs and how the NTCA member contractors – all of whom are Certified Tile Installers or employ them in their crews – obtained high-quality, high-performance results.
In Hot Topics, we again go to the field to present the follow-up to our February exploration of dealing with substandard tile. We explore suggestions for avoiding problems with tile that doesn't comply with the manufacturing standards and that is sure to cause headaches if installed.
We present information that makes your day to day operations successful, but what about when you are ready to retire? Read Vincent Mastrovito's Business Tip story about wisely planning for your exit, and clearing the path of any obstacles that might interfere with you taking your leave.
Hopefully content this month will give you food for thought. Have opinions about what you are reading, or even suggestions for future articles? Feel free to pen a letter to the editor and send it to me at [email protected]. We're always willing to give respectful discussion a voice!
God bless,
Lesley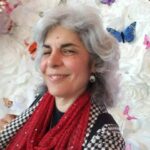 Editorial Director and Senior Writer for TileLetter and TileLetter ARTISAN
Lesley Goddin has been writing and journaling since her first diary at age 11. Her journey has taken her through a career in publishing and publicity, landing her the editor position of TileLetter and its special publications in 2006. Her goal is to educate, inspire, recognize and encourage those in the tile industry -- especially the tile and stone contractor. Other interests include the soft, purring marvels known as cats, labyrinth walking, drumming and percussion, and a range of spiritual, musical and artistic pursuits.