Boston, MA — May 2022 — Artaic, a leading mosaic manufacturer that uses robotic technology and innovative design tools to customize, design, and fabricate award-winning installations, is excited to introduce Damian Di Maio as its newest Commercial Sales Manager. As a seasoned professional, Di Maio brings a wealth of industry knowledge and 20 years of commercial sales experience to the Artaic roster. With a proven ability to build lasting relationships with designers, developers, and contractors, Di Maio plans to secure large and small-scale projects to beautify commercial spaces across trade sectors.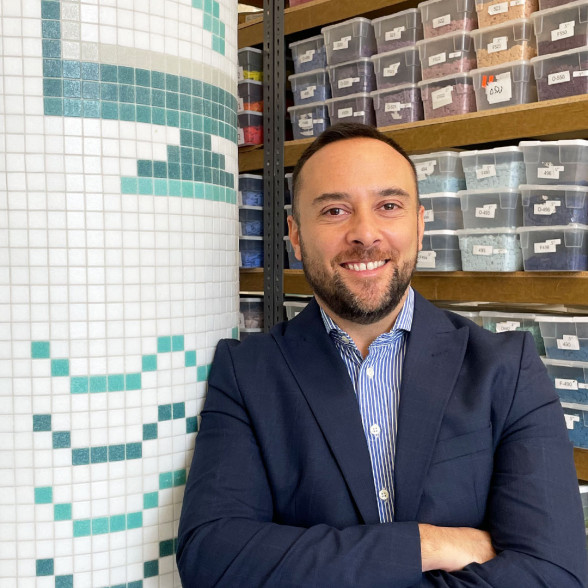 "We are thrilled to welcome Damian to Artaic's commercial sales team," says Ted Acworth, founder and CEO of Artaic. "He is a top authority in the commercial design space, and has fully aligned with our mission since the beginning. With his deep enthusiasm for the trade and knowledge of the field, he will be an asset in helping our commercial clients reach new heights with their creative visions."
Di Maio spent two decades perfecting the art of commercial sales, with experience working with construction companies, family-owned businesses, and multinational corporations. In his new role as Commercial Sales Manager, Di Maio will be responsible for the support and growth of Artaic's successful national sales organization and the strategic development of its rapidly-evolving sales channels. With his extensive background in high-volume tile projects, Di Maio will deliver Artaic's wide range of tile solutions to commercial spaces – whether it's a feature wall with an intricate mosaic or a field tile flooring installation that perfectly matches the client's unique brand colors. Di Maio's role will task him with clients in all commercial sectors, including healthcare, hospitality, workplace, retail, education facilities, and beyond.
"Artaic is unrivaled in their ability to produce custom tile installations to scale for projects of all different sizes," says Di Maio. "I'm thrilled to join such an innovative company. In this role, I can combine my passion and commercial industry knowledge, while working with a team of inspiring artists and designers to accomplish client goals in any space."
Di Maio joins the company at an exciting time, as Artaic has just launched three new additions to the brand's award-winning Flourish Collection. To learn more about Artaic and the latest designs, please visit www.artaic.com.
---
ABOUT ARTAIC:
Artaic uses robotic technology and innovative design tools to customize, design and fabricate award-winning mosaics for private and multi-family residences, public art installations, commercial properties, and corporate standard programs, as well as hospitality, healthcare and education environments. Artaic's proprietary Tylist™ software enables its in-house design team to customize mosaics from any source of inspiration – whether it be a drawing, photograph, logo, or idea. Artaic also offers a catalog of preconceived design collections, such as, Lasting Rugs, GLYPH, Verge, and Quad, that can be customized to fit projects of any scale and made unique by an expansive material and color palette. Artaic also develops smart tile programs for their customers' field tile needs, leveraging their unparalleled product selection of vitreous glass, sintered glass, and glazed porcelain. The Boston-based company's tailored approach and unique manufacturing process increases design flexibility while decreasing lead time and cost, making it a go-to resource for architects, interior designers, and artists across the globe.