Los Angeles, CA, January 4, 2023 — ARTO, creators of handmade artisan tile products headquartered in Southern California, is pleased to announce the addition of industry veteran Michelle Labriola to the team. Michelle joins ARTO as the company's Midwestern Regional Sales Manager.
In this role, Michelle will be responsible for supporting dealers as well as their clients across the Midwest. With Michelle on board, the company is realigning its focus on bringing ARTO's one-of-a-kind tiles backed by responsive customer service to dealers, showrooms, designers, builders, architects, and homeowners across the Midwestern region. A long-time resident of the Chicago area, Michelle is ideally positioned to serve this territory with dedicated, prompt, and in-person support.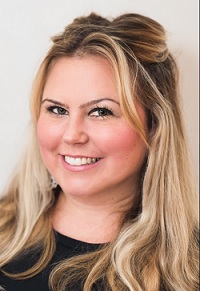 "As ARTO's Midwestern Regional Manager, I'm committed to making sure dealers across the region have timely access not only to the product but to the information, training, and support they need to exceed their clients' expectations," says Michelle.
Prior to joining ARTO, Michelle worked with a Chicago-based dealer that carried ARTO's products. "I first encountered and fell in love with ARTO's extraordinary tiles 15 years ago, and am very familiar with the company as well as its products," explains Michelle.
"When Michelle was a customer, she brought ARTO on to some very cool and challenging projects," recalls Armen Alajian, who — along with his brother Vod — is the co-owner of ARTO, the company their father founded in 1966. "She saw something in ARTO from the start, and continues to understand what makes us different. She's always been part of our family, so she'll be right at home here."
"Michelle brings an incredible amount of knowledge not just about ARTO's products and the industry in general, but about regional trends and the needs of regional dealers," says Armen. "Over the next few months, she is going to build the foundation of dealers and distributors across the Midwest that will be instrumental in bringing ARTO into more people's homes."
"There's a growing demand in the Midwest for durable handmade tile products that can be used for both indoor and outdoor living spaces, while withstanding extreme weather conditions," adds Michelle. "ARTO products meet freeze/thaw requirements, and offer the ideal combination of ruggedness and handmade individuality that today's Midwestern homeowners and businesses are looking for. You won't find any other product like ARTO's in the Midwest."
Michelle is looking forward to introducing ARTO's new products to the region she knows and loves. She is equally excited about the enhancements in ARTO's manufacturing and merchandising processes that shorten lead times. "Dealers in the Midwest will be pleased to learn that with our new quick-ship process, we'll be able to deliver ARTO products in as little as two weeks," says Michelle. "ARTO is also the go-to supplier for concrete, terracotta, residential and commercial products for Midwest dealers, which is a real advantage for them."
"We are committed to serving the Midwest region, our addition of a seasoned pro like Michelle to the team, our continual roll-out of unique new products, and our streamlined new processes — they're all part of ARTO's vision to become a national brand recognized for artisanal quality, bold innovation, and responsive customer service," says Aaron Dugas, ARTO's Vice President of Sales. "We can't wait to hit the ground running with Michelle in the Midwest. We see great things ahead for this region, so stay tuned."
Midwestern-based dealers are welcome to reach out to Michelle Labriola directly at (312) 933-0197. Learn more at ARTO.com.
---
About Arto Brick
Founded in 1966 by Arto Alajian — an industrial designer with an artist's heart — ARTO's story began in a small studio equipped with a single kiln. Nearly 50 years later, ARTO ceramic and concrete tiles can be found in distinctive living, working, recreational, and public spaces across the world.
Today, ARTO continues to hand-craft small-batch tiles from their Gardena, CA headquarters, using locally sourced materials and environmentally responsible practices. While ARTO's product lines and collections continue to evolve, the family-run operation shares the same passion that went into the very first brick veneer: To create extraordinary, unique, rustically elegant products that bring life to the spaces they inhabit.