"Patriotism for me is when people put their ideas into the work. Your love for your country is only in your work." – Sudhir Mishra
---
I don't usually get on my soapbox about patriotism (unless you are a follower of mine on my personal Facebook account), but I am going to take this opportunity to tell you that BEING a tile setter and encouraging others to enter the trade is a patriotic act.
Why is that, you may ask? Because in this world of outsourcing, sending jobs overseas, prefab construction, pre-packaged food, and automation, there is a decreasing pool of employment opportunities that can't be done by someone else, located somewhere else, likely earning a fraction of what the job is worth in U.S. dollars. Hands-on trades are some of the last bastions of craftworkers who need to be PRESENT, on the job, in person, with eyes, minds, and hands engaged with creating a beautiful, long-lasting, well-performing installation of ceramic or natural stone tile.
When you engage in your profession as a tile contractor, you are literally building the country, and contributing to the physical real estate of your region. You are interacting with real humans, face to face, not just online in email or social media. You represent a skill, a company, a profession – all of which are things to be proud of. Your job cannot be outsourced. There's no way a machine can come in and assess the need for a flat, level floor, notice bond breakers that need to be removed on a substrate, select the right mortar and grout for the job and then install all the parts and pieces with artistry and excellence. Of course, you use machinery and tools on the jobsite, but they take your expertise and prowess to wield positive results.
Are you interested in helping the country grow? Then talk to younger generations about your trade. Share what knocks your socks off about it with them – what excites you, inspires you, what makes you stand back from your work with a sense of pride and satisfaction – as well as how it helps you put food on your table and attain a good living. Talk to your children, and their friends, or classes in local high schools or those in your faith community – ignite in them the excitement that in many cases, they can earn while they learn and have a skill that can never be taken from them. And they are NEEDED! One of the largest barriers to construction – of literally building the country – is the fact that there aren't enough skilled craftspeople to do the work! You're doing your part AS a tile setter – try to encourage or recruit at least three more installers into the field: one to replace you when you retire and two more to expand the trade. Bring interested youth to a NTCA workshop or other educational opportunity, and give them the chance to let the light go on as they start pondering the possibilities the trade offers (without incurring the crushing debt that college often does). 
If you value being heard, get involved in the industry, specifically NTCA, which is known as "The Voice of the Contractor." Through NTCA, members are engaging with manufacturers and distributors as well as A&D professionals and general contractors to help elevate the profession, find solutions to on-the-job problems, refine setting materials and tools to make jobs easier and better performing, and share their knowledge so that sound specs are written from the get-go. You will have an impact; you will be actively working to make things better, not just in your trade but as a ripple effect to the country at large! Be proud of what you do and how you contribute to the wellbeing and strength of the nation! You are a patriot!
God bless,
Lesley
[email protected]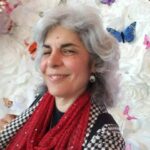 Editorial Director and Senior Writer for TileLetter and TileLetter ARTISAN
Lesley Goddin has been writing and journaling since her first diary at age 11. Her journey has taken her through a career in publishing and publicity, landing her the editor position of TileLetter and its special publications in 2006. Her goal is to educate, inspire, recognize and encourage those in the tile industry -- especially the tile and stone contractor. Other interests include the soft, purring marvels known as cats, labyrinth walking, drumming and percussion, and a range of spiritual, musical and artistic pursuits.