Belknap White Group's Mansfield, MA facility retrofitted with 3,000 solar panels
---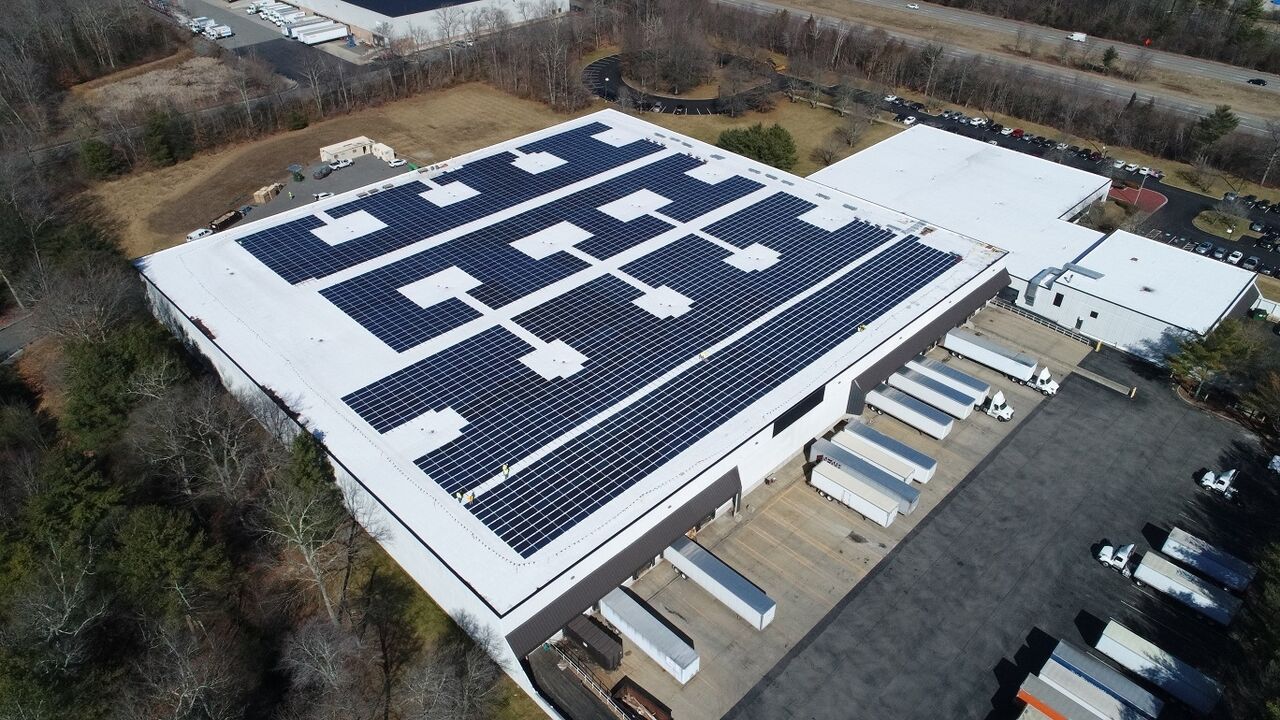 Mansfield, Massachusetts. The Belknap White Group (BWG), one of America's leading full-service flooring distributors, doesn't just market and sell eco-friendly floorcovering products. The firm is one of the first companies of its kind to embody the green movement by retrofitting its buildings with energy-saving, environmentally sound, green technology. 
"Eight years ago, we started out looking at ways for our company to not just be conscious of the green movement, but to get more involved," stated Stephen Mancini, Executive Vice President, Logistics of The Belknap White Group. "We did our research, and found out that if we were to outfit our buildings with state-of-the-art exterior solar panels… not only would we ultimately be saving energy, we could qualify for tax credits and recognize savings in our electrical bills."
Mancini stated that the roof of the firm's Mansfield, Massachusetts main building, which basically housed inventory, "was 25 years old, whereas in relatively good condition, could use an upgrading.
"We soon discovered there were three areas which would benefit us, if we decided to go with an exterior solar panel program. First of all, we could receive governmental tax credit. Secondly, we would qualify for solar renewable energy credit. And last, which initially we thought would be the main item to target, we'd be able to cut back on power and electricity expense.
"Our Mansfield operation basically has three roofs," Mancini continued. "One covering the office, another covering the subcontractor pickup area and the last and largest being our warehouse, in which inventory is kept. The warehouse takes up roughly 70% of our total roof space. Ultimately, it was calculated that to efficiently cover the warehouse roof, we'd need approximately 3,000 panels."
The installation of these panels took longer than planned due to harsh New England winters, and rather than being completed in February of this year, the project was finished in June. "We recognized significant changes immediately," stated Mancini. "We noticed our electricity consumption going down and our tax credits coming in. Soon, we'll be collecting our quarterly renewable energy credits, and at that time will be looking forward to receiving our much anticipated reduced electricity bill." 
The process of adding solar panels continues to be an ongoing one at Belknap White. Mancini says that a variety of factors including geographic location, roof design, temperature, and much more will determine the number of panels needed moving forward for its other locations but "we plan to continue to harness the power of the sun, cut our environmental footprint and create a sustainable impact to our business and the communities where we live and work."
Solar panel efficiency refers to how well any given solar panel can convert sunlight into usable electricity. "Apparently, it seems that our solar panel system is really working well," beamed Mancini. "We have a saying here at Belknap White…  'Hope for sunny days and rainy nights'."