One recent Tuesday, Dave Clark, owner of Clark Flooring LLC in Jackson, Miss., posed a question on the Facebook group, Global Tile Posse, about working with young family members – who's done it and how is it working out?
"Working my son this summer, he's 12 and never really done anything like work. Mainly just want to spend time with him and teach him a trade and the value of a hard-earned dollar. Any of you guys or gals ever work your youngsters? What would you pay them? Would you let them run a saw?"
This is an interesting question, since one of the main challenges in our industry is the dearth of tile setters and interest in the trade in the next generation. But after reading these responses, there is hope!
---
Sean Burkhart, Burkhart Construction Management, Richfield, Wis.: My son helps me every now and then. He is 9. I taught him how to run a tile breaker when he was 4. I don't even have to explain it to him now. Just hand him a cut with a mark and he breaks it then stones the edge! Great help!
Brad Tremain, Tremain's Top Tile, Winona, Minn.: Run a saw and wipe grout. Simple cuts. I've let my 8-year old run straight cuts.
Charles Nolen, Prestige Custom Tile, Logansport, Ind.: I get the awesome privilege of having my son install right along with me every day and I can say it's truly the best ever watching your kid turn into a mini you. It's pretty damn rewarding, not to mention the whole being proud thing, so here's to you, Caleb Nolen. Let them do whatever they feel comfortable with. One of many good things about a wet saw is it's hard to cut fingers off with it.
Kevin Green, Artistic Marble & Tile, Columbus, Ohio: $10 an hour. I tell him he has to save half of it, and yes I show him how to use the tools.
Cody Laws, Cody Laws Contractors, Wadmalaw Is., S.C.: I started when I was about 6. I got a dollar a day to pick up carpet scraps and blades. I had my own pair of pliers to pick them up with and put in a can.
Clayton Knutson, Final Touch Contracting, Dallas, Texas: I started real work and paying taxes/social security at 8 in a shipyard. My son is 4; works harder than most men.
Joseph Maiuri, Shores Tile Co., Roseville, Mich.: Yes sir. 12. First job I had was removing the paper between the quarry tile base and cutting the cardboard off the top: "Police the area." I also cleaned my brother's truck. I think I got $10/hr back then. That's awesome – teach them young!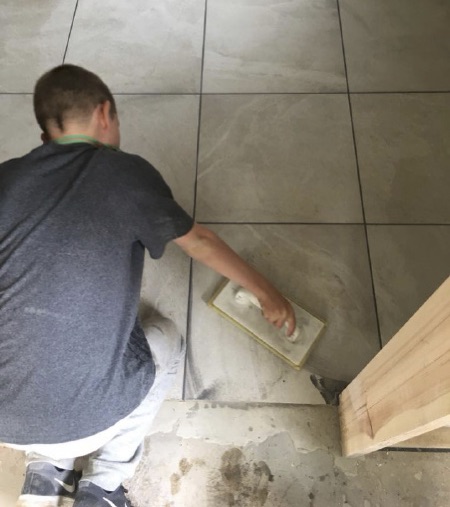 Matthew Allcott, MGA Tiling, Frome, Somerset UK : I've let my boy have a go on the dry cuts (subway tile) and grout a small floor; he's 11. He got 15 pounds for the day.
Dave Morgan, CA Flooring, LLC, Clinton, Miss.: My son helps my brother some throughout the summers. He's 14 now and has been helping for the past few years.
Nathan N Michelle Mikoski of Batharium, Kannapolis, N.C.: Depends on the kid. My oldest started when he was 9, and around 13 things clicked for him. By 14 he was straight up setting small jobs and tub surrounds on his own. He's started back today for the summer and will be 16 in a few weeks. He's paid for his first car (a 1970 Beetle) and his own monster gaming rig. His younger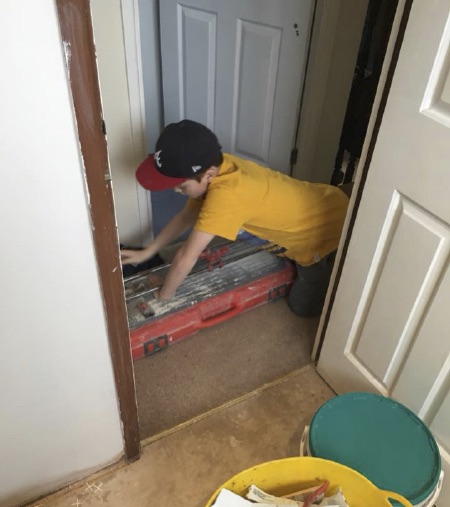 brother is 11 and still isn't ready to handle a power tool, but he has other skills neither I nor his older brother have
Greg Dawson, Greg's Flooring, Quesnel, B.C.: Pay $15/hr. Make him work, but try to have fun. Every dollar you pay him now is money that you won't give him later to go out and do stuff. And he will feel like he earned it. It's coming out of your pocket either way; just let them work for it.
Dennis Pacetti, Pacetti Tile & Remodeling, Huntingdon Valley, Pa.: Pay him what you'd pay an actual helper, and work him like an actual helper.
George Adams, ST Tile, Wellington, Ohio: My son has been on jobs since about 4. I was self-employed for 15 years and a single father, so my son came to work with me as often as possible. When he was 16, he started working for the same company I do. This is his second year here and he earned himself a $3 dollar/hour raise.
Tom Welch, Welch Bros, LLC, Woodland, Wash.: I don't have a son but I do have two nephews that spent summers working on my tile jobs that are now both licensed full-service tile contractors. They were 14 or 15 when they first started and are now in their mid thirties. They started by just doing housekeeping and cleaning tools and buckets, buffing grout jobs, and just getting acquainted with construction in general by working around other tradesmen. I always made sure they got paid so they understood the value of working. I couldn't be more proud of both of them and their accomplishments.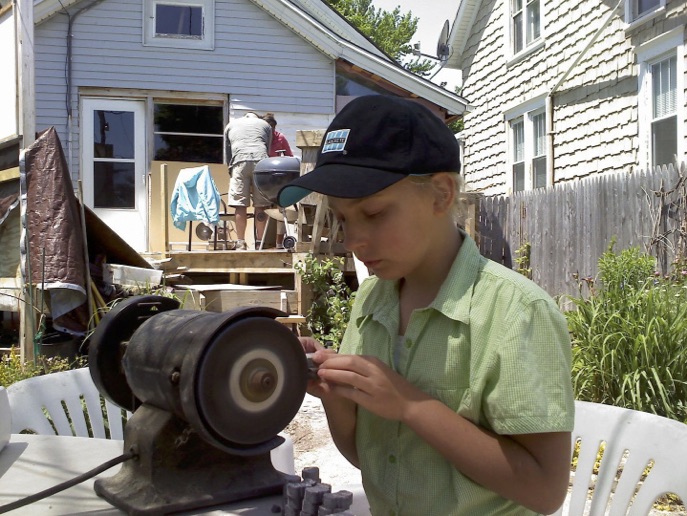 Matthew Felton, Mattheworks.com, Milwaukee, Wis.: My dentist was kind enough to give my stepdaughter free braces. She was 10. So when his bathroom project came up in the summer, you should have seen the look on his face when he came home to see her outside in his driveway by herself making cuts for me.
I obviously didn't just throw her out there. She learned everything – especially safety wise – that she needed to know and was more capable than most hired help I hired after the same amount of training. Pay for your son? As much as you would pay for what you would get out of any other trainee with whatever skill level he performs at. But agree there should be a lesson in saving as well.
Shaun Skeen, Home & Business Renovation Solutions, Okeechobee, Fla.: This is awesome seeing the next generation. I will start my son next year when he turns 4. We all better watch out for DCF showing up at our doors for child labor laws, LOL. Seriously though, let him enjoy just being with his dad then slowly start working him. Trash clean up, getting buckets filled, pulling spacers, cleaning thinset out of joints etc.
Dave Clark, Clark Flooring, LLC, Jackson, Miss.: All great responses. Thanks GTP! My kid makes great grades, just finished 6th grade with one B and the rest As. He likes to brag on being one of the smart kids and his achievements. I really just wanna spend time with him and teach him something that we know can be valuable. Kid saves all his money. I give him cash usually twice a year and he puts it wherever he puts it. He's probably got more stashed away than I do. Lolz. Happy Tuesday, y'all!