Usually in this section, we reach out to tile contractors to inquire as to topics and issues that are on their minds. 
But this time around – since we are recently back from the Coverings show – we decided to BRING you information about some of the hot products that we saw in our travels at the Las Vegas Convention center. Some of the new things seen on the show floor were shared on our TileLetter Facebook page during the show (check for news from Crossville, Bostik, Litokol, Milestone, and Wonder Porcelain and others), and some – such as new trend information from Tiles of Spain and Ceramics of Italy – can be found online at TileLetter.com.
There are some introductions that we'd like to highlight or that didn't get our TileLetter coverage at the show. Read on to see some hot new products for your business.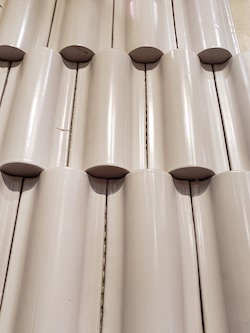 CasaSYMARI – First up a brand new luxury tile venture by Sylvie Atanasio – who originally established Alys Edwards and went on to create Studio S Imports – and Omar Torres, formerly creative director with Country Floors. With characteristic creativity and flair, Atanasio and Torres scoured six countries during the pandemic to develop the 13 collections launched at Coverings. The collections were designed at home, and then the search was on for the "best artisans, tradespeople and bespoke factories to make our designs," Atanasio said. Small family-run artisan factories capable of producing the volume of material needed were sourced in the U.S., Mexico, Italy, Spain, Portugal, and Tunisia.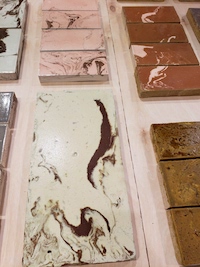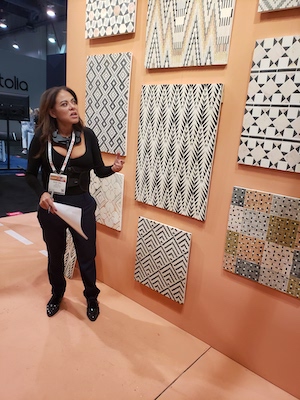 As testament to her grit, Atanasio toured visitors to the booth while wearing a back brace, since a car accident a few days before Coverings resulted in a broken back. With 112 confirmed appointments only four days before Coverings, she said, "I have to go even if that meant renting a hospital bed! Thank God, I was cleared and I don't have to resort to that."
Collections feature handcrafted terracotta designs in the URTH collection that evoke basketweave patterns and wallpaper, fluted 3D pieces in the Maora Collection, and delicious swirls of color – reminiscent of chocolate or halvah – in the terra cotta Nostra Terra Collection. Learn more at www.casasymari.com.
QEP Co., Inc., was out in force at the show. Len Gould,President and Chief Executive Officer, The Americas and Leslie Del Pozo Vice President Marketing Content & Communications toured TileLetter through the booth, revealing some of their launches, which included two leveling systems. The Xtreme Pro Series Tile Leveling System (TLS) offers a wider base and four clip sizes to meet any need. The LASH 360 TLS offers three stem options: in-line; 3-corner and 4-corner stems with a polyethylene and nylon spin cap that won't scratch or mar tiles. XL Cork Handle Trowels in the Xtreme Pro Series sport an extra long stainless steel blade held in place by 13 rivets and a non-slip cork handle. QEP engineered its margin trowels with convenience in mind – a bucket hook keeps trowels handy. www.qep.com. 
At MAPEI, lippage control devices were hot also, with the MapeLevel EasyWDG System for lippage control and edge leveling in walls and floors. The ergonomically-shaped, reusable wedge is easy to remove and works with spacers that are color coded for seven width sizes. Mapeguard Board is a rigid, lightweight, foam backer board that is waterproof on both sides. It's available in five thicknesses from 1/4″ up to 2″. www.mapei.com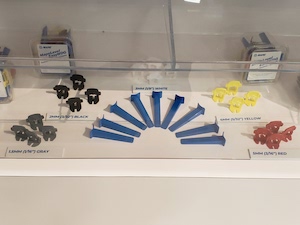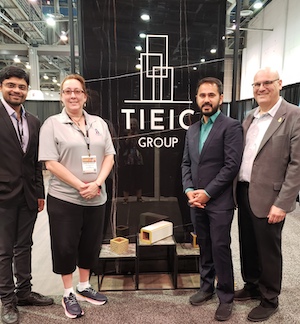 TIEIC stands for "The Indian Export/Import Company" with lines that include porcelain tile with five finishes, cut and molded porcelain mosaics, floor tile, wall tile, porcelain slabs, quartz slabs, subway tiles, pavers, and gypsum board. Five agents in the U.S. and Canada service North America, include Mark Scher and Christine Bouley in Langhorne, Pa., who guided visitors through the booth at Coverings. TIEIC Group got its beginnings in 1987 producing roofing tiles in the Morbi industrial region, and started the production of ceramic wall tiles in 1992. It recently opened a North American service center for customer service only. Nearly all products are made to order in India, with Italian equipment and Spanish glazes, with a turnaround time of three weeks from when the order is placed to when it is shipped. The offerings are broad and on trend. Learn more at www.tieic.com.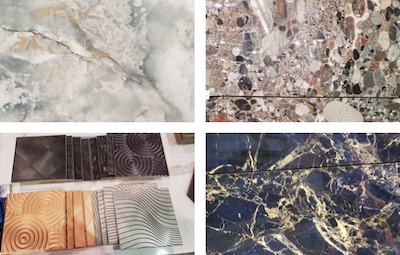 Infinity Drain President Jonathan Brill displayed the company's "Hair Maintenance Kits" that include a better basket and an attractive key that can be hung in the shower for easy lifting of the drain from one end to clean – because, "Hair happens." Also at the show was the Next Day Custom site-sizeable series of drains to allow the perfect design and placement of drain that is "Exactly wall to wall, flush against the wall", with delivery from the Long Island, N.Y., manufacturing facility, within 48 hours. Want a practically invisible drain? Infinity Drain offers Slot Linear Drain, with a 3/8″ that makes the drain virtually disappear. www.infinitydrain.com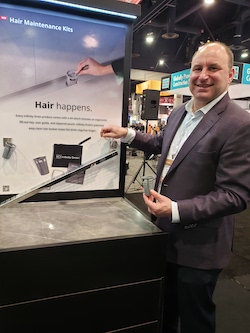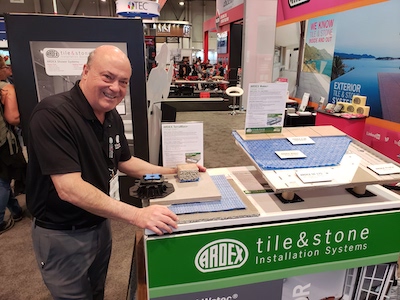 At ARDEX, Russ Gaetano gave TileLetter a tour of some of the company's exterior tile and stone systems. ARDEX Watec Drainage System is a comprehensive, passive capillary, three dimensional drainage system designed to move water through and away from tile and stone installations on patios, balconies and decks. Thus, it protects against efflorescence, staining and disbonding. ARDEX TerraMaxx TSL Pedestal Systems offers a pre-assembled, raised-flooring support for 2 cm and greater porcelain tile or pavers, enabling quick and simple installation on balconies, roof terraces and other walk-on surfaces.
ARDEX ProDrain Drainage System is a passive capillary drainage system designed for 2 cm porcelain tile and stone which whisks water away from the installation. www.ardexamericas.com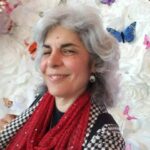 Editorial Director and Senior Writer for TileLetter and TileLetter ARTISAN
Lesley Goddin has been writing and journaling since her first diary at age 11. Her journey has taken her through a career in publishing and publicity, landing her the editor position of TileLetter and its special publications in 2006. Her goal is to educate, inspire, recognize and encourage those in the tile industry -- especially the tile and stone contractor. Other interests include the soft, purring marvels known as cats, labyrinth walking, drumming and percussion, and a range of spiritual, musical and artistic pursuits.