Construction activities, whether interior or exterior, many times require that craftspeople complete their work in areas above ground or beyond the worker's ability to reach. The use of ladders, scaffolding, or mechanical lifting devices can facilitate these activities, but as with any construction practice, safety is paramount as are the measures taken to ensure it.
---
Scaffolding
Merriam-Webster defines "scaffolding" as: a temporary or movable platform for workers…to stand or sit on when working at a height above the floor or ground.
The types of scaffolding used on a jobsite will vary depending on the scope and complexity of the project. Often, there may be several types used to service the requirements of the job, which we will review below.
Frame and brace
Sometimes called "mason's scaffolding," this type is very common for residential and commercial applications. This modularized scaffolding consists of frames, sometimes known as scaffold bucks, cross braces, planks, and base plates. This scaffold is lightweight, easily handled, can be erected quickly, and can be configured to suit the jobsite requirements. When assembled on a solid surface using four base plates, two frames, and two cross braces, the box formed is normally 5′ wide, 7′ deep, and 5′ high.
These frames may be stacked vertically on top of each other by using a coupling pin secured with a locking pin on each vertical pipe and can be built several stories high for taller applications. Extension ladders or built-in stairs are used to give workers access to different levels.
Frame and brace scaffolding can easily be converted into a mobile or rolling scaffold with the addition of horizontal diagonal bracing and locking wheels or castors which are secured with a locking pin on each leg of the frame. If locks are not provided, wheel chocks or some other device is required to keep the scaffold static while work is in progress.
Tube and clamp
Tube and clamp scaffolding is one of the earliest types of steel scaffolding which consists of two parts – tubes and clamps or couplers. It is extremely strong and is able to support heavy loads while allowing the flexibility of placing the vertical tubes wherever needed. Where other types of scaffolding don't easily adapt to irregular shapes, tube and clamp scaffolding – which is similar to a large erector set – can be modified to follow building walls that are round, straight, or geometric. The steel in this type of scaffolding is normally galvanized to protect against rust and corrosion, making it an excellent choice for regions with harsh environmental conditions. After the metal cross-bracing is installed, wood or metal decking is placed at the appropriate levels to accommodate the workers' needs.
There are strict requirements that tube and clamp scaffold designers and erectors must accomplish according to OSHA scaffolding safety regulations at
https://bit.ly/3iy50KM, in order to provide a safe working platform.
Suspended or swing set
Although not placed on the ground like conventional scaffolding, suspended or swing set scaffolding does serve a distinct need. This type of scaffolding is comprised of a platform or stage that is suspended from the roof of the building by a counter-balanced cable system that allows the platform to easily move up and down to various heights. These scaffolds can provide significant savings when the job requirement is a very tall structure as well as buildings that don't allow adequate space for the base of a conventional scaffold.
Mast climbing work platforms
Similar to suspended scaffolding, a mast climbing scaffold moves up and down on heavy-duty fixed mast structures that are placed on stable ground and are able to support heavy loads. This system is very popular on worksites that have very limited ground space such as a congested city setting.
Aerial lift equipment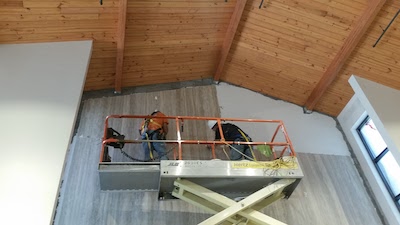 Although not considered as a conventional scaffold, aerial lift equipment such as scissor lifts, truck-mounted bucket lifts, and telescopic boom lift platforms provides a working stage which can be placed, depending on the type of device, exactly where the work is to be completed. Aerial lifts are not normally used to replace conventional scaffolding, but offer quick access without the time and expense needed to erect other types of staging.
More extensive scaffolding information may be found by clicking on the OSHA website Guide to Scaffold Use in the Construction Industry at https://bit.ly/3iwv6Ox as well as this link to the Indiana University Scaffolding Safety Program at https://bit.ly/3ws59Yq.
Tenting for exterior environmental protection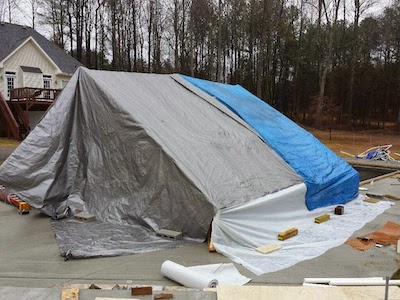 Many times, the schedule of the job doesn't coincide with favorable environmental conditions, so intense heat or cold, rain, sleet, snow, ice, and high winds may be present. In order to keep the project on schedule, temporary protection will be needed.
The American National Standard Specifications for the installation of Ceramic Tile (ANSI) provides some guidance in this area. Under section 2.2, Environmental Conditions and Protection, A108.02 states;
2.2.5 Do not apply tile setting materials to surfaces that contain frost. Do not install tile in areas where the temperature is not maintained above 50°F (10°C) or the temperature of the backing is above 100°F (38°C).
2.2.6 Temperature of substrate shall be 60°F (16°C) and rising for application of epoxy and furan unless otherwise specifically authorized by the manufacturer.
2.2.7 Maintain epoxy and furan at a stable temperature between 60°F (16°C) and 90°F (32°C) during the curing period.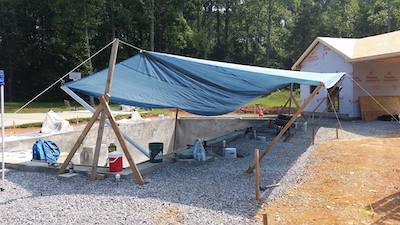 In order to meet these requirements and those of the manufacturer, it may be necessary to enclose the entire work area with a temporary product such as 6 mil polyethylene sheeting to maintain the temperature required by the product manufacturer. This enclosure will, most times, also protect the mortar from the wind which causes it to skin-over.
Conversely, direct sun will cause the mortar to cease functioning and obtain a cure strength which is substantially less than required. Here, some sort of tent or other method to shield the work from the intense heat of the sun will be necessary.
Likewise, some type of rain protection will be required to shield the in-progress and installed work until it has properly cured.
Utilizing safe work practices on any type of elevated platform is essential to the health and well-being of tile installers and other trades on the jobsite. This coupled with the protection of the tile installed by qualified labor will provide a beautiful and long-lasting tile installation.
All images courtesy of Nichols Tile and Terrazzo Company, Inc.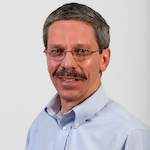 Scott Carothers is the Acdemic Director for the Ceramic Tile Education Foundation (CTEF) and is responsible for the creation of the Certified Tile Installer (CTI) program, and is involved in the creation of the Advanced Certifications for Tile Installers (ACT) program as well as providing training to others in the tile industry.
Carothers has been involved in the ceramic tile industry for nearly 40 years and was the owner of a successful retail and installation firm prior to CTEF. He has served as President and Chairman of the Board of the National Tile Contractors Association (NTCA), Chairman of the NTCA Technical Committee, was named the NTCA Tile Person of the Year in 2005, and the NTCA Ring of Honor recipient in 2013. He is a voting member of the ANSI and the TCNA Handbook committees.