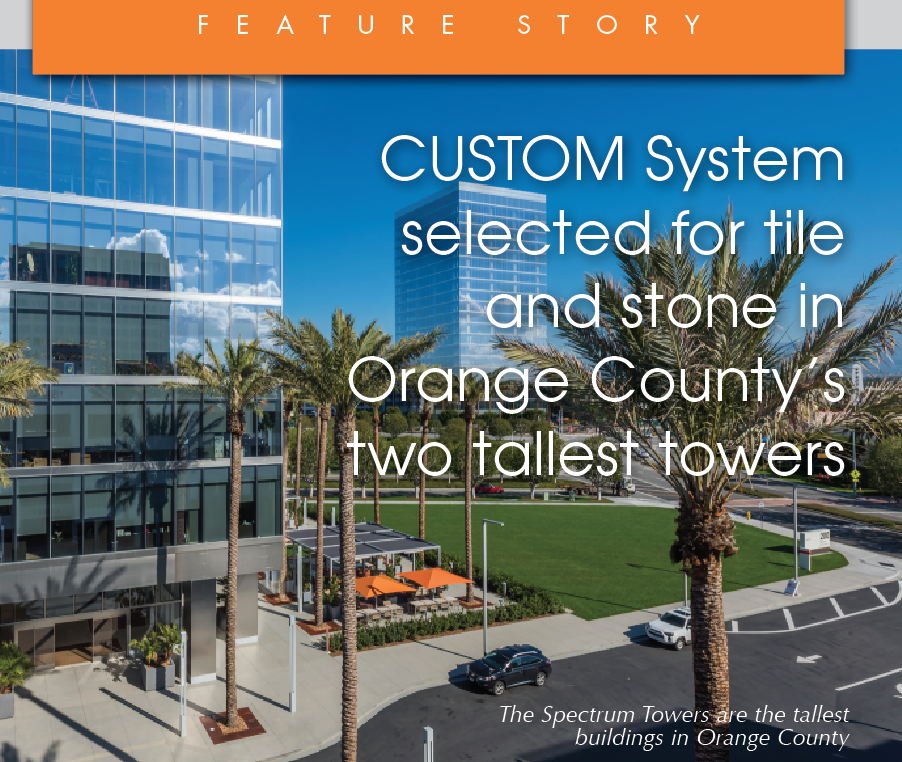 Irvine, Calif. is a high-tech economic powerhouse sometimes referred to as "Silicon Valley South." This fast-growing city's skyline was transformed by a pair of distinctive glass office towers located at Irvine's Spectrum Center, an open-air retail and dining district. Each 323-foot tower creates a vertical business campus offering impressive 360-degree views of coastal Orange County and showcasing large-format tile and stone on every floor. Both tile contractors on this project used a Build Green® Emerald System™ of products from CUSTOM to prep, set, grout and seal the assemblies and contribute to expected LEED Gold certification. 
Pei Cobb Freed & Partners, the architecture firm behind the Louvre's iconic glass pyramid, designed the Spectrum Center's new glass-walled, 426,000-sq.-ft. towers. Curtain wall construction creates an open, contemporary lobby to welcome employees and visitors to the many corporate offices headquartered here, including Mazda's North American Operations. This effect is enhanced by the luxurious expanse of oversized natural stone on floors, walls and even inside the elevator cabs. 
Setting large-format tile and stone
Two long-time, family-owned, Southern California firms executed the tile and stone work at the Spectrum Towers. A team from NTCA member company Charles McCandless Tile of Santa Ana set 30,000 sq. ft. of porcelain and Carnevale and Lohr of Bell Gardens installed 20,000 sq. ft. of 3/4" thick quartzite pavers.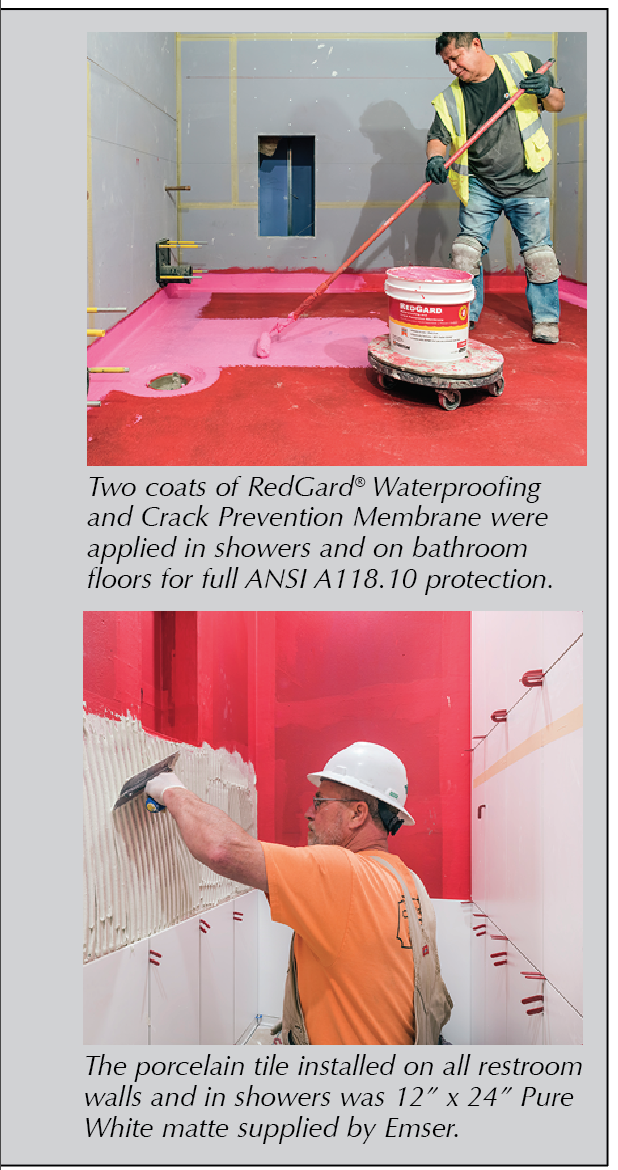 Prior to beginning work, samples of the very dense natural stone were submitted to CUSTOM's laboratory for product testing. Based on their findings, the technicians recommended using ProLite® Premium Large Format Tile Mortar, which was then selected to install all tile and stone materials throughout the project. ProLite is a versatile, polymer-modified, dry-set mortar for large-and-heavy tiles that provides excellent bond strength. This mortar exceeds ANSI A118.15 TE and will not slump on floors or sag on walls. ProLite is formulated with lightweight, recycled aggregate, so it weighs 40% less than other mortars. Environmentally sustainable content delivers superior handling characteristics and also makes ProLite easier to carry and mix on the jobsite. A 30 lb. bag of ProLite typically covers the same area as 50 lbs. of traditional mortar. 
"ProLite is a game changer," said Mark McCandless, president of Charles McCandless Tile. "The guys really like the way it comes out of the bucket on the trowel. It spreads easy, the non-sag is extremely good and its consistency is light and fluffy with very good workability. ProLite pays for itself in increased production," he offered.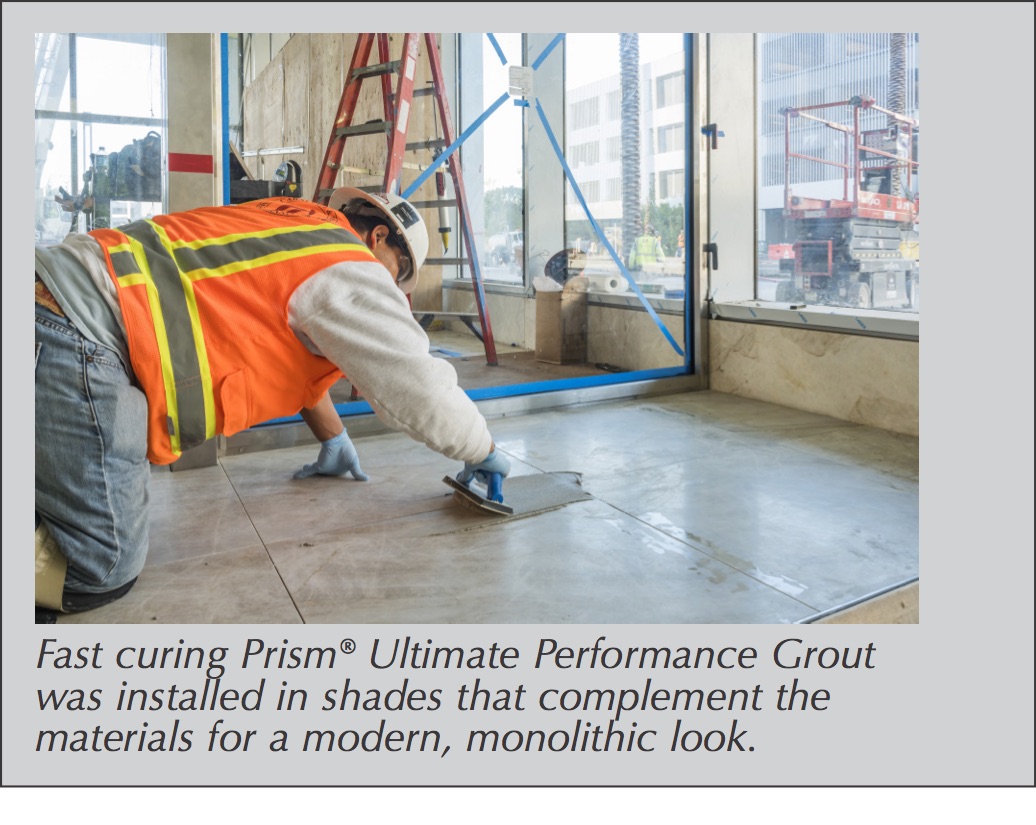 Craftsmen from Carnevale and Lohr fabricated and set 30" x 30" Taj Mahal quartzite pavers in the ground floor lobby using a dry-pack method including ProLite® as the bonding mortar. Matching material measuring 2.5' x 5' was mechanically anchored on lobby walls and 20 stories of tower lobby floors were set with the quartzite in a 24" x 24" format. 
"ProLite is our number one choice," said Jim Lunn, foreman at Carnevale and Lohr. "The guys in the field really like using it, especially for walls. The workability without sag is phenomenal. The pot life of ProLite is great and being lightweight is also a big plus," he added. 
Protecting the tile assemblies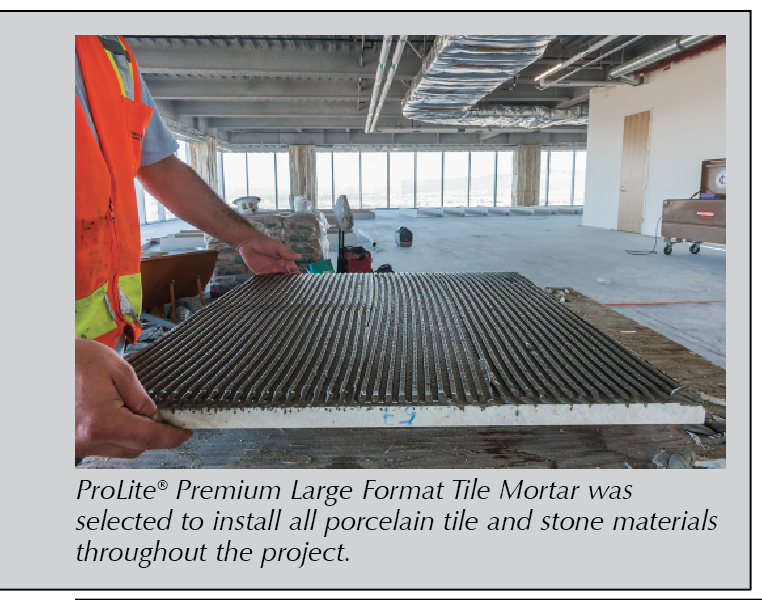 Core restrooms on all floors and the parking garage were treated with RedGard® Waterproofing and Crack Prevention Membrane. A ready-to-use elastomeric membrane that creates a continuous waterproof barrier, RedGard has outstanding adhesion and bonds directly to a variety of drain assemblies. RedGard exceeds both ANSI A118.10 and A118.12 for dual protection against moisture intrusion and in-plane crack transmission. Third-party laboratory testing has shown that RedGard outperforms other liquid-applied membranes for key performance attributes as well as actual coverage rate. 
After application of RedGard, bathroom floors were set with 12" x 12" Spec Ceramics Space Taupe matte tile. The porcelain tile installed on the walls was 12" x 24" Pure White matte supplied by Emser. Soft joints at changes of plane were filled with PolyBlend® Ceramic Tile Caulk which is suitable for use in interior, intermittently wet areas like these commercial buildings' restrooms.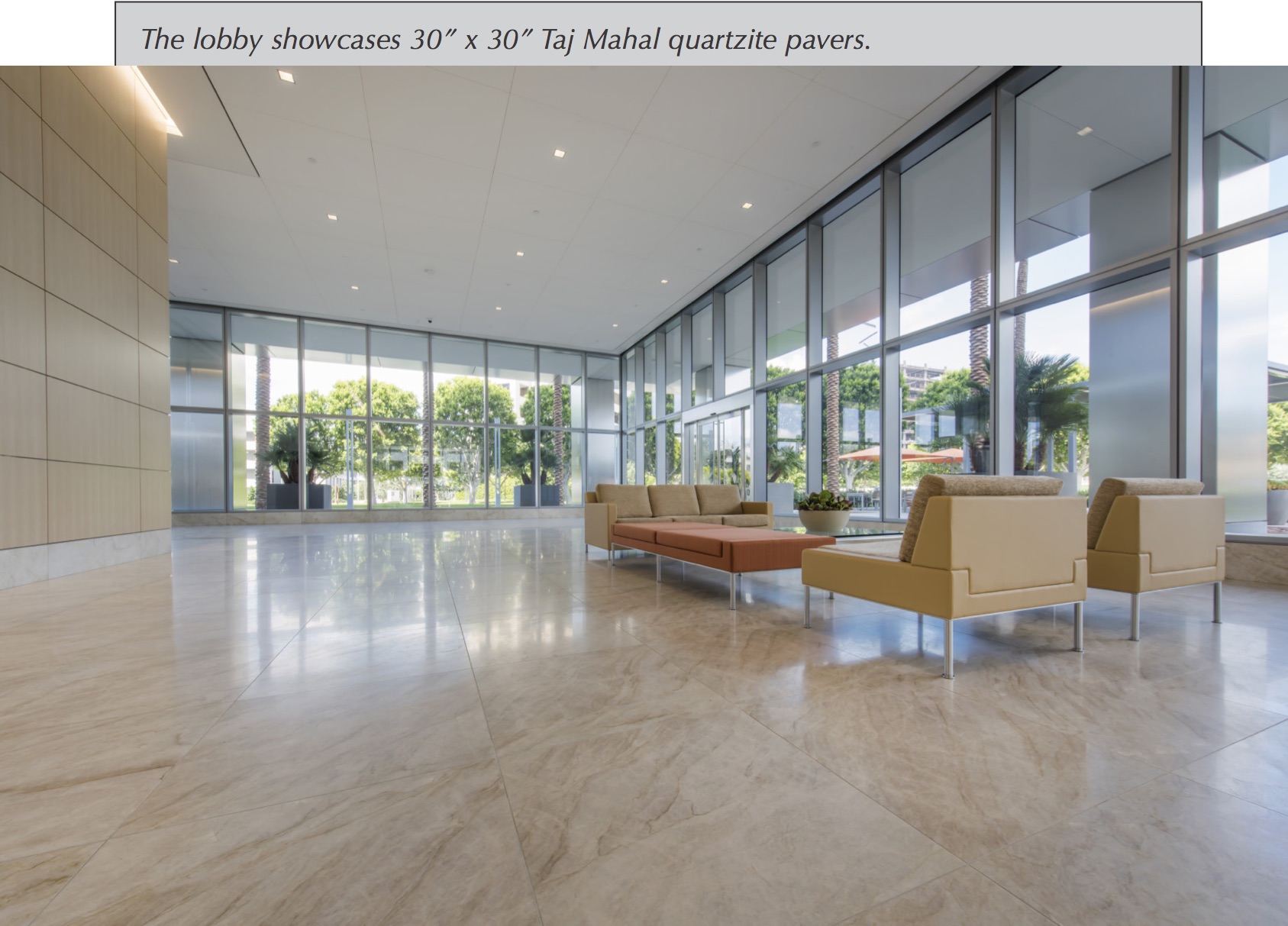 All porcelain and natural stone tile throughout both towers was grouted with Prism® Ultimate Performance Grout in shades to complement the materials for a modern, monolithic look. Fast-setting, lightweight Prism sets a new standard in grout technology. This calcium aluminate-based formula meets ANSI A118.17 high performance standards and will not contribute to efflorescence.  Prism demonstrates uniform, consistent color without mottling or shading, regardless of tile type or variable weather conditions such as humidity. These reliable results were important based on fluctuating environmental conditions at the jobsite due to the height of the towers and the effect of all-glass walls. Recycled aggregate content makes Prism 30% lighter than other grouts and delivers superior, smooth handling in grout joints as narrow as 1/16".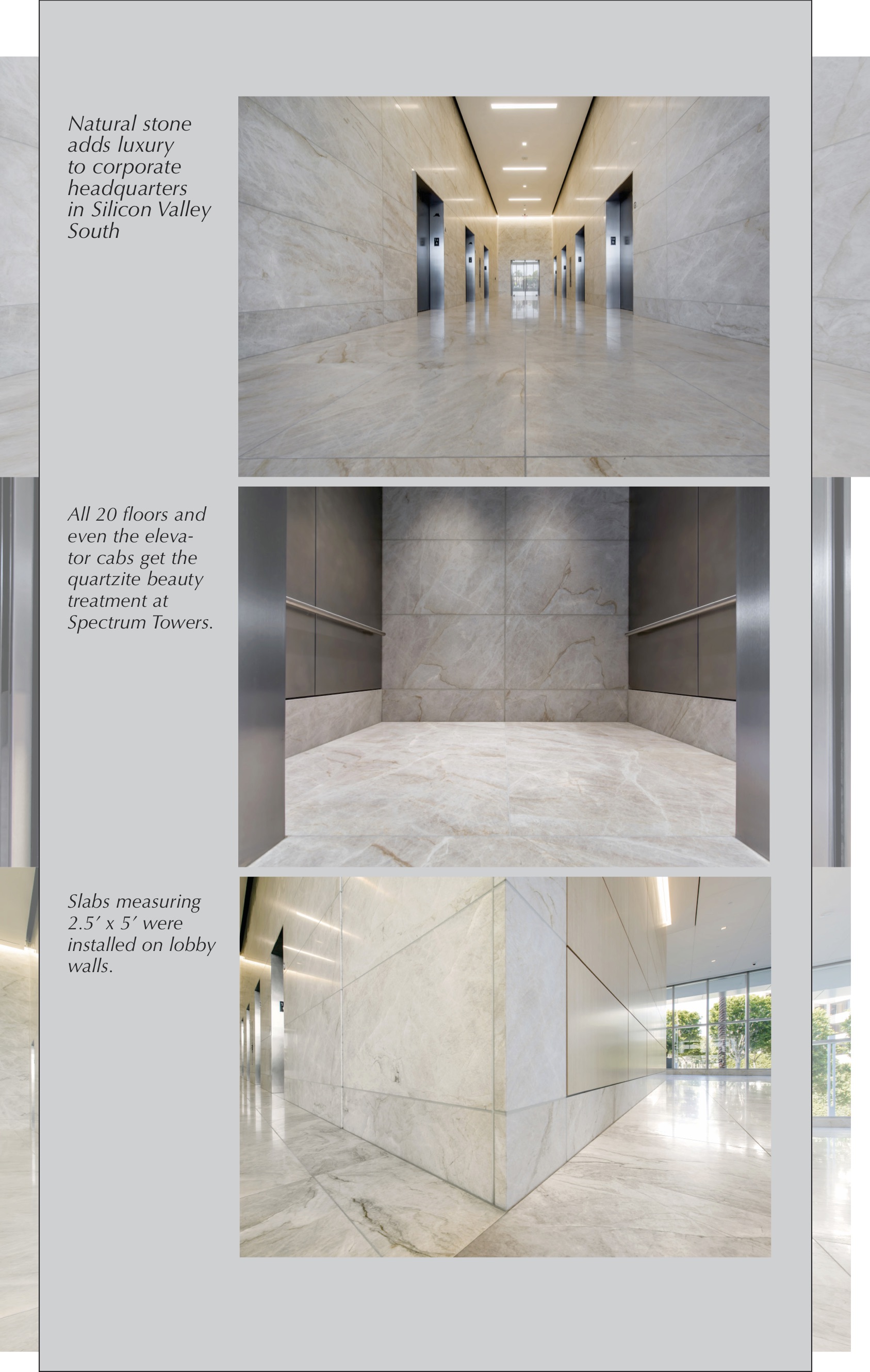 "Prism is more colorfast than other cement grouts and we do not see any mottling, which makes everyone happy," said McCandless.
Aqua Mix® Sealer's Choice® Gold was applied to protect both tile and grout from staining during and after installation. Premium quality Sealer's Choice Gold is a water-based formula with low VOCs. This is important for enclosed installation areas like restrooms as well as compliance with California's environmental regulations. This no-sheen, natural-look sealer maintains the color and character of stone while allowing moisture vapor transmission.
"We like to use Sealer's Choice to prevent damage by other trades during construction. It's used as a protectant on about 90% of our jobs and those have fewer callbacks," offered McCandless. "Sealing per the contract documents is a big benefit." 
Sustainable building with the Emerald System™

Custom Building Products is committed to environmental responsibility in both product development and manufacturing practices. Over 100 CUSTOM Build Green® products contribute to LEED certification with low VOCs, recycled content and regionally sourced materials. CUSTOM's Emerald System™ goes a step further, with products that are guaranteed to comply with environmental agency regulations. The Emerald System is also the first line of tile installation products to include Carbon Offset Credits that help reduce greenhouse gas
emissions. 
ProLite mortar and Prism grout are cornerstones of the Emerald System™ and met the environmental standards of the Spectrum Towers' builders with contributions to LEED® certification and Carbon Offset Credits. In addition, all of the CUSTOM products that were installed – plus the help of the Technical Services team – exceeded the performance expectations of the tile contractors.