Business Tip – June 2018
In the TileLetter Weekly digital enewsletter disseminated on March 7, 2018, a recent study of wage data from the American Community Survey (ACS), analyzed by author Sasha David and published on BuildZoom (buildzoom.com) caused quite a stir. The analysis of the study was to determine which jobs pay the most – and the least – and why. The full story, with supporting charts and tables, can be found at https://www.tileletter.com/2018/02/construction-wages-who-makes-the-most-and-where/ or at http://bit.ly/2oqMLeO or at BuildZoom at http://bit.ly/2osxF8B.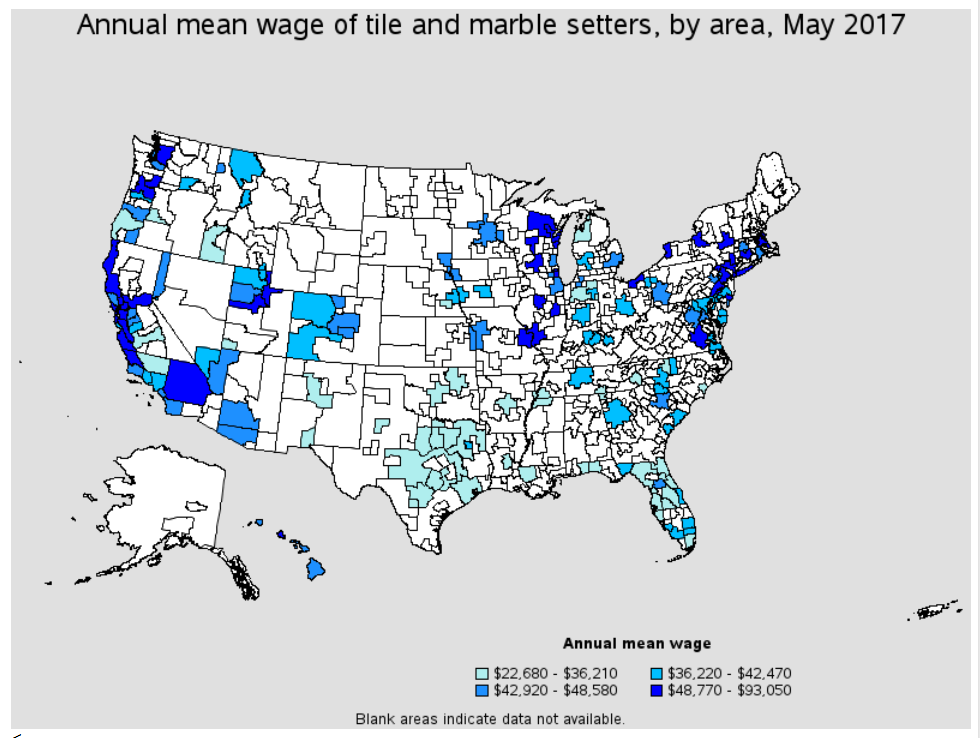 The controversy centered around the statistics that show concrete and terrazzo workers in this study make $35,000/year and brick masons, block masons and stone masons – as well as carpet, floor and tile installers and finishers make $30,000/year – which are said to be a far cry from elevator installers and repairers at $80,000 annually, or construction and building inspectors at $55,000. 
The upshot of the story was that location (workers in urban centers generally command higher wages than those in rural settings) and the skill/training level of the workers are the two main factors in higher paying positions, which David attributed to roles like supervisors, engineers and inspectors.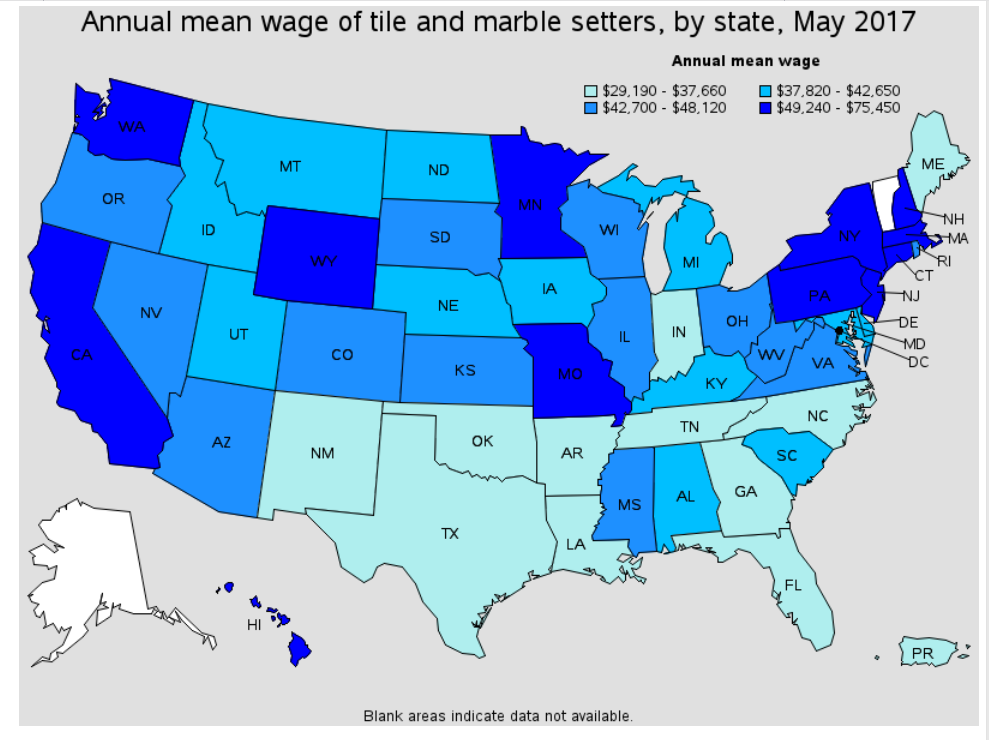 However, some TileLetter Weekly readers took umbrage at how tile setters were characterized and how figures may have been obtained including small sample sizes (15 for cement, concrete and terrazzo workers, 19 each for brick masons, block masons and stonemasons and carpet, floor and tile finishers and installers).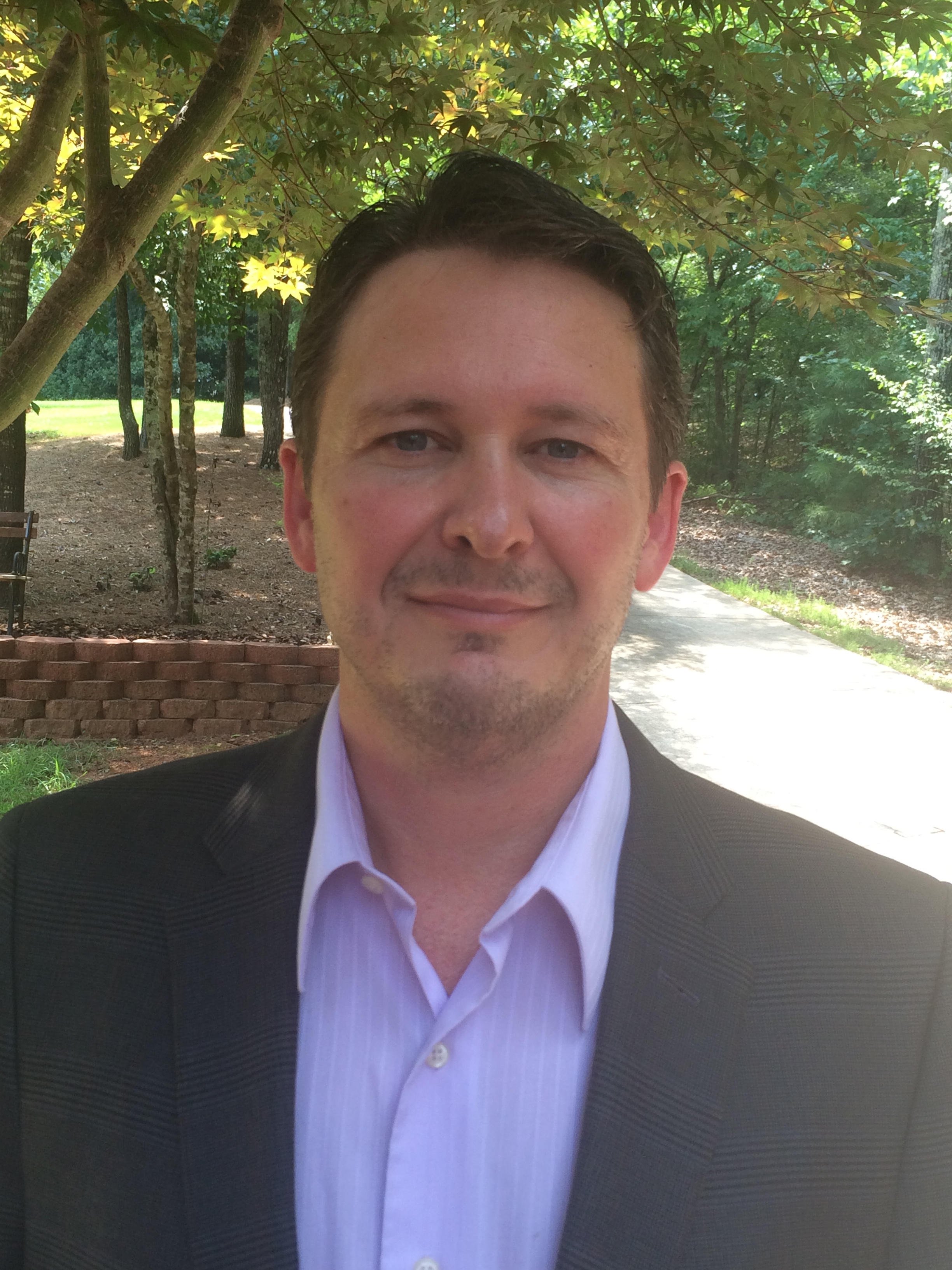 "I dislike this occupational study and the way they group tile setters in with carpet/flooring. It requires greater skill to be a hard tile setter than it does to be a resilient/carpet installer," said Rod Owen, of NTCA Five Star Contractor C.C. Owen in Jonesboro, Ga. "In fact, the word 'installer' irritates me because it associates a tile setter with a less-skilled trade of simply installing products rather than having to perform precision work with less forgiving materials like tile and stone…If all I had to offer was a median of $30k after achieving tile setter status I might as well quit trying to find long-term stable employees."
Skill makes a difference
David did make the point that skilled "blue collar" positions also can bring in more robust salaries, but she did not identify tile setters as part of that elite group. 
"People tend to associate white-collar or office jobs with higher salaries compared to blue-collar or manual labor, but the rankings show that this is not necessarily the case," she said. "Working with elevators or boilers requires physical work, but these are among the highest paid jobs in the industry."
David pointed out, "The highest-paying occupations often require specialized apprenticeships, licenses or certifications that demonstrate an understanding of the trade and command a premium in the market, such as a grounding in mechanics for elevator technicians, circuitry for electricians, or water systems for boilermakers. Of course, licensing can also serve as a means for controlling the number of people practicing and by reducing the supply of those tradesmen, increase their wages.
"Towards the bottom of the list are trades that generally have lower barriers to entry," she said, adding fuel to the fire. "Floor installers, construction laborers, drywall installers, painters and roofers are listed on the Bureau of Labor Statistics as having 'no formal education credentials' required, while professions with average pay including pipelayers, sheet metal workers, glaziers, insulation workers, and carpenters typically require 'a high school diploma or equivalent.'"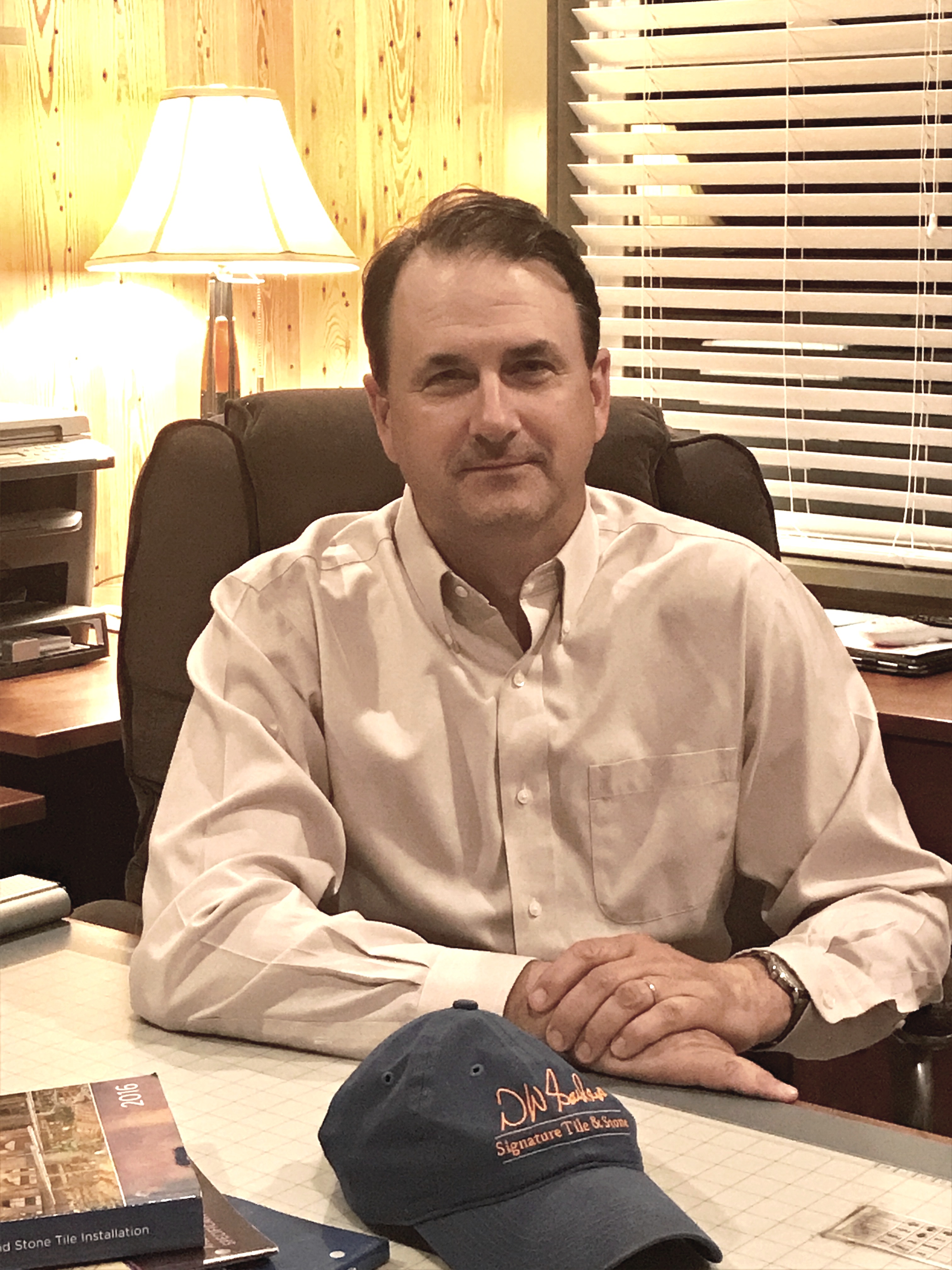 Woody Sanders, founder of D.W. Sanders Tile & Stone Contracting in Marietta, Ga., a fellow NTCA Five Star Contractor, took exception to the way tile contractors were characterized, saying, "We should highlight and make the case for what the professional 'TILE' contractors are paying and doing. I would agree with Rod, we have to detach our trade from carpet, vinyl, LVT. I understand that some of our members are in the floor covering business, but that is neither our charter nor our trade. Our message should be clear that we are a highly skilled trade that offers a career path.
"Interesting enough, as I got [the digital enewsletter], I was entering the pay rate for a new hire," he added. "Having no experience, knowing nothing about the tile, I started him in the high $20Ks, with a chance to go even higher once he makes it out of his probationary period." 
Varying statistics
I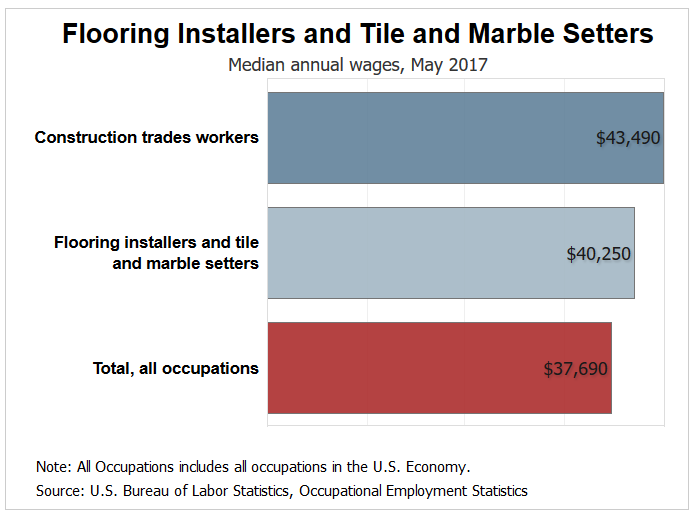 n fact, The Bureau of Labor Statistics (BLS) page of the U.S. Department of Labor states the median pay for flooring installers and tile and marble setters in May 2017 was $40,250 per year and $19.35 per hour, quite a difference than the BuildZoom study. These figures, from the BLS Occupational Employment Statistics survey, exceed $37,690 – the median pay for all workers in that time period.
Further analysis of the BLS data paints a different picture from the BuildZoom story. In May 2017, the BLS said tile and marble setters brought in a median wage of $41,680, compared to carpet installers at $38,830, floor layers (except carpet, wood and hard tiles) at $40,040 and floor sanders and finishers at $36,950. The lowest 10% of earners in the flooring installers and tile and marble setters category (which the government does lump together) made less than $23,590 and the highest 10% earned more than $73,990. 
Training
As part of its occupational analysis, the BLS includes a section called "How to Become a Flooring Installer or Tile and Marble Setter" at https://www.bls.gov/ooh/construction-and-extraction/tile-and-marble-setters.htm#tab-4 or https://bit.ly/2rf5RoM. In terms of education – as David pointed out – the BLS states, "There are no specific education requirements for someone to become a flooring installer or tile and marble setter. A high school diploma or equivalent is preferred for those entering an apprenticeship program. High school art, math, and vocational courses are considered helpful for flooring installers and tile and marble setters." 
However, the BLS continues in its training section with information about on-the-job training for flooring installers and tile and marble setters, adding that some flooring installers and tile and marble setters learn their trade via a two-to –four year apprenticeship. 
"This instruction may include mathematics, building code requirements, safety and first-aid practices, and blueprint reading," the section states. "After completing an apprenticeship program, flooring installers and tile and marble setters are considered to be journey workers and may perform duties on their own."
And certification programs figure prominently in the BLS's Certification section, which names industry programs that test installer and setter skills and offer certification credentials. At the top of the list is the Ceramic Tile Education Foundation and the Certified Tile Installer (CTI) certification, and the Advanced Certifications for Tile Installers (ACT) program and requirements for taking the exam:
"Certification requirements include passing both an exam and a field test," the site states. "Workers must also have either completed a qualified apprenticeship program or earned the CTI Certification to qualify for testing." The program offers certifications in seven specific areas of tile installation:
Grouts
Large-format tile and substrate preparation
Membranes
Mortar (mud) floors
Mortar (mud) walls
Shower receptors
Thin porcelain tile.
The site also names voluntary certification programs for floor finishers and sanders by the NWFA, CFI's certification for flooring and tile installers and the INSTALL comprehensive flooring certification program for flooring and tile installers. 
Important qualities that flooring installers and tile and marble setters need to exhibit are also listed, which include: color vision, customer-service skills, detail oriented, math skills, physical stamina and physical strength. 
So while it is true that anyone can enter the field without formal training, there is more than a nod given to certification programs, skill credentialing for skills of installers and setters and specialized qualities that enable them to execute their jobs.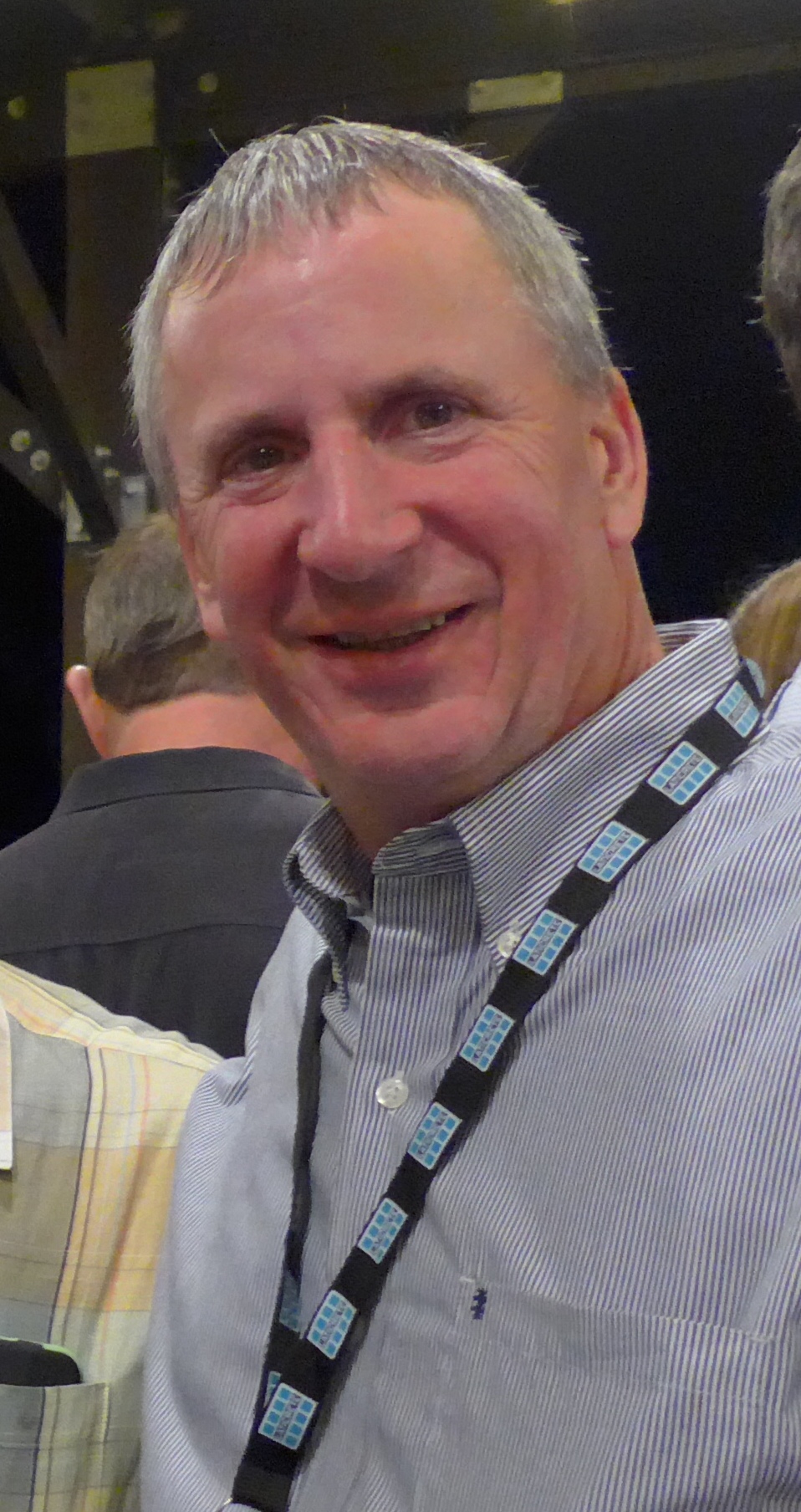 "These products are not meant to be put in by an untrained workforce," said Bart Bettiga, NTCA Executive Director. "Tile and stone are most often selected because they are considered to be a permanent finish. For this to be the case, we need to have a highly trained and highly compensated workforce.
"For the past several years, the NTCA has been developing its online apprenticeship curriculum," he added. "We have worked with several of our members to help them use this educational tool to recruit new people into the trade and to train their current staff. It is our hope that this program can be integrated with supervised and field-related training.
"The reason this is so important is that we believe that tile installation is a highly skilled craft that takes several years to master," Bettiga continued. "Why is this important? Because we have a big job to do, and it is perfectly illustrated in this paper. We must raise the wages of our trained tile installers if we are going to recruit talented young people into our trade. We cannot continue to be grouped with other flooring trades that quite frankly are not as complex, nor do they take as long to master. Tile installers should be making wages like other trades that are considered to be highly skilled."
Clearly, CTIs, ACT-certified tile setters and NTCA Five Star Contractors exhibit "the specialized apprenticeships, licenses or certifications that demonstrate an understanding of the trade and command a premium in the market" that David indicated is a prerequisite for higher wages. Getting the word out to end users to look for those craftspeople with credentialed skills is an ongoing initiative in this industry.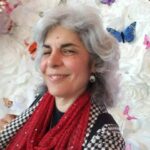 Editorial Director and Senior Writer for TileLetter and TileLetter ARTISAN
Lesley Goddin has been writing and journaling since her first diary at age 11. Her journey has taken her through a career in publishing and publicity, landing her the editor position of TileLetter and its special publications in 2006. Her goal is to educate, inspire, recognize and encourage those in the tile industry -- especially the tile and stone contractor. Other interests include the soft, purring marvels known as cats, labyrinth walking, drumming and percussion, and a range of spiritual, musical and artistic pursuits.