In "Hot Topics," we explore subjects that are abuzz within the professional tile setter and contractor community. 
There may be no topic "hotter" than a question Marc Simonelli, Simonelli Tile, Inc., Sacramento, Calif., recently posed on the NTCA Members Only Facebook group. He asked, "Is installing glass tiles around a fireplace that sees a lot of heat a good idea?"
Members of the group – and experts from NTCA's Technical Team – weighed in on the question, and how to go about having the most successful glass tile fireplace installation.
Some tile contractors were doubtful. Michael Whistler, Estimator and Project Manager for Mill Creek Carpet & Tile Co., in Tulsa, Okla., commented that "Glass tile has the highest thermal change rating of any tile, meaning it expands and contracts from temperature changes more than any other tile. So glass could be risky at steam showers, fireplaces or exterior areas subject to very hot or freezing temps."
Michael Miller of Tile Innovation, Charlotte, N.C., said, "Is it a good idea? Personally in my opinion – no. Can you do it? Yes, but honor those expansion joints because that stuff is going to expand a lot." Timothy Steudeman of Built on Integrity, Sulphur Bluff, Texas, wasn't a fan, but had a caveat if a customer insists. "Purely my opinion, but If I couldn't talk them out of it I would probably silicone the entire thing instead of grout."
J&R Tile of San Antonio, Texas wrote, "We did take the risk once (after the customer signed an acknowledgement and we informed them of what Michael Whistler mentioned). We rolled the dice with ARDEX 8+9 as a primer, and ARDEX WA epoxy as the adhesive and Bostik Dimensions grout. I'm still fascinated it's made it through two winters with lots of use of the fireplace. We haven't done a non-warranted installation since. It just depends if your curiosity outweighs risk and reputation. And if you think a manufacturer will have your back."
Take your temperature
Other contractors were cautious but confident that taking the right precautions, it would be fine.
Terry Hall, Technical Field Representative for ARDEX in Sacramento, Calif., said, "Leave them off the metal face and you are fine. The external temp of a fireplace is well regulated for safety reasons."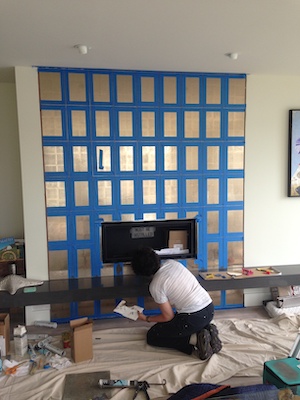 Kurt Von Koss, Beaver Tile and Stone, Farmington Hills, Mich.,suggested, "Let the fireplace crank for 30 minutes or so and take temp readings of the tile area. That will answer your question. I have an insert I did that on, bonded to the metal. The highest temp was 95 degrees; no issues." He noted that after taking the temperature of the front of the fireplace, he went over the metal fireplace surround with GoBoard by Johns Mansville. "Sounds crazy?" he asked. "No problems. Roughed up the metal and set with rapid-set thinset."
Damian Arine, Sun Country Customs, Arroyo Grande, Calif., advised testing the temperature as well, because sometimes the fireplace gets hotter than advised. "Have them run it on high for an hour, then check the temp with a temperature gun. Some fireplaces don't have blowers to help remove excess heat. I had a job fail because of this.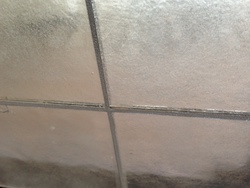 "For example, my fireplace at home hits 180 on the black portion of the firebox then about 6″ up it hits 80," he continued. "The fireplace at my client's house hit 210 on the black portion of the box and then 12″ up it was still over 180. It delaminated part of the mantel. You never know unless you test it."
Contractors who have taken on the challenge offered their tips on what setting materials to use. Nadine Edelstein, Tile Design by Edelstein in Vashon, Wash., shared that "Whenever I set glass around a fireplace I use silicone to grout all joints." She shared photos of a fireplace faced with rose gold leaf annealed glass. "I filled all the joints with a custom-blended color of Latisil," she said.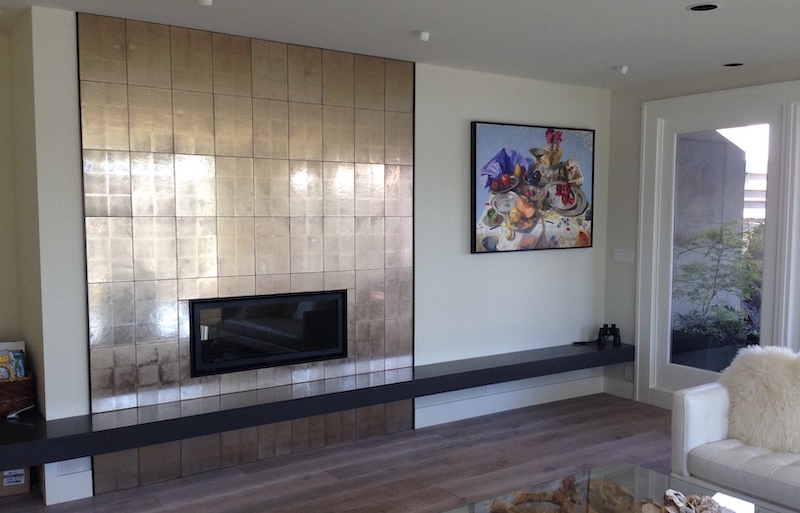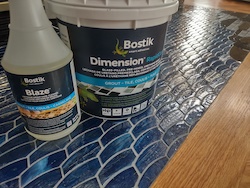 Malachi Hilkey, Resonate Renovations, Gretna, Neb., pointed out the importance of getting assurance from the manufacturer that the "silicone will take the heat. I would assume so, when they have silicone for exterior. I can't imagine how hot black tiles would get outside." Steudeman said he used ARDEX SX, "which is good to 350°."
Mike Soho, of Soho Tile & Renovation, LLC in South Lyon, Mich., added that he set glass around a few fireplaces years ago. He used Hardie Backer with MAPEI UltraFlex 1 thinset and non-sanded grout. "They are holding up just fine, if that means anything! This is long before I knew any better – but it worked!"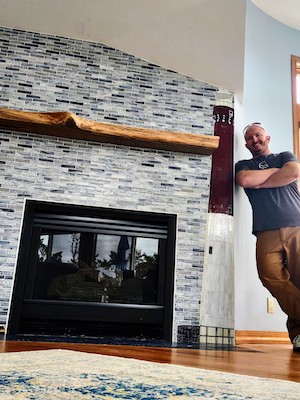 Simonelli, who authored the post, added, "It is my understanding that on a fireplace a rapid-set mortar and a rapid-set grout should be used as they handle higher heat better than standard mortars and grouts."
And Ken Ballin, CTI#1392 and CFI# 13604, of Skyro Floors in West Creek, N.J., offered photos of one of his fireplaces, stating, "This one is entirely glass and grouted with both Bostik Hydroment Vivid and Dimension. The best thing anyone can do to ensure a successful installation is check with their local manufacturer reps to make sure they're using the right products."
NTCA Technical Team weighs in
Scott Carothers, Director of Certification and Training at the Ceramic Tile Education Foundation, said that there are some distinct and critical issues to be determined prior to the installation of any glass tile around a fireplace. He said the following considerations need to be addressed:
Determine the actual temperature at the edge of the firebox, which could be masonry or metal, and especially above the firebox.
Checking with the mortar manufacturer is crucial to the survival of the installation. Will the mortar be able to withstand the highest temperature experienced with the fire burning at maximum capacity?
What will be the backing for the installation? Will it be a bonded mortar bed (W211), a conventional mortar bed on wire (W221), the one-coat method on wire (W222), direct bond (W202I), a backer board (there are five types available), a fire-resistant drywall, or conventional drywall? Will the backing of choice take the heat?
Is the selected glass rated for a high temperature installation and will the manufacturer warrant the installation?
Is the glass face or back mounted? Face-mounted should not present any issues. Back-mounted glass presents a whole host of bonding issues.
° Will the mounting system (mesh, plastic, or even paper) take the heat?
° Will the glass tile mortar bond to the over-abundant glue that bonds the glass to the mesh? The only way to be certain is to run a bond test.
° If the product is a low temperature-coated glass (coating bonded at room temperature to 1022 degrees F), will it take the heat?
Grout: cement, epoxy, single-component/ready to use, or urethane. Is it rated by the manufacturer for a high-heat installation?
How long must it cure before being put into service?
Silicone – if used as a movement joint product, especially if the firebox is metal, it must be high-temperature rated. Likewise, if used as grout, it must take the heat and be rated as such by the manufacturer.
Mark Heinlein, NTCA Training Director, said the very first thing to do is to consult the fireplace manufacturer's instructions if it is a manufactured fireplace insert. These will explain in detail how to install finish materials around or over the metal frame and whether or not an air gap must be left. If no instructions exist, Heinlein said, the owner, mechanical contractor or tile contractors themselves should contact the manufacturer. "It also might be very important to contact the local mechanical code department," he said.
Heinlein said hearths are a completely different story, which need a certain "K" value and be able to withstand firewood being dropped on them from a certain weight and height, as well as other parameters. But THAT is a topic for a totally different
article!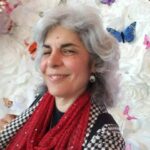 Editorial Director and Senior Writer for TileLetter and TileLetter ARTISAN
Lesley Goddin has been writing and journaling since her first diary at age 11. Her journey has taken her through a career in publishing and publicity, landing her the editor position of TileLetter and its special publications in 2006. Her goal is to educate, inspire, recognize and encourage those in the tile industry -- especially the tile and stone contractor. Other interests include the soft, purring marvels known as cats, labyrinth walking, drumming and percussion, and a range of spiritual, musical and artistic pursuits.