Gen2 Flooring pairs love of tile and design with hassle-free experience for clients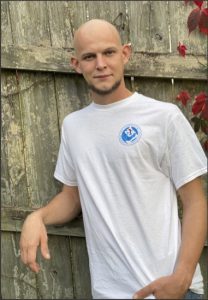 Carson Toland is a second-generation tile installer, and owner of Gen2 Flooring LLC in North Little Rock, Ark. His company serves residential and commercial customers with an emphasis on showers, tub surrounds and backsplashes. But that's not his only focus.
Toland, who joined NTCA on November 5th after learning about it from a Tile Money podcast, pays forward the flooring installation tradition of his uncles and father, but with a twist: he is in love with the artistic nature of tile and is intent on breaking into tile art with custom mosaics.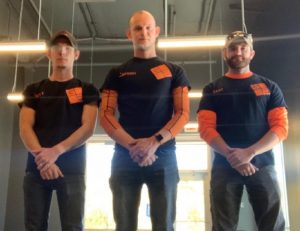 This bodes well for his customers. "As a lover of tile and design, I love helping the client come up with a design that is specific to them," Toland said. "Sometimes, the client already knows what they want, but I often get creative freedom in design, and I love the custom side of tile installation. Most other tile contractors in my area just install what they are given, and just throw it together. We take our time with the design to give every job, no matter the materials, a custom look and design."
In addition to the artistic aspect of the installation, Toland seeks to make every job go as smoothly as possible. "We focus on providing our clients with a hassle-free, exceptional experience," he said. "I have a family of six, so family is one of our main values."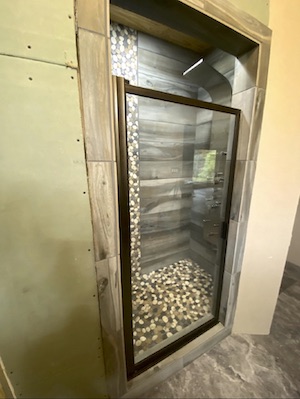 Toland has been in the business for 10 years (plus 10 years of working on floors with his dad since he was 9), but didn't know NTCA existed until Luke Miller's Tile Money podcast (tilemoney.com). "After researching it, I immediately joined due to the wealth of knowledge, the opportunity to better my trade and sharpen my skills, as well as all the other amazing benefits that come with being a member."
Through his membership, Toland has gotten familiar with the Tile Council of North America (TCNA) Handbook for Ceramic, Glass and Stone Tile Installation. He calls the Handbook "phenomenal for reference anytime I have a question, or my memory fails me. I also found out that I had been doing some things wrong, and now that I have the knowledge to make sure every install is done properly, and I feel even more comfortable offering long warranties and guarantees on every project my business's hands are involved in." Toland also values the NTCA Reference Manual for its problem/cause, cure, prevention format and vital information.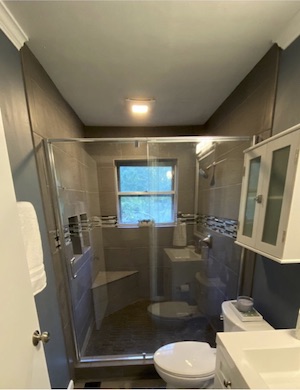 In addition, Toland said, "The NTCA University is amazing, and my two employees are now going through it – as am I – for refreshing and expanding my knowledge. I believe the NTCA will help my business grow, both in size and in knowledge. It is also a great way of bringing credibility to my business. The knowledge available is vast, and I am always learning from the NTCA. I am able to use this knowledge in my sales to better comfort the client in knowing that I will handle their project with care and that I know how to do it properly the first time. I am also able to educate my clients, and they love the information I am able to pass on to them."
Toland's company currently has no Certified Tile Installers or ACT-certified staff. But he said, "Having just learned this was even a thing not even two months ago, it is something I will be doing myself, and having all employees do when they are ready."
Toland's work fills him with joy every day – the pride that comes with solving his clients' issues; designing and installing beautiful work that the client can be proud of; working with his hands to create art and knowing that his work will be enjoyed for long periods of time. "Tile is a luxury item," Toland said, "and I find it extremely rewarding when I can provide a finished product that I am proud of."