As a commercial tile contractor – and more so as a consultant – I am called many times to either try to correct failing exterior wall tile installations or determine what happened. As a contractor my answer is pretty much the same: "You can't save it; it all has to come down." As a consultant, I am there to determine why the installation is failing and asked if it can be saved.
Here in the desert southwest, I have noticed some consistent issues with exterior wall tile installation failures. Here is a list of the most common: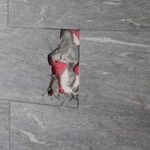 1. The spot-bonding of exterior tile is becoming more commonplace than ever. It seems that either the tile installer does not know how to install tile properly or does not have the experience to install the tile properly. The other problem with spot bonding seems to be that masonry contractors are installing more tile and stone on the exterior using direct-adhered techniques in lieu of mechanically-fastened techniques. The latter has seemed to explode in the last couple of years.
2. The lack of movement joints or the lack of properly-spaced movement joints occurs on every failure I have inspected in the last five years. Two of the largest failures I have inspected (one in Arizona, one in Utah) did not have any movement joints installed. One of these installations was over 13,000 square feet, the other about 6,000 square feet.
3. There is a lack of proper troweling techniques and proper embedding of the tile. Also, the wrong sized mortar trowel is used. When forensically inspecting exterior wall tile installations, I have found more often than not a 1/4"x1/4" notched trowel was used to apply the mortar. This has occurred on pieces of tile ranging from 12"x24" to
24"x48".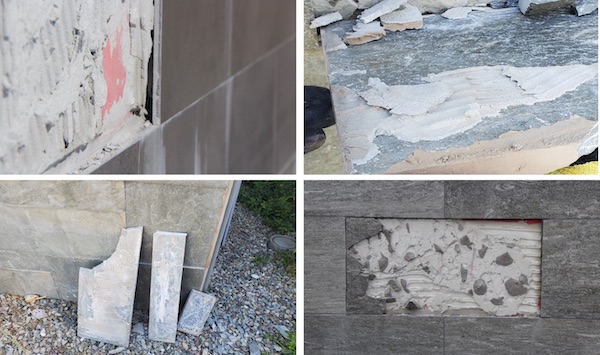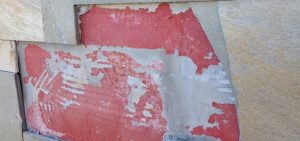 4. Dirty or contaminated substrates. The last two exterior failures I have inspected, the tile installer and the general contractor have both told me that the waterproof membrane was installed weeks before the tile was installed. Both of these installations occurred during our summer months and during our monsoon season. The applied waterproofing was exposed to sunshine (UV rays), rain and most important – dust!
5. Lack of proper flashing on the edges of the exterior wall tile installation will invite water to penetrate the installation system. This can lead to efflorescence and worse, it can lead to water ponding behind the tile system which, can cause issues with the mortar or freeze/thaw problems.
There are tremendous consequences when an exterior wall tile installation fails. Not only is the end user disappointed and upset, but people can actually get injured. On one of these failures a piece of 18"x36"x1/2" piece of stone fell from 30 feet high and almost hit a contractor working by the column.
Tile contractors and masonry contractors need to do their due diligence when taking on these projects. After reviewing these failures, I have compiled a list of do's:
1. Make sure your company can tackle this type of work.
2. Check the substrate for flatness; this will make it easier to apply your mortar, and cut down gobs of mortar being used to "level" the tile.
3. Follow the waterproofing manufacturer's written recommendations on the application and protection of the waterproof membrane. Do not expose the membrane for too long!
4. Choose the right-sized trowel. If the mortar never makes contact with the tile, how is it going to stay in the air?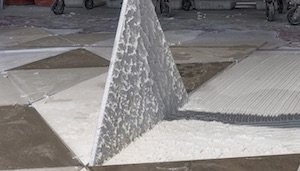 5. Make sure you or your installers know how to apply mortar properly and embed the tile properly. It is recommended that installed tiles should be removed and checked for proper mortar coverage. It may sound like a pain in the butt but it will save you time and money if I ever show up to your job.
6. Movement joints! Know the standards, memorize TCNA EJ-171 in the TCNA Handbook for Ceramic, Glass and Stone Tile Installation. This standard tells us that movement joints are to be placed 8-12 feet apart both vertically and horizontally. It tells us to install movement joints at abutting structures, dissimilar materials and at changes of plane. This standard also tells us the minimum movement joint size.
7. Properly install flashing at the edges of the installation system to reduce or stop water penetration into the installation system.
Obviously there are more things that go into exterior installations, such as proper substrate, proper engineering and proper tile or stone selection. If these criteria are met and you follow the manufacturer's recommendations, then there is a good chance you will be successful. But just make sure you and your company are capable of this type of installation and perform the work correctly.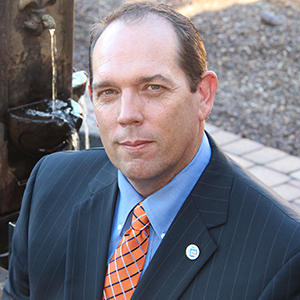 James Woelfel is the President of Artcraft Granite Marble and Tile in Mesa, Arizona. As a third-generation family business, Artcraft Granite, Marble & Tile Company is an NTCA Five-Star Contractor Member and his company has proudly worked with integrity for more than 85 years in providing quality craftsmanship in tile and stone installation. Woelfel is also Chairman of the NTCA Technical Committee since 2007 and is a voting member of the TCNA Handbook and ANSI A108, 118, and 137.1 Committees. He served as president of the NTCA from 2015-2017, was the 2011 recipient of the NTCA Tile Person of the Year Award and the 2019 recipient of the NTCA Ring of Honor. Woelfel is also an NTCA Recognized Consultant and a highly-rated speaker at industry shows such as Coverings, The International Surface Event (TISE), and Total Solutions Plus.