"One measure of your success will be the degree to which you build up others who work with you. While building up others, you will build up yourself." – James E. Casey
One recent weekend morning, I was listening to an inspirational speaker who stated, "We as a species are builders. We build experiences, relationships, architecture, and art, constantly reinventing ourselves in wisdom or ignorance."
I couldn't help but think of the Fall edition of TileLetter ARTISAN that I was working on. Because that speaker's statement struck a chord of truth in me – anyone engaged in artisan work, craftsmanship, or art – is radiating that true nature of buildership. And as the speaker said, it can either be done in wisdom or ignorance.
Well, one of the goals of TileLetter ARTISAN is to ensure beautiful, well-performing artisan tile installations are being done in wisdom and not in ignorance, which often leads to disaster.
To that end, in this issue, we present a stable of commercially-focused stories that will educate, inspire, inform and uplift, imparting tips to expand your wise application of artistry and industry standards, methods and best practices for projects that perform as good as they look.
Our cover story explores how training in gauged porcelain tile panels (GPTP) installation and using the right products for a job enabled a regional high school to erect a stunning new school, with expansive surfaces clad with state-of-the-art porcelain panels.
If you are a tile aficionado, you undoubtedly are familiar with Henry Chapman Mercer, the Arts and Crafts movement and the Moravian Pottery and Tile Works in Doylestown, Pa. Well, new life has been breathed into the historic site, now called The TileWorks of Bucks County, and is being overseen by craftswoman, educator and tile maker Katia McGuirk and her seasoned staff. Read about it in our Business section.
Then check out the Tile Throwback section where Sheila Menzies and Joe Taylor of Tile Heritage Foundation continue the history of ceramic tile in America they began in our Spring TileLetter ARTISAN issue, focusing on Grueby Faience Co., Mercer's site in Doylestown, Pewabic Pottery and Rookwood Pottery and the contributions these companies made to the tradition of hand-made tile.
Since commercial tile is a focus in this issue, we chat with Ferid Hasic of Grazzini Brothers & Company, NTCA Commercial Tile Setter Craftsperson of the Year 2020, and explore with him the importance of being an artisan tile setter and craftsperson.
The Maker spotlight shines on Clayhaus Modern Tile, which has been hand-making colorful tile in Portland, Ore., in the modern/mid-century style since 2010. Learn about how this company grew from its beginnings in a 400 sq. ft. detached garage to a company that creates high-quality tile for Google and other high-profile projects.
In our Installation story, learn about how crafting a floor full of symbolism, hope and support for clients of the Children's Bereavement Center of South Texas turned into a family affair and a meaningful endeavor for Cox Tile of San Antonio.
In our Technical story, we hearken back to the Coverings show in July and the monumental "Wally the Gator" project that streamed in real time from the Dragonfly Tile and Stone Works studio in Milwaukee, Wis., direct to the Coverings Lounge in Orlando. There were many lessons learned in the course of this project, and the artisans who worked on the mural share their insights.
In our Artisan story, we meet NTCA member Nan Crowe, whose business Tile Art Design in Madison, Wis., gathers custom materials and facilitates collaborations and designs for complete custom projects.
Finally, in our Project Gallery, we show some love to the Special Recognition winners in the Coverings Installation & Design (CID) Awards, announced during the show. These 16 projects are all stunning examples of stellar creativity and craftsmanship sure to encourage innovative approaches to your next job. And in the tradition of buildership – which involves building others up as you pursue your own goals – we share them to possibly even prompt you to enter one of your own amazing projects into the competition next year.
We hope that the Fall TileLetter ARTISAN provides you with some inspiring reading as you cozy up to the fire with something pumpkin spice this autumn. Keep in mind, we are ALREADY on the lookout for gorgeous residential projects for our Spring issue next year, so email me some images and we'll take it from there!
God bless,
Lesley
[email protected]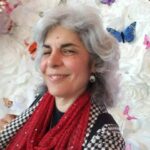 Editorial Director and Senior Writer for TileLetter and TileLetter ARTISAN
Lesley Goddin has been writing and journaling since her first diary at age 11. Her journey has taken her through a career in publishing and publicity, landing her the editor position of TileLetter and its special publications in 2006. Her goal is to educate, inspire, recognize and encourage those in the tile industry -- especially the tile and stone contractor. Other interests include the soft, purring marvels known as cats, labyrinth walking, drumming and percussion, and a range of spiritual, musical and artistic pursuits.