Alongside large-size tiles, we're witnessing the return of small tiles. Modern, versatile and with distinctive, appealing variations in colour, the small-size tile collections by Casalgrande Padana are perfect for bringing a personal touch and a dash of creativity to settings with a vintage, rustic, country, Provençal, Mediterranean, shabby or boho chic, modern or minimalist style.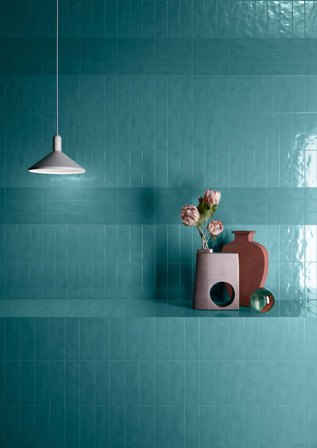 In keeping with the latest trends, Brickworks by Casalgrande Padana comes in three variations: Nuances, Muretto, Petra and Opus. Color variations and vibrant light effects shape the new Brickworks Nuances collection, a range of small (8.2×25 cm) stoneware tiles with a no-frills, contemporary design. A simple palette of eight different plain, even colors, available in two surface finishes that are opposites in terms of light reflection, with the satin version reflecting no light, in contrast to the bright polished version.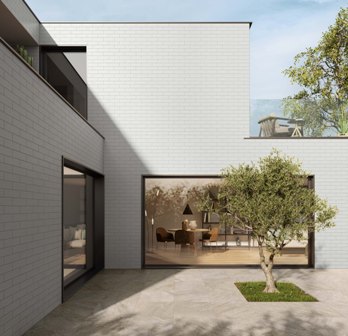 Brickworks Muretto comes in six colours (Bianco, Calce, Grigio, Lava, Nero and Mattone) with a natural surface and a light, pleasant pattern. Offered in a single 8.2×25 cm size, the new collection can be used for a range of different, creative laying patterns: from horizontal to staggered joints that recall the typical brickwork pattern, to geometric laying schemes with overlapping joints, as well as
vertical installation.
Available in six colours (Antracite, Bianco, Grigio, Oro, Perla and Sabbia) and in a single 8.2×25 cm size, the new Brickworks Petra range of coverings mimics the colours typical of quartzite, bringing a unique touch of class to living spaces. This warm, enveloping, versatile range is the ideal solution to embellish indoor or outdoor walls, adding character and personality to any setting.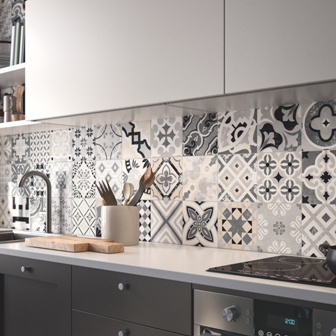 The timeless charm of cementine tiles makes a return to our living spaces. Opus by Casalgrande Padana is a vibrant, modern collection of small 20×20 cm stoneware tiles.
Small-size tiles for façade applications
Innovative covering systems with glued ceramic tiles, ventilated walls or cladding systems allow for the installation of ceramic materials with top-quality characteristics, able to offer important advantages for buildings in terms of thermal and acoustic insulation, and thus offering significant energy savings. These façade coverings also eliminate surface condensation and localized mold, thus enhancing the appearance of the building and preserving its aesthetic and technical characteristics.

Thanks to Bios Self Cleaning® technology, significant advantages can also be obtained in terms of reducing cleaning and maintenance times and costs, as well as an authentic improvement in air quality. The superhydrophilicity of the Bios Self Cleaning® ceramic surface is able to eliminate the pollutants present in the air and to break down the dirt that settles on the surface of the tiles, so it can be washed away by rainwater. From small villages to huge cities, each building can thus help
improve the appearance of their surroundings and boost energy saving.

Like all Casalgrande Padana collections, these small tiles are easy to lay and simple to clean, and are resistant to high temperatures, humidity, stains, wear and tear, impact and abrasion, as well as guaranteeing lasting colour fastness. They are also non-absorbent, fire-resistant, and antibacterial, thanks to the Bios Antibacterial® treatment that can be applied on request. Perfectly complementing furnishings and accessories, Casalgrande Padana stoneware tiles are the ideal choice for designing elegant, comfortable living spaces.