"The promise of spring's arrival is enough to get anyone through the bitter winter."

Jen Selinsky
Welcome to March! Spring is right around the corner!
As I am writing this, a weather system is dumping 18"-24" of snow on the Northeast. So it's a little odd to be thinking of warm breezes and blossoming flowers while much of the country is digging out its driveways. But take heart! Spring is on the way.
You may notice something familiar about our March issue. We have re-scheduled our annual Women in Tile issue – usually in October – to March, to coordinate with Women in Construction (WIC) Week that the National Association for Women in Construction (NAWIC) holds each year. In addition to the two professional tile women featured in this story, we also have a sidebar about NAWIC and WIC Week, with comments from Crissy Ingram, CAE NAWIC Executive Director. Visit NAWIC at https://www.nawic.org/nawic/default.asp.
In keeping with the theme, we're shining a light on female tile setter Mikaela Fedor of Tile Titan as our NTCA Member Spotlight and learning about her journey from setting tile with her dad to owning her own company today.
Publisher Bart Bettiga talks with Maryanne Adams, President of Avalon Tile, and examines how this employee-owned company has weathered the pandemic and is staying at the top of its game.
In our Business section, we introduce a quarterly feature called Workplace Wellness that presents a number of modalities to foster balance and health in the workplace and beyond. In this installment Gianna Kagan Vallefuoco of Rockville, Md.-based Vallefuoco Contractors LLC, leads us through an exploration of the benefits of mindfulness and how to achieve it in our very busy, stress-laden world.
Are you trying to distinguish your business and are curious about how to incorporate more custom, artistic tile installation? Did you know that since the fall, NTCA has scheduled a monthly Artisan Edition Roundtable Live!, now set for the second Tuesday of each month? Our Training and Education story gives an overview of the incomparable education offered each month by master artisan tile setters on a range of topics from tools to templates.
Finally, Todd Kozey of Complete Contracting Services has penned a clear, cogent article that guides contractors through the rigors of estimating a job. This must-read piece is sure to hold helpful tips for anyone involved in this process.
The promise of warm weather, the colors and fragrances of spring, and hopefully putting the kibosh on COVID, brings us hope for embracing greater normalcy, greater social interaction and economic recovery bursting into bloom soon. May it be so!
God bless,
Lesley
[email protected]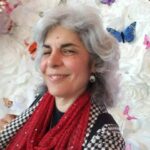 Editorial Director and Senior Writer for TileLetter and TileLetter ARTISAN
Lesley Goddin has been writing and journaling since her first diary at age 11. Her journey has taken her through a career in publishing and publicity, landing her the editor position of TileLetter and its special publications in 2006. Her goal is to educate, inspire, recognize and encourage those in the tile industry -- especially the tile and stone contractor. Other interests include the soft, purring marvels known as cats, labyrinth walking, drumming and percussion, and a range of spiritual, musical and artistic pursuits.