Focusing on sustainability, innovative design and 25 years of tile projects in North America
For the 2018 edition of the Coverings show taking place in Atlanta, Ga., Ceramics of Italy will showcase a wide range of Italian tile products, as well as educational sessions and a celebration of the rich history of Italian tile in North America. The central point for the Italian pavilion will once again be Strada Dinamica, where visitors can learn more about the exhibitors and the initiatives the Italian industry is supporting to continue to promote the benefits and use of ceramic and porcelain tiles, grouts and more. 
---
Strada Dinamica,
Booth 1630, Hall B3
Designed by New York firm e+i studio, Strada Dinamica (Italian for "dynamic street") is the focal point of the Italian pavilion. Modeled after a lively Italian streetscape, the booth includes benches, standing communal tables and two large kiosks that house a cafe, coffee bar and information desk. Thoughtfully designed with every detail carefully planned in order to maximize space and functionality, e+i studio has created a welcoming environment among the busy convention center. Florim's Magnum Oversize tiles and Lea Ceramiche's large-format floor tiles are set on a raised flooring system by Newfloor, which showcases the products that are simultaneously displayed by exhibiting member companies in use. 
Visitors are invited to stop by the Ceramics of Italy booth (booth 1630, Hall B3) to learn more about industry initiatives including the Ceramics of Italy Tile Competition, celebrating its 25th anniversary this year, the new industry-wide EPD, and the Good Phytosanitaryware Practices program – implemented in collaboration with CTDA. Strada Dinamica is also an excellent meeting point for attendees to enjoy an authentic Italian espresso or pick up a copy of the latest issue of Cer magazine and take a break from the bustling show floor.
Trends and innovations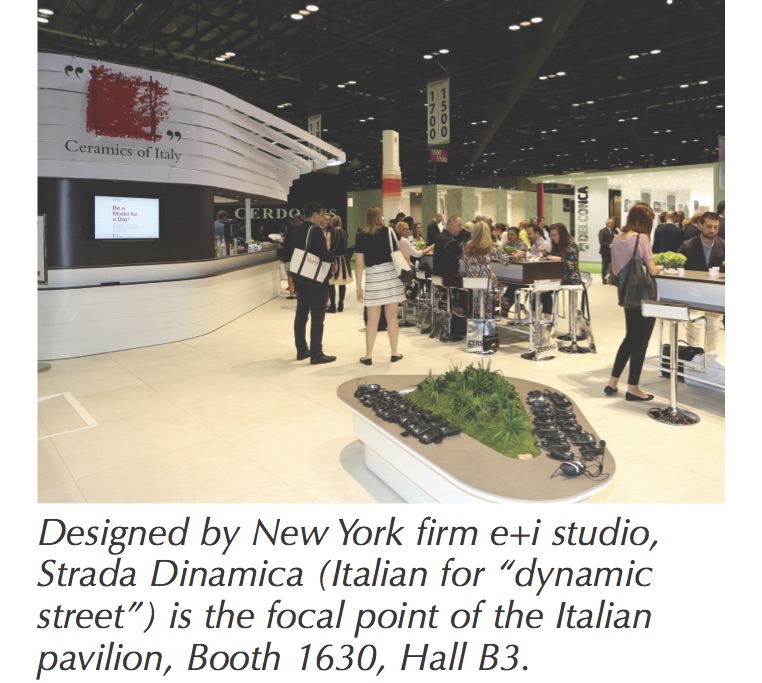 The Italian pavilion will be full of inspiration and innovation this year, as 100+ companies exhibit their latest collections, demonstrating their extensive understanding of architects' and designers' needs. Modern innovations such as large-format tiles will continue to be popular with expanding collections in 6 mm ultra thin and large collections that range from metal to stone and marble designs. Outdoor pavers and exterior cladding tiles will also demonstrate the multi-faceted approach to tile products that many Italian companies share. Companies also continue to expand upon popular trends like terrazzo and nostalgia-inspired tiles while others experiment with new techniques to create painted effects and combine categories of materials such as marble and wood looks in one design. Innovations and improvements to digital printing will be seen as patterns become more intricate and colors become richer. Examples of these advancements include botanical-inspired motifs and weathered looks perfected to capture a natural passage of time. The variety of trends shown within the pavilion are sure to impress and inspire visitors at the show.
Events and sessions
Along with Strada Dinamica and the exhibitor booths of member companies, Ceramics of Italy will host a number of special events and sessions during the show. On Wednesday, May 9 at 8:00 am in Room B312, sustainability experts including Andrea Contri, Sustainability Manager at Confindustria Ceramica, will tackle the multi-faceted issue of sustainability and how it is perceived today. It will also provide an in-depth look at how the industry can combine sustainability messaging and various specification tools into a package, which resonates in today's sustainability landscape. Afterwards, at 9:30 am in Room B309, Cristina Faedi, Manager of Promotional Activities for Ceramics of Italy, will discuss the latest tile trends, material innovations and creative applications along with other tile industry experts.
Celebrating a special anniversary year, Ceramics of Italy will host a lunch and film screening on May 9 at 12:30 pm in honor of 25 years of the Tile Competition. Design and tile industry professionals are invited to a private Italian lunch and premiere of a film on the prestigious awards program, directed by Francesca Molteni and architectural historian Fulvio Irace. The short film will be followed by a panel discussion with past winners of the competition and a guided walking tour of the Ceramics of Italy Pavilion. 
Installation Design Showcase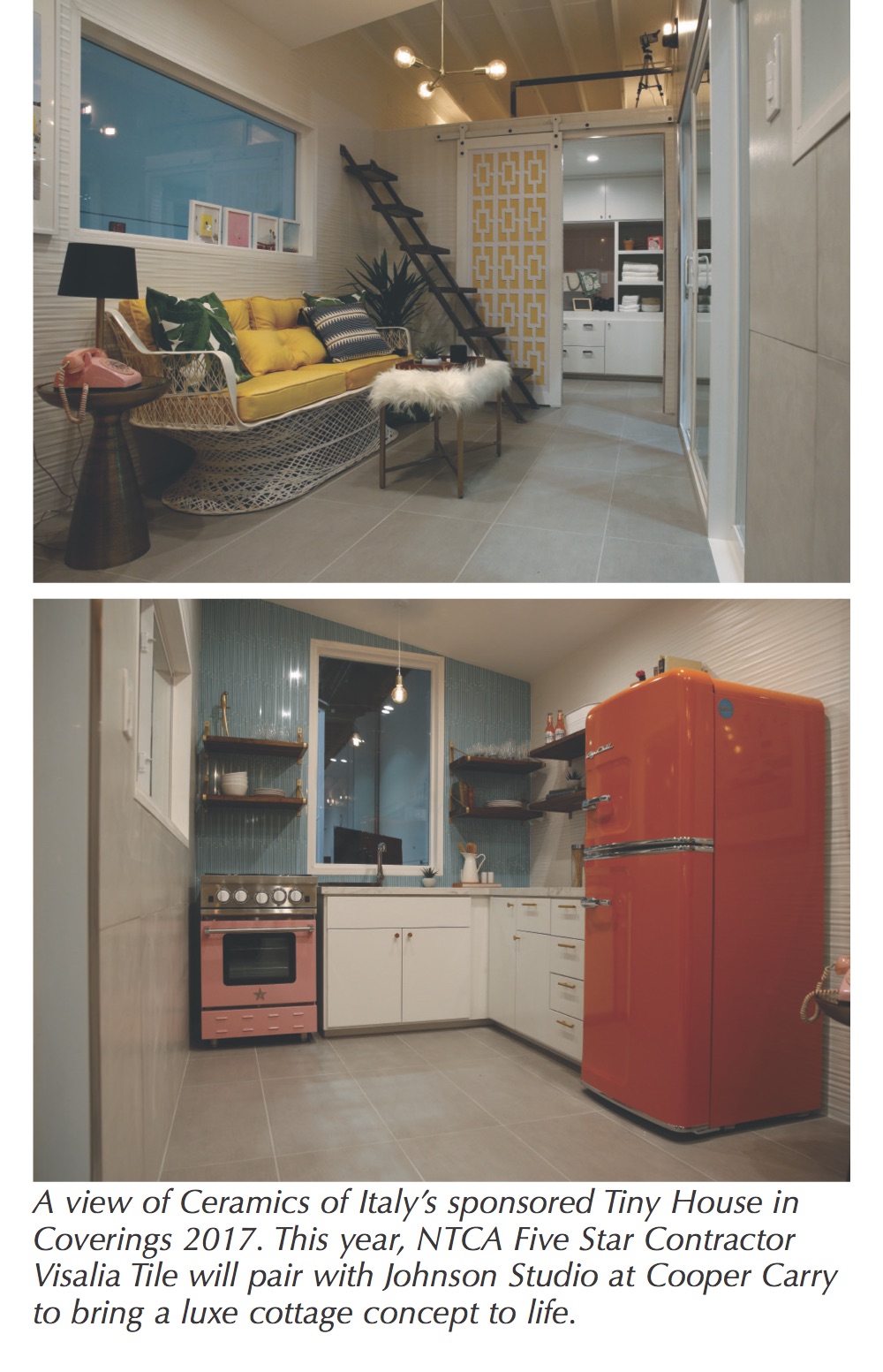 Ceramics of Italy is a proud sponsor of the Installation Design Showcase – an interactive exhibit pairing innovative products with creative design and expert installation. Attendees are invited to visit the Tiny House throughout the show where installers from Visalia Ceramic Tile will bring Johnson Studio at Cooper Carry's luxe cottage concept to life. A wide range of Italian products will be used throughout the space, from wood-look tiles to rich blue tones with chic metallic accents, culminating in an intimate, rustic-modern escape. The installation will be completed by Thursday afternoon and members of the design and installation team will present the project during IDS: Deconstructed from 3-4 pm in Hall C, Booth 8804.
Throughout the show floor the "Made in Italy" trademark indicates products that are defined by high aesthetic quality, durability, and environmental responsibility. For those who can't make it to Atlanta, Ceramics of Italy will post live updates on Facebook (@CeramicsofItalyNA), Twitter and Instagram (@CeramicsofItaly). For more information about the Italian tile industry, visit the new website of Ceramics of Italy at www.ceramica.info.