When matter meets creativity, something original and captivating always comes to life. 

Lexington, KY: June 25, 2018  Cotto d'Este USA's CEMENT PROJECT is a versatile collection in which the typically "urban" nature of cement is expressed in a new way – in vast and architectural contexts. Surfaces and colors echo cement effects with aesthetic and sensory fidelity.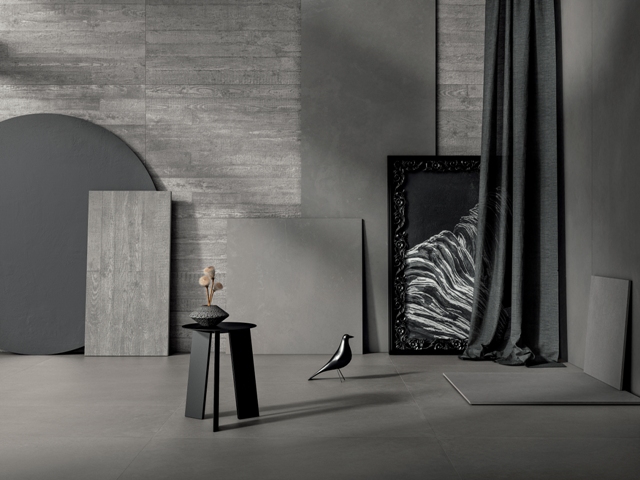 "The collection conceptually mirrors the great, Brutalist, twentieth century style of architecture" says Tressa Samdal – Director of Marketing for Cotto d'Este USA. "It embodies a strong expressive power, enabling a wide variety of interpretations."
The series uses a combination of three tones, ranging from light grey (Colour-10), to intermediate grey (Colour-20) to dark grey (Colour-30), featured on three different surfaces: Work, Cem and Land, each available in different thicknesses and sizes.
The Cem and Land surfaces reproduce cement in its purer, compact, urban style. Cem is available in Kerlite 5.5mm plus, while Land comes in a 14mm thickness, a distinctive Cotto d'Este offering. The company is unique in supplying high thickness materials where the firing process is over twice as long as for the standard 10 mm porcelain stoneware and done at higher temperatures, achieving maximum strength and durability.
The Work surface replicates the effect of board-formed concrete with a precision never seen before on large, thin ceramic slabs. Marked with the indelible impressions and character of the wood planks that formed it, the Work surface is available in Kerlite 5plus (5.5 mm). Combining the contrasting characteristics of concrete and the lightness and maneuverability of large, ultra slim slabs, Kerlite guarantees a unique, flexible and resilient product, distinguished by its versatility and convenience of use. Thin, lightweight, with sizes up to 100×300 cm, the Kerlite slabs are reinforced with fiberglass and suit the design challenges of contemporary architecture. In addition to the Kerlite version, Work is also available in a 20mm thickness, perfect for extending the beauty of Work to the outdoors.
Samdal adds "We previewed CEMENT PROJECT at the 2018 Coverings Tile and Stone Experience and were met with unprecedented interest and approval. We look forward to seeing the projects that utilize this gorgeous tile."
Cotto d'Este USA is a fully owned subsidiary of Panariagroup, a publicly owned company traded on the Milan Stock Exchange (MILAN: PAN IM). Panariagroup is a leading manufacturer and distributor in over 60 countries around the world with six manufacturing sites in Italy, Portugal and the USA and eight brands positioned in the high-end of the market.