ORLANDO, Fla. — The tile and stone industry had a stellar turnout and participation at its premier North American trade show, Coverings, held at the Orange County Convention Center here, from April 18 – 22.
Attendance neared 27,000 attendees, which was up 50% from 2022's 18,000 attendees in Las Vegas, according to officials with Taffy Event Strategies, the company that manages the trade show.
The show is a veritable three-ring circus – in a good way – packed with activities, education, and lavish exhibits of new tile, sundries, setting materials and equipment from manufacturers and suppliers. It's also an opportunity for companies and associations to meet. For instance, the NTCA Technical Committee kicked the week off with a meeting on Monday, the day before the show opened, voting on several documents to be published in the NTCA Reference Manual. Documents approved addressed handmade tile and cement tile, with others going back to committee and new documents being presented.
Demos and classes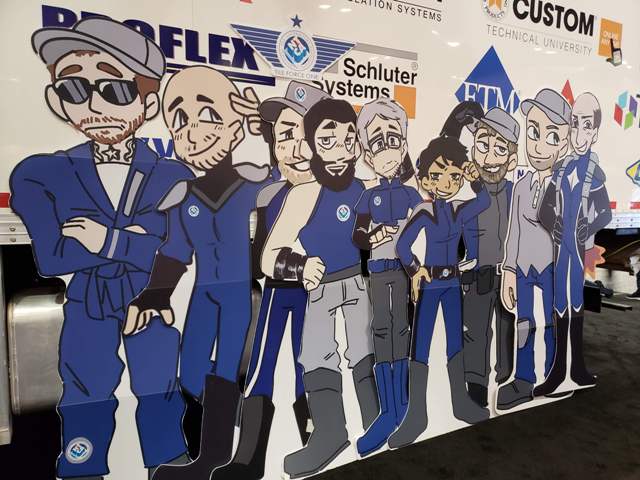 At NTCA and CTEF, training and education were the watchwords as trainers held demos and classes on a range of topics including substrate prep, working with pedestals, exterior walls, and more. The Installation Innovation stage was also host to manufacturer demos, and many exhibitors like MAPEI and Schluter had ongoing demos in their booths as well.
NTCA participated in several conference sessions including one on the proper handling of large format tile, case studies in porcelain tile, and one that focused on tile installation solutions.
At the Coverings Lounge, Woody Sanders from D.W. Sanders Tile & Stone assembled and disassembled a pedestal installation of pavers each day of the show to illustrate correct methods and techniques.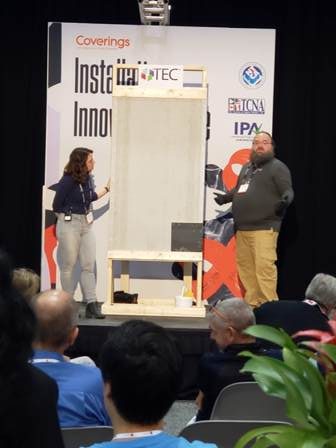 NTCA Assistant Executive Director Jim Olson led attendees on an hour+ tours of NTCA supporter booths , giving attendees a chance to view tile selections from companies like Merola and Florida Tile, to fixtures and quartz slabs from Pelican, to equipment by Cortag, Rubi to sealers and cleaners from FILA to new introductions by setting material manufacturers like Sika, TEC, LATICRETE, MAPEI, and more.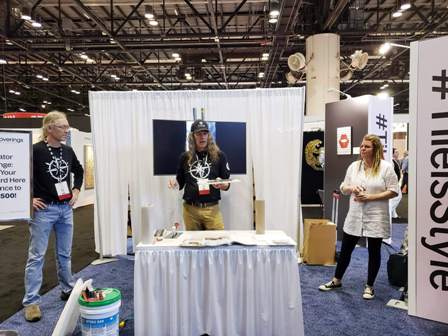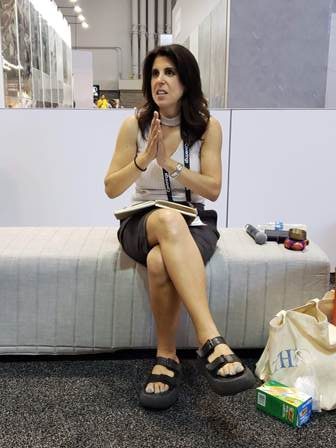 At the Art Tile Village, demos on creating and glazing handmade tile, and premounting techniques for hand-shaped mosaics drew curious crowds and attendees eager to learn. The premounting demos were given by Angie Re, Unique Mosaics; Lee Callewaert, Dragonfly Tile and Stone Works; and Joshua Nordstrom of Tierra Tile, and illustrated the premounting techniques that are detailed in the NTCA Reference Manual.
NTCA Five-Star Contractor and mindfulness coach Gianna Vallefuoco of Vallefuoco Contractors gave a series of short classes to explore basics of mindfulness, breathing meditation, using failure as fuel, brain fitness and more.
Products from shores near and far
Tile Council of North America, Tile of Spain and Ceramics of Italy all held press conferences and led press and influencers on tours of respective exhibitor booths to view stunning new styles and technologies. Also, on the TCNA tour were the creative tiled dog houses built on forms donated by wedi Corp. and tiled by 16 manufacturers. The dog houses will be auctioned off to benefit the Florida Little Dog Rescue organization – and cuddly puppies available for adoption were onsite several days of the show.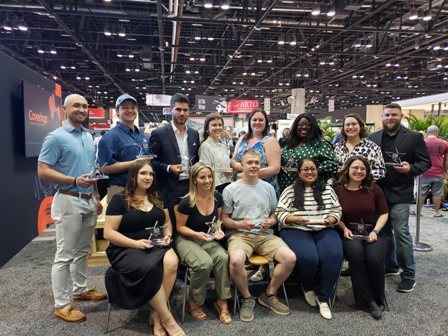 Rock Stars
Coverings Ambassador Alena Capra of Alena Capra Designs announced the 2023 Coverings Rock Stars on Tuesday night, April 18. Emerging leaders from various aspects of the industry who are 40 years old and younger. They include:
Nathan Cooper, Infinity Bath, Aberdeen Proving Ground, MD
Cody Cox, Cox Tile, San Antonio, TX
Randall Johnson, The Tile Geek, LLC, Meridian, ID
Maria Meyer, Dragonfly Tile & Stone Works, Shorewood, WI
Elly Warner, Hawthorne Tile, Portland, OR
Schannon Yodice, That Tile Chick, League City, TX
Christopher Rachel, Superior Home Solutions, Ashland, NE
Casandra Guthrie, Choices Wholesale Flooring, Albuquerque, NM
Heather Ruhl, HB Fuller, Naperville, IL
Kenya Jones-Lowell, MG2 Corporation, Puyallup, WA
Manasa Rao, WAP Sustainability Consulting, Chandler, AZ
Melanie Lawton, Best Tile Company, North Scituate, RI
Austin Maxwell, Maxwell Countertops, Farmer City, IL
Jack Rautiola, Wayfair, Boston, MA
Vincent Spina, STONEX Consulting, Dubai, UAE
CID Awards
On Wednesday night, April 19, the MC team of Lesley Goddin, TileLetter Editor, and Janelle Minghine, Group Publisher of BNP Media announced a full roster of award winners for stunning projects domestically and around the world. Categories included 10 Special Recognition winners, and awards in Commercial Ceramic Tile Design, Residential Ceramic Tile Design, Residential Stone Design, Commercial Ceramic Tile Installation, Commercial Stone Installation, Residential Ceramic Tile Installation and Residential Stone Installation.
Among the winners were NTCA members Footprint Wood & Stone, Custom Mosaic Creations, Tarkus Tile, J&R Tile who all were honored in the Special Recognition category.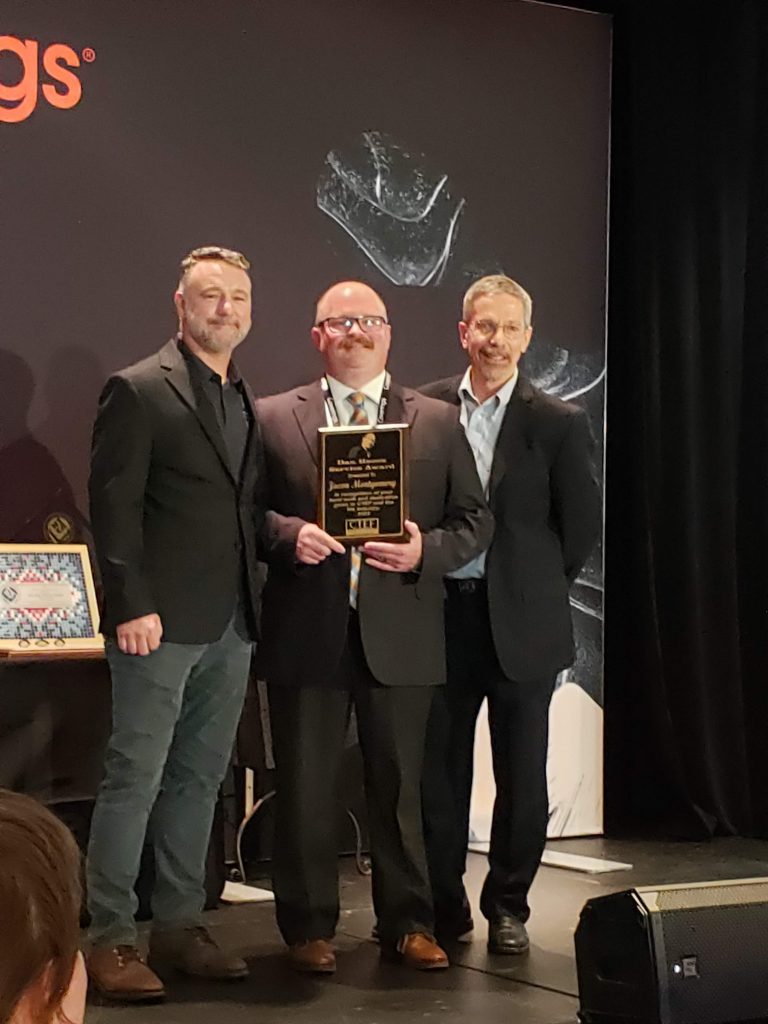 NTCA Awards
Thursday, April 20, NTCA held its annual awards night to recognize:
NTCA Five Star Project of the Year winners included:  
Grand Prize Residential: Lambert Tile and Stone – "Mountain Glam"
Artisan Grand Prize: Cox Tile, Inc. – "Starlit Turkish Spa"
Commercial Achievement of Excellence: Grazzini Brothers & Company – "Luther Park Place Motor Cars"
Commercial Grand Prize: Trostrud Mosaic & Tile Co., Inc. – "Confidential High-End Law Firm"
Commercial Elite Grand Prize: National Ceramic Tile & Stone Corporation – "Redhawk Hotel and Entertainment Center"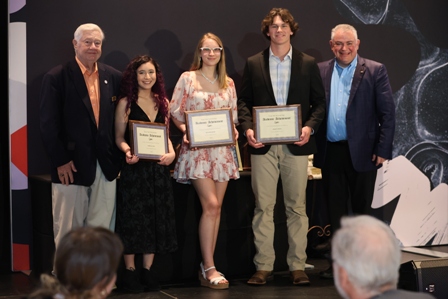 Tom Ade Scholarship Recipients, also supported by LATICRETE. Ade is a former NTCA Tile Person of the Year and Ring of Honor recipient who established the scholarship program with the Board of Directors approval in 2008. NTCA has matched his generosity in order to create a sustainable scholarship program for years to come. LATICRETE International added its support to the program in 2017 with an annual $5,000 contribution. This year's recipients are:
Grant Owen, University of Georgia, son of Rod & Melinda Owen, C.C. Owen Tile Co.
Meadow Karp, Bemidji State University, daughter of Dave & Milo Karp, Tile Fusion LLC
Isabella Fox, Rochester Institute of Technology, daughter of Amber and Victor Fox, Wirtz Quality Installations
Breanna Foster, Western Governors University, daughter of Mike & Tiffany Foster, Tile Trends
Women's events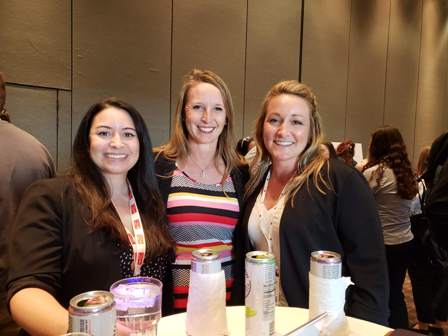 Women of the Flooring Business (WFB), Women in the Floorcovering Industry (WIFI) and the new NTCA-backed group Women in Tile all held events at the show. WFB held an evening networking event sponsored by Schluter and supported by LATICRETE as well as several door prize sponsors. WIFI partnered with Louisville Tile for a Meet & Greet that gave women in the industry a chance to meet and support each other. Women in Tile held a luncheon, supported by LATICRETE and Coverings. Gianna Vallefuoco opened the luncheon with a mindfulness meditation on gratitude and paved the way for compassionate – and passionate – conversation among the women at the event, as well as discussion of upcoming events and initiatives.

A Women Talking roundtable discussion on Thursday morning, prior to the Women in Tile lunch, was moderated by TileLetter Editor Lesley Goddin and featured panelists: Alexis Pellerin of LATICRETE; Alena Capra, Alena Capra Designs; Maria Meyer, Dragonfly Tile and Stone Works; Elizabeth Lambert, Lambert Tile and Stone; Kristin Andreasen of Charles Perry Partners Inc., and the Greater Orlando Chapter President for National Association of Women in Construction. It gave panelists a chance to share experiences, goals, support and resources with attendees – both women and men alike.
Coverings 2024 will be held April 22-25 in Atlanta, Ga. For more information, visit coverings.com.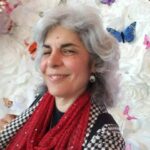 Editorial Director and Senior Writer for TileLetter and TileLetter ARTISAN
Lesley Goddin has been writing and journaling since her first diary at age 11. Her journey has taken her through a career in publishing and publicity, landing her the editor position of TileLetter and its special publications in 2006. Her goal is to educate, inspire, recognize and encourage those in the tile industry -- especially the tile and stone contractor. Other interests include the soft, purring marvels known as cats, labyrinth walking, drumming and percussion, and a range of spiritual, musical and artistic pursuits.