Gauged Porcelain Tile Panels Now Included in Cross Vision as a Virtual Design Option
CROSSVILLE, Tennessee – Crossville, Inc. has announced updates and enhancements to the Cross Vision and Mosaic Builder online design tools on the company's website, crossvilleinc.com.
The popular Cross Vision tool now incorporates gauged porcelain tile panels in the options. This allows users to create virtual designs with the tile panels. Crossville's Cross Vision design tool lets customers create, save, and print visualizations of wall and flooring combinations in photographs, either stock photos provided by Crossville or their own uploaded images.
In addition, Crossville's Mosaic Builder has been updated. Designers can select any of the mosaic patterns and choose from nearly endless combinations of Crossville's tile options to invent custom patterns for walls, countertops, backsplashes, and more.
"With these digital tools, we're empowering designers to create beautiful patterns and easily share these design ideas with their customers—even from mobile devices," states Lindsey Waldrep, vice president of marketing for Crossville.
Other updates for these virtual design tools enhance overall functionality and user experience for both desktop and mobile experiences.
* Mobile responsive readiness – the new redesign better supports the mobile generation allowing customers to access to your building products and colors via mobile devices.
* High resolution product library support – the enhanced imagery support delivers higher quality visuals that showcase building products with hyper photorealistic results.
* New palettes: turnkey design feature – the addition of palette support allows designers to create and showcase product combinations, while providing contractors and homeowners inspirational choices combined with fast and easy design options.
* Enhanced user interface and product navigation – significant improvements to the user experience via redesigned application start page and product search allow for ease of use and navigation.
All of Crossville's design tools can be accessed at https://crossvilleinc.com/ design-resources/.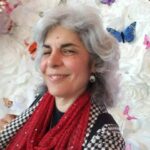 Editorial Director and Senior Writer for TileLetter and TileLetter ARTISAN
Lesley Goddin has been writing and journaling since her first diary at age 11. Her journey has taken her through a career in publishing and publicity, landing her the editor position of TileLetter and its special publications in 2006. Her goal is to educate, inspire, recognize and encourage those in the tile industry -- especially the tile and stone contractor. Other interests include the soft, purring marvels known as cats, labyrinth walking, drumming and percussion, and a range of spiritual, musical and artistic pursuits.