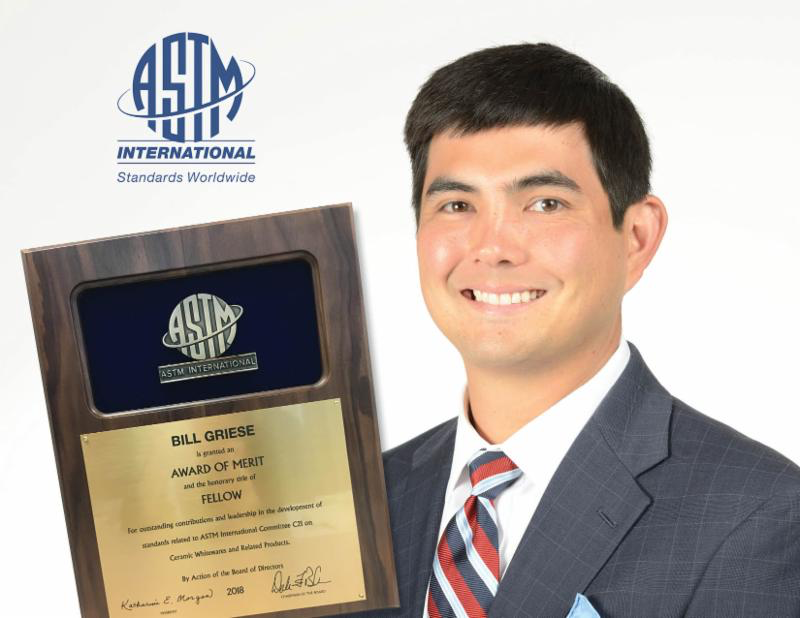 Tile Council of North America (TCNA) is pleased to announce that Bill Griese, TCNA's director of standards development and sustainability initiatives, has been honored with ASTM International's prestigious Award of Merit in recognition of his outstanding leadership and contributions to the development of standards for the Committee C21 on Ceramic Whitewares.
The Award of Merit was established in 1949 by the ASTM International Board of Directors and is the highest society award granted to an individual member for distinguished service and outstanding participation in ASTM International committee activities. This includes general advancement of the interests of ASTM committees and the society as a whole.
Along with the award Mr. Griese is now a Fellow of the ASTM Society.
"It is truly an honor to receive this recognition from an organization I admire so deeply," remarked Mr. Griese. "ASTM's standards development process is unlike that of any other. The level of staff involvement and the broad range of countless volunteers and experts who collaborate to develop some of the most trustworthy technical specifications in the world is impressive, to say the least. I am humbled and honored to be able to interact regularly with such high-caliber professionals, and I would be remiss to talk about the successes of the committees in which I'm involved without recognizing the hard work, expertise, and contributions of so many others."
Mr. Griese will be presented with the Award of Merit at the NTCA Awards Ceremony on Thurs., May 10th from 5:30-7:00 p.m. at Coverings 2018 (
www.coverings.com
).
Mr. Griese joined ASTM in 2007. Beginning in 2008 he served three consecutive terms as chairman of Committee C21 on Ceramic Whitewares and Related Products. He currently serves as C21 vice-chairman and chairman of Subcommittee C21.06 on Ceramic Tile. He also served two terms (one as chairman) as an appointed member of ASTM's regulatory Committee on Technical Committee Operations (COTCO), and this year he began a three-year term on ASTM's Board of Directors. Additionally, Mr. Griese is a member of ASTM Committee E60 on Sustainability and ASTM Committee C15 on Manufactured Masonry Units.
With Mr. Griese's contributions, especially to C21, new specifications have been created and dormant ones revitalized. On several occasions he has authored and coauthored ASTM International standards, and he has reduced the cycle time of standardization efforts through outreach, stakeholder engagement, and increased committee correspondence. Through his consensus building aptitude, he has led committees through contentious subjects, and he has suggested compromises by which standards on the brink of expiration could be passed.
Mr. Griese has given countless hours of his time, energy, and service to the operations of ASTM and has been recognized by the Society on several other occasions. In 2013 he was selected by then ASTM President James A. Thomas as a recipient of the ASTM International President's Leadership Award. He is also the recipient of Service Awards in 2014 and 2017 for his contributions as a member and chairman of COTCO.
In addition to his recognition by ASTM, Bill is well-known throughout the tile industry as a leader. As the chief visionary behind TCNA's environmental efforts, Mr. Griese manages TCNA's Green Initiative Committee, which is comprised of more than 80 members representing more than 50 organizations. Some of his most important projects include the development of Green Squared®-the first and only standard and certification program for sustainable tiles and tile installation materials-and industry-wide Environmental Product Declarations (EPDs) for North American-made ceramic tile, tile mortar, and tile grout.
Mr. Griese serves on numerous standards committees outside of ASTM. He is a U.S. delegate internationally in groups such as ISO TC 189 (Ceramic Tile), ISO TC59/SC17 (Sustainability in Buildings and Construction), and ISO PC 277 (Sustainable Procurement). He is a member of the tile industry's ANSI ASC A108 committee where he spearheaded the development of Green Squared®.
Mr. Griese is a contributor to the development of TCNA's Handbook for Ceramic, Stone and Glass Tile Installation. He served as an International Code Council working group member in the original drafting of the International Green Construction Code. He was also appointed to the U.S. EPA's Governance Committee Flooring Panel, which helped develop federal guidelines on sustainability standards and certification labels.
Mr. Griese is an active participant in the World Ceramic Tiles Forum. He also speaks regularly at events in the U.S. and abroad and is an author, columnist, and contributor to several industry publications. In 2016 Coverings (the largest tile and stone exhibition in North America) honored him as a "Coverings Rock Star," a group of young professionals recognized for having distinguished themselves as industry leaders.
Mr. Griese is a LEED Accredited Professional (LEED AP) with a specialty in building design and construction. He earned a Bachelor of Science degree in Ceramic and Materials Engineering from Clemson University in Clemson, SC.