The Foundation's R.I.S.E. Program Builds
Specially-Adapted Smart Homes for Severely Wounded Heroes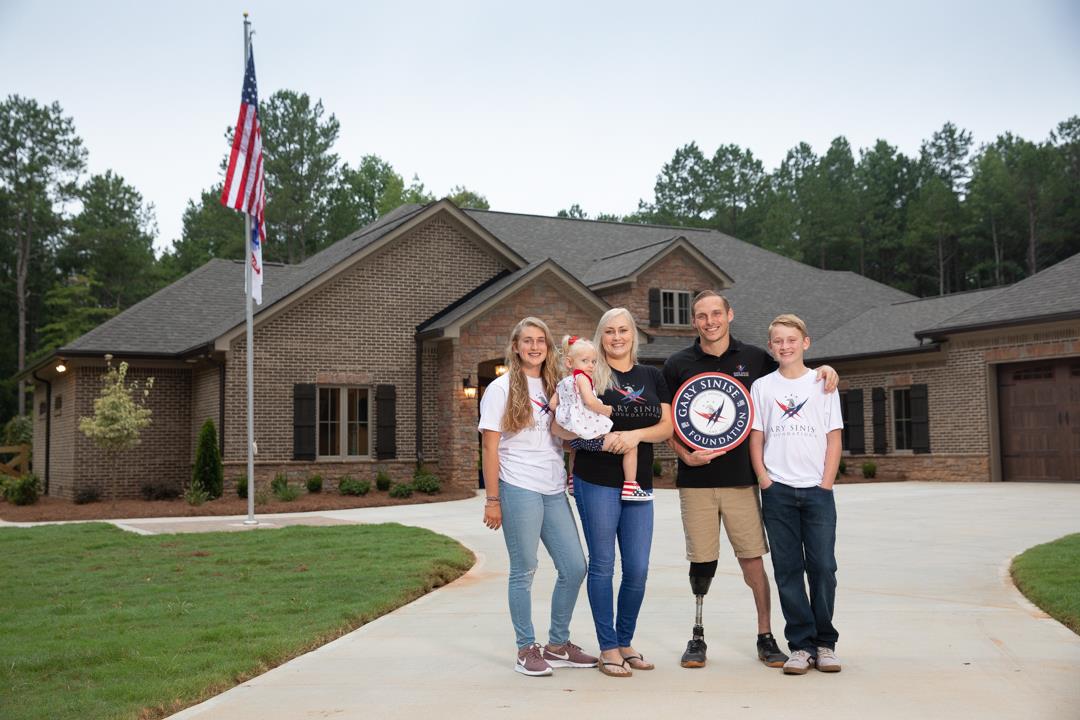 Crossville, Tennessee – Crossville is honored to have contributed the tile for three recently-dedicated specially-adapted smart homes constructed by Gary Sinise Foundation's R.I.S.E. program (Restoring Independence Supporting Empowerment) program.
"It's exciting to know these deserving wounded warriors and their families are enjoying the comforts of brand new, specially-adapted smart homes—and that our tile is a part of their everyday surroundings," shared Lindsey Waldrep, Crossville's vice president of marketing. "The tile options specified for these three homes are not only beautiful but also practical for busy families with unique situations."
U.S. Army Cpt. Nicholas Vogt
U.S. Army Cpt. Nicholas Vogt was deployed to Afghanistan in 2011, Nicholas served as a Platoon Leader. On Nov. 12, 2011, he and his team were on foot patrol when they discovered a weapons cache. While investigating, Nicholas stepped on an improvised explosive device (IED). Immediately Nicholas was rushed to Kandahar, Afghanistan, for treatment, and then transported to Walter Reed National Military Medical Center for extensive surgeries. Vogt suffered both leg amputations at his hips, severe brain injury, and a seizure disorder.
Vogt and his wife, Lauren, were welcomed to their new specially-adapted smart home in Ohio on July 14. With more than 1,300 square feet of tile, the Vogts' new home is not only stylish and modern but also features the superior performance and easy maintenance needed in high traffic residential spaces.
The master bath floor and shower feature Crossville's Virtue collection, which artfully blends the beauty and elegance of marble with the endurance and strength of porcelain tile. The designer included a stunning mix of shapes utilizing the hexagon mosaic creating an interesting backsplash feature for surrounding walls for the soaker tub. In addition, the installation seamlessly transitions the main bathroom floor of 12" x 24" field tiles to the hexagon mosaic for the shower floor.
In addition to the master bath, the designers chose Virtue for the Vogts' two other bathrooms – a bathroom for their son and a guest bath space.
Moving from the bathrooms to the kitchen, the designers specified Handwritten in Par Avion for the kitchen backsplash. Offering the look of handmade artisanal tile, the designer added a hint of color in a traditional subway tile installation.
Important in family life is the mudroom and laundry room in which the designer incorporated Crossville's Vista Americana collection in Plateau providing beautiful earthy tones complementing the pale blue wall and adding style to the functional design of the space.
U.S. Marine Corps Corp. Joshua Brubaker
U.S. Marine Corps Corp. Joshua Brubaker was deployed to Afghanistan in the Musa Qala district, South Helmand Province. His team was sent on a mission where he stepped on an improvised explosive device (IED) which knocked him unconscious. He lost his left foot in the blast and his right foot was severely injured. Brubaker was flown to Walter Reed National Military Medical Center where he continued to fight for his life. Due to infections, both of his legs were eventually amputated.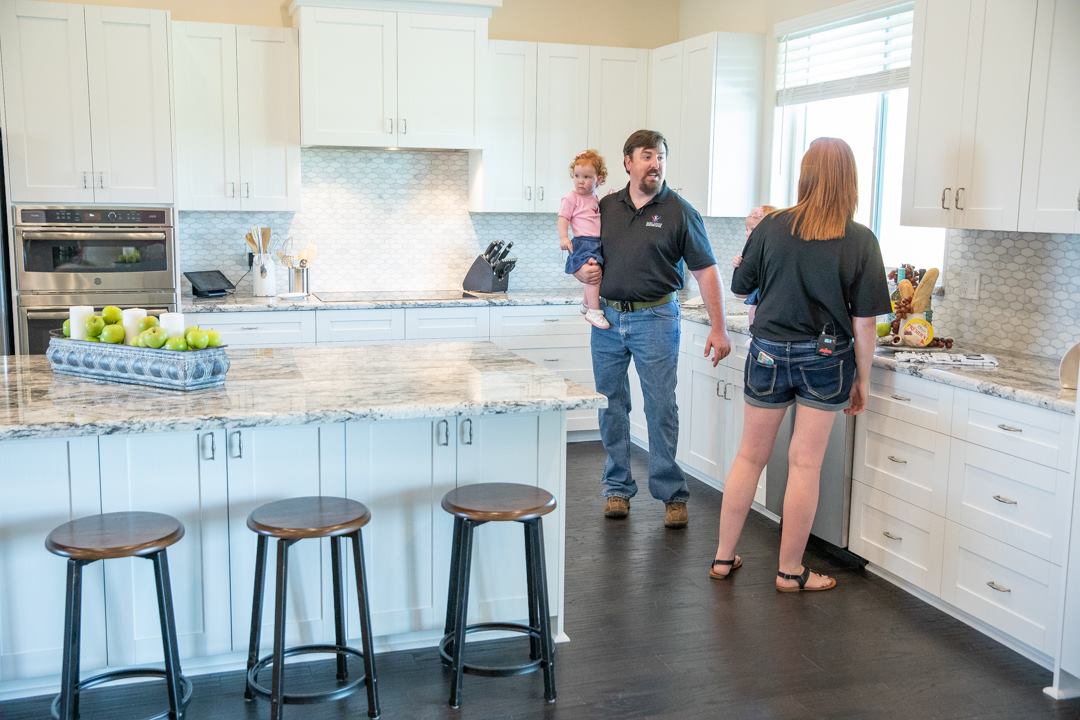 Brubaker and his wife, Cara, moved into their specially-adapted smart home in Bakersfield, Calif., on July 26, 2018. Keeping in mind the Brubakers have two small children, the design team was able to capture the beauty of a modern home and the features needed for a growing family. The kitchen backsplash prominently features Crossville's Yin + Yang collection in Snow Flower. The hexagon shape and the white and gray color tones effortlessly balance to unify the kitchen area with the surrounding spaces.
The Brubakers' master bath features a full walk in shower utilizing Crossville's Nest collection in Mindful Oak. From the large 8" x 36" field tiles on the floor and wall to the parquet mosaic for the shower floor, the subtle grain lines of oak and neutral color palette provide a tranquil space for the Brubaker's to relax in their master bath.
U.S. Army Sgt. Eric Hunter
U.S. Army Sgt. Eric Hunter's first deployment was to Iraq in 2010 and then his second deployment in April 2012 was to Southern Helmand Province, Afghanistan. On May 31, 2012, the day before his one-year wedding anniversary, while patrolling with his unit, Hunter stepped on an improvised explosive device (IED). The bomb took his right leg and shattered his left, along with many other injuries. He was flown to three different hospitals before arriving at Walter Reed National Military Medical Center, where he spent four years at Walter Reed National Military Medical Center undergoing 61 surgeries.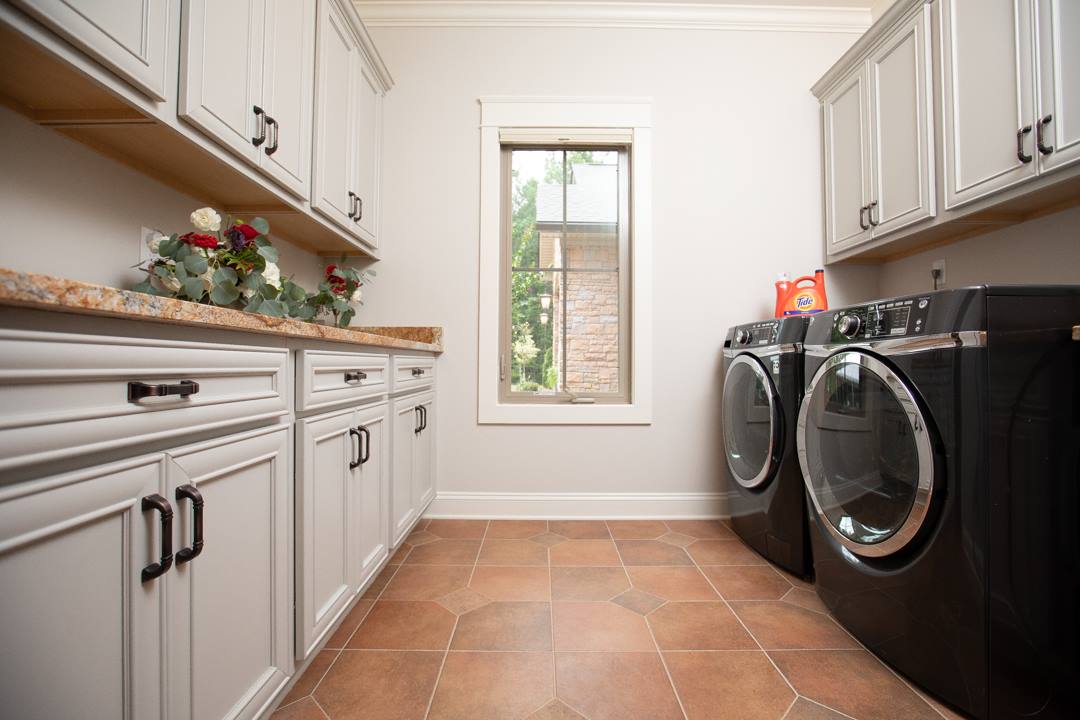 The Gary Sinise Foundation dedicated the Hunters' specially-adapted smart home near Atlanta, Ga., on Aug. 1, 2018. The Hunters' home features more than 1,100 square feet of tile throughout the master bath, guest bath areas, kitchen and laundry room.
The master bath is a stellar example of combining multiple tile styles and colors into a cohesive design that showcases form and function. The Hunters' master bath floor and walls feature Crossville's Vista Americana collection in Dunes providing a soothing warm earth tone palette. The shower wall is accented with a featured zigzag pattern of Crossville's Handwritten collection in the Post Card and Dear Sir hues offering an artisanal hand-crafted look to the space. In addition, the niche in the shower area brings together all the color offerings in Crossville's Ebb and Flow glass and stone mosaic tile.
The designers artfully incorporated a chic element in the Hunters' powder room as a feature wall with Crossville's Sideview Glass in Tungsten. These faceted metallic tiles reflect eye-catching style from every angle and add a modern take of razzle-dazzle, art deco grandeur.
Highlighting the Hunters' kitchen backsplash, Crossville's Handwritten in Post Card brings more of the hand-crafted look to the busy kitchen area.
And an important space for a busy family, the Hunters' laundry room is stylish and functional. With Crossville's Cotta Americana in Red for the laundry room floor, the designers utilized a mix of 12" and 6" tiles creating a stunning pattern and the Red hue complements the light cabinets and dark appliances.