Crossville, Tenn. – Crossville, Inc. has released an update to its Installation Manual for gauged porcelain tile panels. The revised technical manual, offered in English and Spanish versions, highlights Crossville's compliance with ANSI A137.3 standards and reinforces proper interior installation per the ANSI A108.19 standard.


In 2017, Crossville led training for more than 400 professionals in the installation of gauged porcelain tile panels. Cumulatively, the company has trained 1,500 porcelain tile panel installers through sessions on site at Crossville headquarters and at workshops co-hosted with industry partners and associations.
Crossville's Derrick Patterson of the technical services team was instrumental in the revision of the Installation Manual, ensuring it conveyed Crossville's compliance with ANSI A137.3 and supported the ANSI A108.19 installation standard, as well. Notably, technical services director Noah Chitty was among the industry experts at large who collaborated to develop the installation standard for this burgeoning product category.
"It's our goal to support installers with the education and practical know-how they need, and our technical guide is just one of many ways we're here to help," Chitty explains. "Their work is the cornerstone of the growing success of the gauged porcelain tile panel category."
Both the English and Spanish versions of the manual are available at crossvilleinc.com.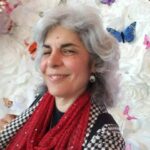 Editorial Director and Senior Writer for TileLetter and TileLetter ARTISAN
Lesley Goddin has been writing and journaling since her first diary at age 11. Her journey has taken her through a career in publishing and publicity, landing her the editor position of TileLetter and its special publications in 2006. Her goal is to educate, inspire, recognize and encourage those in the tile industry -- especially the tile and stone contractor. Other interests include the soft, purring marvels known as cats, labyrinth walking, drumming and percussion, and a range of spiritual, musical and artistic pursuits.