Located on the Front Range of the Rocky Mountains, the University of Wyoming has a reputation as one of the most beautiful college campuses in the country – and the quality of its construction reflects that standard. An expanded High Altitude Performance Center for training athletes and a new Engineering Education and Research Building showcase tile finishes suitable for these world-class facilities. To provide the best protection to the extensive tile assemblies, a full system of installation products from CUSTOM was chosen for these two distinctive new projects on the campus.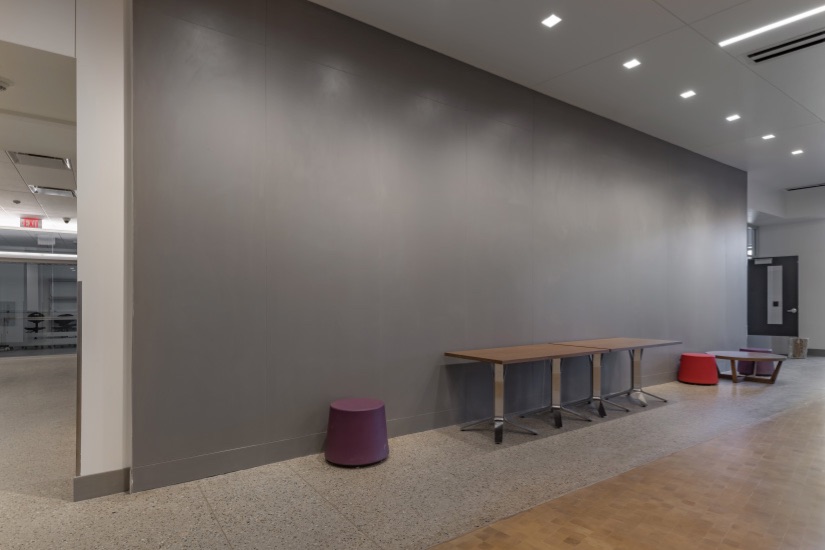 Tile installation throughout both buildings was carried out by Commercial Flooring, Inc. of Cheyenne, Wyoming. Todd Finch, project manager with CFI, explained that a single-source manufacturer with a fully integrated, premium quality system was important to university representatives. The tile specified on these institutional projects was almost entirely large format file and also included hundreds of challenging full-size gauged porcelain tile panels.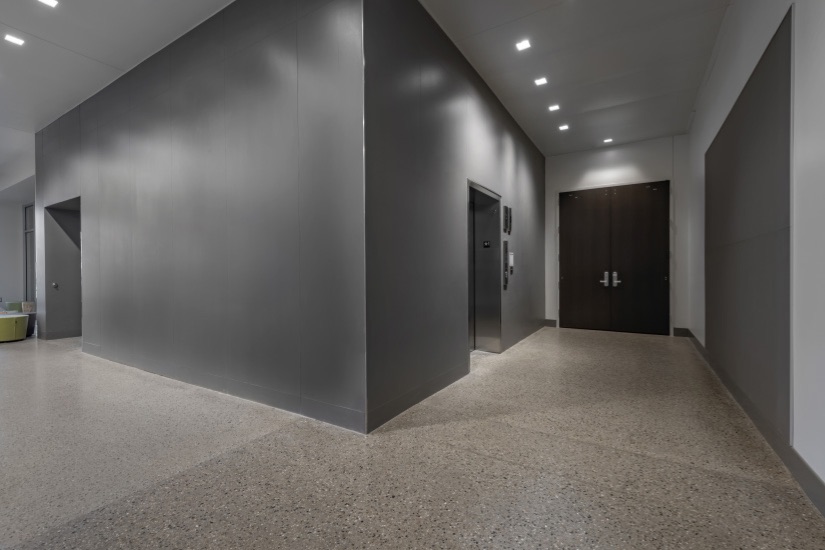 High performance
The High Altitude Performance Center (HAPC) encompasses 118,000 square feet of new and renovated space. It utilizes Laramie's position 7,200 feet above sea level to provide a competitive advantage for UW's student athletes, including their famous Cowboys football team. The impression created by the distinctive HAPC facility will help the university attract top talent while the programs there will support the school's goals of winning conference championships.
Work began with surface preparation products from the CustomTech line that are suitable for tile and all other floor coverings. In order to transform a warehouse-sized weight-lifting room to Olympic standards, a very high-impact system was required. The slab was shotblasted, then treated with TechPrime E 100% Solids Epoxy Primer followed by a sand broadcast to mechanically strengthen the bond. This was followed by pouring TechLevel XP-1, a premium-quality, heavy-duty, self-leveling underlayment with 5,500 psi compressive strength and high abrasion resistance.
The other floors that needed leveling prior to receiving tile and other coverings took advantage of Low Prep Technology products that do not require mechanical preparation over suitable substrates. Silk Patching and Finishing Compound was used for minor repairs, then TechPrime A Advanced Acrylic Primer was applied to densify and seal the surface. Finally, the subfloors were brought into flatness compliance for large-format tile with TechLevel 150 Self-Leveling Underlayment. TechLevel 150 is a unique, super-fluid formula with superior handling and excellent flow retention properties.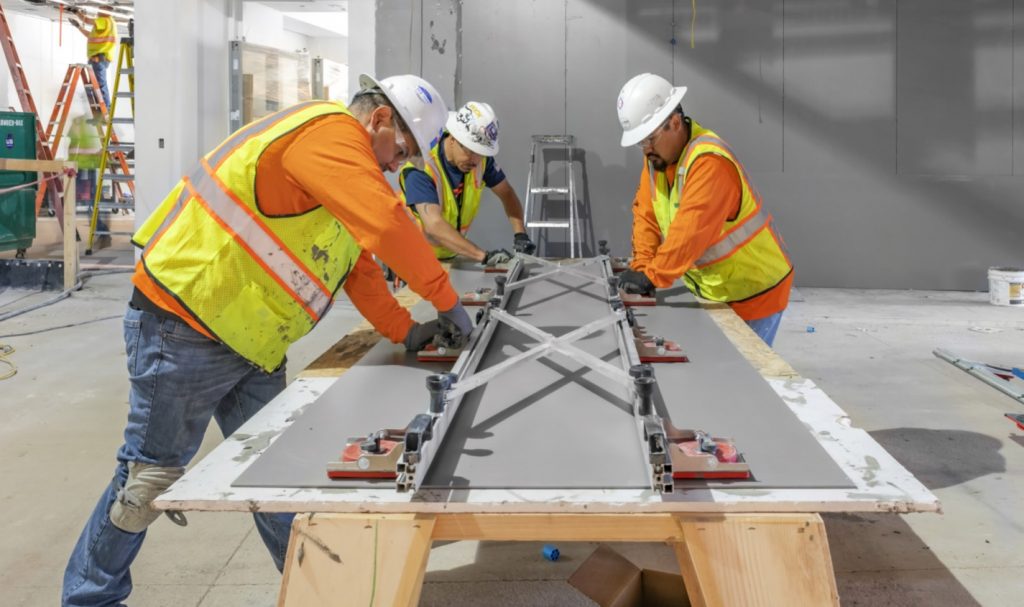 "TechLevel 150 is a go-to product for us – we use pallets and pallets of it," said Finch. "Our crews really like working with the 150 and also Silk, especially its smoothness and the ability to easily feather edge."
Surface preparation continued with waterproofing in areas exposed to water, including showers and pools. These and other wet areas were treated with two coats of RedGard Waterproofing and Crack Prevention Membrane, which exceeds both ANSI A118.10 and A118.12 standards. Liquid-applied RedGard is easy to apply for a rapid-drying, durable and monolithic barrier in shower receptors and submerged tile assemblies. The concrete slab in the Sports Nutrition wing had high moisture vapor emission readings so it was covered with RedGard Uncoupling Mat prior to tiling. This mat is ideal for crack isolation over challenging substrates and provides vapor management for young concrete.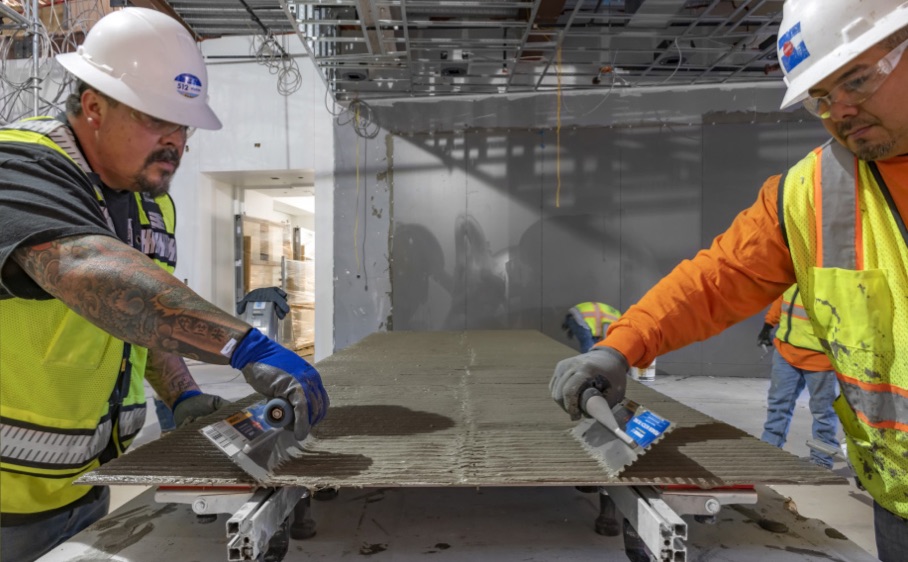 Over 40,000 square feet of tile was installed in the Performance Center with the main field tile being 12"x24". Many public areas such as lobbies, stairwells and hallways were finished with large-format porcelain for a modern, timeless appearance. Showers are luxurious with 24"x24" tile on the floors, the recruiting area wows with 12"x48" pavers, and even the barbershop was lavished with Spec Ceramics Nexa Iron in an 18"x36" format. Industry best practices such as directional troweling were used to ensure mortar transfer to the back of these large tiles and eliminate voids that can lead to tile breakage. The pools and kitchen received standard formats including 2"x2" ceramic and quarry tile. (Note, pool tile was set by the pool contractor.)
Versatile ProLite Premium Large Format Tile Mortar was used to set all tile on floors and walls from the accents to the largest formats. ProLite exceeds ANSI A118.15TE and offers high bond strength in a lightweight formula with excellent handling characteristics for a wide variety of floor and wall tile installations. Ideal for setting large-format tile (LFT) and heavy stone, thixotropic ProLite will not sag or slip on walls and offers non-slump performance on floors.
"Our installers love ProLite," said Finch. "They like the creaminess and really appreciate the lightweight formula on the job. It's the best thinset there is."
All tile at the High Altitude Performance Center was grouted with CEG-Lite 100% Solids Commercial Epoxy Grout. Chosen for high chemical and stain resistance in a sports facility environment, lightweight CEG-Lite is also easier to spread and clean than typical epoxies.
Engineering Excellence
The next project to be completed on campus was the Engineering Education and Research Building (EERB). UW's EERB is one of the most advanced and collaborative engineering learning facilities in the nation. This new four-story structure provides 110,000 square feet of space for engineering research and student innovation with a focus on interdisciplinary collaboration.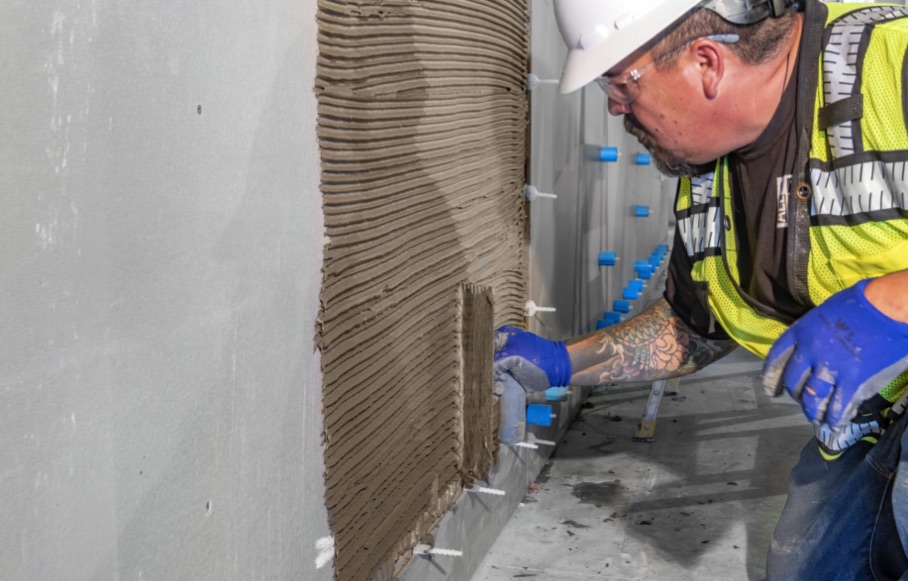 An expansive atrium anchors the building, and walls are covered with 600 gauged porcelain tile panels (GPTP) in a 3.5 mm thickness. The material specified was Daltile's SlimLite Classic Smoke, a 39"x 118" format. One of the challenges on the project was creating vertical courses with the panels to the height in the atrium and stairwells. As required by ANSI A108.19, crews and foremen received specialized training in use of the tools and methods required to successfully handle and install these demanding tile panels.
All GPTP was installed using MegaLite Ultimate Crack Prevention Large Format Tile Mortar. Materials testing on the mesh backing of the panels showed that MegaLite provided the best bond and highest performance with the tile. MegaLite delivers the ultimate in bond strength and flexibility for the most demanding installations. Like ProLite, this mortar exceeds ANSI A118.15TE and both weigh 40% less than typical mortars.
Finch reported that installing the gauged porcelain panels was both fun and interesting. "We had stacking scaffolding reaching two to three floors high and were running a complete assembly line to maintain wet mortar transfer between the tile and the wall surface."
These gauged panels had a 1/8" grout joint and were grouted with Fusion Pro Single Component Grout. Fusion Pro is guaranteed stain proof and color perfect, so it is well suited for high-visibility installations in commercial and institutional applications. It is ready to use right from the bucket, and is spread, then cleaned immediately, which saves time on the job, and helps prevent picture framing and grout haze on these very large panels.
Per TCNA EJ171 and the architectural specifications, movement joints were included at every third panel and at all perimeters and changes of plane on the entire project. They were filled with Commercial 100% Silicone Sealant, which remains permanently flexible to accommodate expected movement within the tile assemblies. Bathroom walls and floors both received 12"x24" porcelain tile, which was grouted with CEG-Lite. Prior to tile installation, floors at EERB were prepared with Silk, TechPrime A and TechLevel 150.
The University of Wyoming has a proud heritage going back its founding in 1886, before statehood. This highly-rated, mid-size public university is well known for its athletics, business and engineering programs and attracts over 14,000 students from all 50 states, and over 90 countries.