NTCA Nebraska State Ambassador schools interior design students on tile failures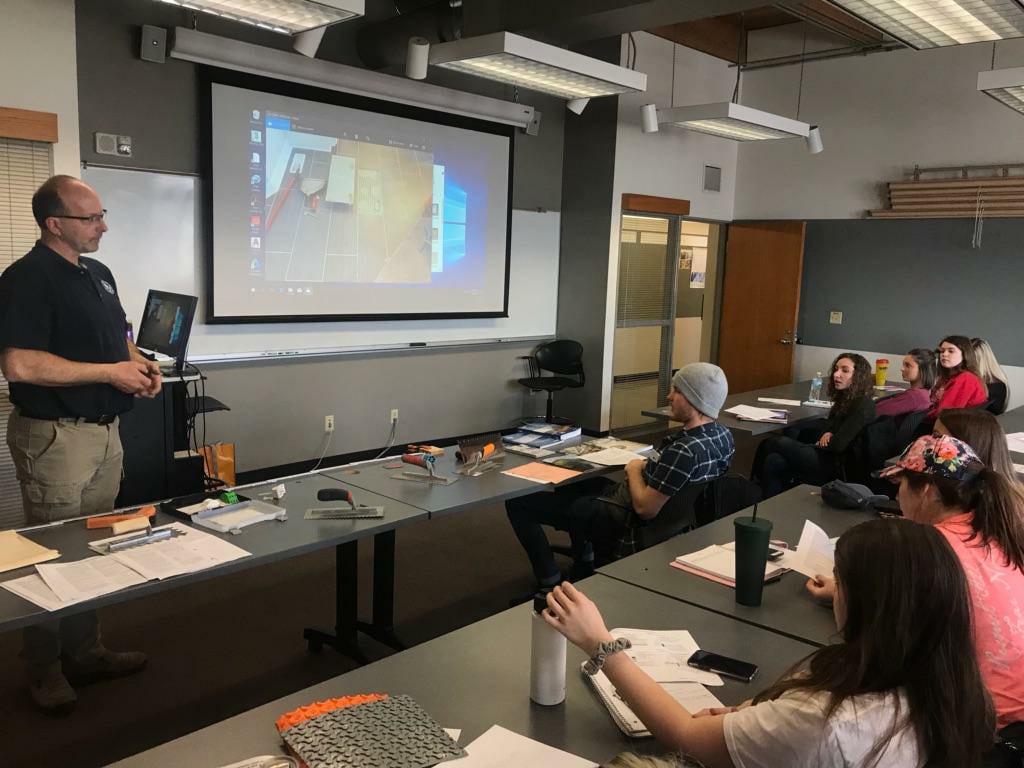 In March, NTCA State Ambassador Dan Hecox of Hecox Construction, Inc. of York, Neb., gave a class on how to avoid tile failures to 28 second-year interior design students at the University of Nebraska – Lincoln.
Interior Design Professor Stacy Spale, IIDA, LEED AP, EDAC, NCIDQ Certificate No. 28851, asked Hecox to present to the IDES 200 Programs, Standards, and Codes class "so our students could better identify standards of installation," she said. "These students will enter various professions within the design industry, and they should be able to feel comfortable on a job site, or managing a project, and at least having a base knowledge of trade vocabulary."
Spale believes that it's a vital skill for interior designers to learn to collaborate with trade contractors. "Early in my career, I drew casework sections the way I'd been taught and never really thought much about it," she explained. "Then I spent some time learning about custom casework and realized that had I called a fabricator before I drew my custom projects, I could have saved time, money, materials, etc.
"The jobs where I could collaborate and communicate my design intent – and work alongside the people doing the work always turned out better," she added. "This seems like generic advice, so I like to show students with real stories so the learning is more applicable."
Adapting professional material to college classwork
Hecox adapted the "Tile Failures – Could it Be Me?" presentation normally given by the NTCA and CTEF workshop presenters to the needs of the design students, which was a challenge in itself.
"It's one thing to talk to people in the trade and quite another thing to talk with up-and-coming designers," Hecox said. To not lose students with highly technical details that would have more meaning to professional tile setters, he covered some areas briefly and "brought along a lot of visuals for them to see and touch," he explained. "I also had some demonstrations for them…I tried to think about where they are in their education and what kinds of things would be important to them in their careers as designers."
Dan gave them real-world useful information to use once they graduate. "I really tried to explain to them as designers, that they can spec certain things – like qualified labor, Certified Installers, and material that falls within ANSI specs," he said. "They should know the work schedules and when things like floor prep will take place and when tile setting will start – and they should be there on the job site to inspect the floor prep and tile install." Hecox emphasized that they should also ask questions of those involved about what they are doing.
Presentation gets thumbs up from students
Based on the responses from the students, the class was a smashing success.
"I found the tile talk extremely interesting," said student Sydney Carl. "I feel like it's extremely important to learn at least a little bit about how to install materials that we would be picking. I think as interior designers we should be educated on the installation of products and not just the application. I learned a lot about mortar and the correct way to lay tile (which from watching HGTV, I was very misled). I definitely feel more knowledgeable now and I have confidence that I could have an educated tile talk with a contractor."
Keleigh Ketelhut admired Hecox's passion about his trade – and professionalism. "What came as the largest shock to me was that people have people pay them big money for jobs they do completely wrong but still call themselves a professional," she said. Excited to hear "Omaha is the first city in the nation to require a tile licensure before one can call themselves a professional," she added, "This has shown me the importance of being a part of the project even after you've handed over the specs, construction documents and the overall design. Not only to check up on the lazy people but I think it is also cool to see things in progress and this thing you once had envisioned come to life."
Lindsay Meyer enjoyed learning from Hecox's experience and considers it "easiest for us to understand what not to do (and why) by seeing bad examples. Dan did a great job sharing with us, and I learned a lot from him." These insights include learning about different types of underlayment and backer board, being able to touch the samples to better illustrate the lessons, and ensuring that both GC and tile contractor are reliable, often by working with certified tile setters.
"Another thing I learned is that it is important for me, as the designer, to show up on the job often to double check the installation process, and if something is awry, to speak with the general contractor about my concerns. I also learned that if there is lippage in a wall application of tile, not having light fixtures wash the wall directly can help hide that. Especially with larger format tiles, the cupping of tiles is inevitable to some degree, so it is up to the designer to make sure it shows as little as possible."
Truthfully, Becky Virgl wasn't too jazzed about listening to "some guy talk about tiles all class, but I really enjoyed everything he had to say. It was really nice to learn what good tile installation actually looks like, and see what a dramatic effect it can have on the look of the tiles overall."
Since the class, Virgl has been noticing bad tile installations in bathrooms and other public places. "I can really appreciate the value of good installation now that I know the difference," she said, adding that when recently watching videos on Facebook, she came across a tile video in her queue. "I felt so frustrated because they were seemingly knowledgeable, but they were instructing people incorrectly – we learned, you cannot just slap mortar on all willy-nilly without giving the air a place to escape to and you cannot spot-bond tiles. I really appreciated this class because it gave me actual concrete knowledge on a subject that will be incredibly useful to me as a designer and a homeowner in the future."
It seems from the comments of the students that Spale's goal that the presentation "allow the students to develop a critical eye and insist that all installations are up to the standards specified," was achieved.
The student feedback was a big help to Hecox, too. "I'd obviously never given a presentation like this to college students, so I really was unsure of how and what to present to them," he said. "But hearing how they really enjoyed the presentation, and that now when they are out and about they are inspecting tile work that they see, shows me that what I presented them was spot on."
Might there be an opportunity to share your knowledge with a university or high school class in your area?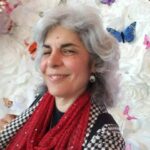 Editorial Director and Senior Writer for TileLetter and TileLetter ARTISAN
Lesley Goddin has been writing and journaling since her first diary at age 11. Her journey has taken her through a career in publishing and publicity, landing her the editor position of TileLetter and its special publications in 2006. Her goal is to educate, inspire, recognize and encourage those in the tile industry -- especially the tile and stone contractor. Other interests include the soft, purring marvels known as cats, labyrinth walking, drumming and percussion, and a range of spiritual, musical and artistic pursuits.