Editor's Letter – July 2018
The only thing worse than training employees and having them leave is not training them, and having them stay. – Henry Ford, Founder, Ford Motor Company
This month we have a strong focus on education and training. Of course, training and education are core pillars of NTCA'S mission, but this month we get to see how contractor members are taking that mission out into their communities to spread the word about installation that conforms to industry standards and invites the next generation of tile setters to a career in qualified labor.
Our Training and Education feature takes a first look at the Oregon – Columbia Tile Trades Training Trust, a cooperative of contractors, supported by distributors, manufacturers and other suppliers that are developing an apprenticeship program based on NTCA University courses. Read about this inspiring new program.
In our Qualified Labor section, Nebraska State Ambassador Dan Hecox talks about a presentation on how to avoid tile failures he gave to a group of 28 second-year design students at the University of Nebraska-Lincoln earlier this year. Hecox focused on real-world useful information that students can use once they graduate, and got thumbs up from the class.
NTCA Training and Education Coordinator Becky Serbin discusses how to use the NTCA University courses in DOL-approved programs and apprenticeship and pre-apprenticeship programs in this month's NTCA University Update. As a member you have access to a fantastic collection of courses that can be utilized in many ways, tailored to your business.
Our Tech Talk feature this month is derived directly from another avenue of education offered by NTCA – the monthly Webinar series. These free online presentations bring you the wisdom of industry experts on a range of topics that you can access on your phone, tablet or computer, solo or with a group of colleagues. This month, we learn about the benefits and advantages of self-leveling underlayments from TEC/H.B. Fuller's Tom Plaskota.
Jason McDaniel, of Stoneman Construction LLC in Portland, is profiled in our Member Spotlight this month. In addition to being one of the members of the Oregon-Columbia Tile Trades Training Trust referenced above, McDaniel is a Regional Evaluator with the CTEF's Certified Tile Installer credentialing program, which allows him to be on the "front lines of training and testing installers of all ages who are new to the trade, or veterans wanting to expand their skills and knowledge." With the expansion of the number of Regional Evaluators across the country, the CTI test is much more accessible to more tile setters who want to test themselves and obtain credentials that enhance their dealings with customers and design professionals.
And finally, in this issue we preview the Total Solutions Plus (TSP) all-industry conference coming up October 27-30 in Grapevine, Texas. This conference is a prime opportunity to gain wisdom and share experience about the business and technical ends of the industry, and learn from peers and experts. The full program and relaxed pace give you the opportunity to both learn and network and return home equipped with inspiration and new strategies to take your business to the next level.
Have a topic you'd like to learn more about? Drop me a line and let me know and we'll schedule an article in an upcoming issue of TileLetter.
God bless,
Lesley
[email protected]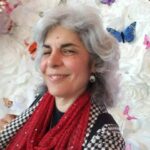 Editorial Director and Senior Writer for TileLetter and TileLetter ARTISAN
Lesley Goddin has been writing and journaling since her first diary at age 11. Her journey has taken her through a career in publishing and publicity, landing her the editor position of TileLetter and its special publications in 2006. Her goal is to educate, inspire, recognize and encourage those in the tile industry -- especially the tile and stone contractor. Other interests include the soft, purring marvels known as cats, labyrinth walking, drumming and percussion, and a range of spiritual, musical and artistic pursuits.