QUESTION
I am putting down a 1″ hex marble mosaic floor for a customer. I saw excessive glue on a number of sheets, which I set aside.
I wanted a sheet's worth of pieces available to me to fill in a narrow spot on the floor, so I put a sheet in warm water to soak. That is when I realized that the glue issue may be much worse than I originally thought.
Picture 1 has three pieces, one cleaned of the glue, the other not, and one partially cleaned.
Picture 2 is the sheet in the water with the mesh still partially attached.
Picture 3 has the mesh completely removed, but the impression is still visible.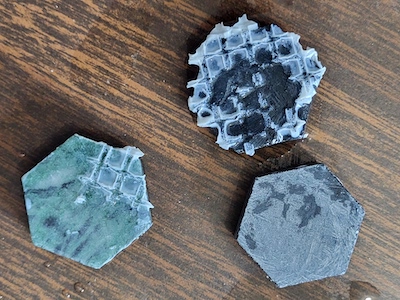 If this is what these sheets are like, I do not relish the idea of putting them down. They are expensive and are what the customer wants.
Do you have suggestions as to how to proceed? I do not want to have to lay this floor (75-80 sq. ft.) one hex at a time, but the excess glue does not give me confidence in the sheets either.
Am I being overly cautious?
ANSWER
I have been discussing this project with this member off and on for several weeks now. He is making good progress and has received some good advice along the way. He followed NTCA advice and made both a floor mock up and wall mock up before starting this project, which really impressed the general contractor.
After grouting the mock up, he discovered that the grout stains the marble, so he decided to follow Robb Roderick's guidance in his YouTube video on Six Sided Sealing the stone, found on the NTCA YouTube channel. Today we talked about the glue used in the mosaic sheets and his concerns about that. (This mosaic is in a dry area only). We talked about the decisions and risk tile contractors have to decide whether they are willing to take or not. While on the phone, we decided he should do a destructive test, trying to pull the mosaic off of his mock up. This gave him the confidence he needed to move forward after seeing how well it was bonded.
– Matt Welner, NTCA Trainer