Pioneering tile and stone work at USC's 110,000-sq.-ft. football hub
When the University of South Carolina prepared to build a future home for its revered football program, innovation was a top priority. So, it's fitting that planners used products from an innovative company – one that was founded decades prior by a pioneering alumnus with the mission to improve the quality and longevity of tile installations, while also reducing the material required and simplifying the installation.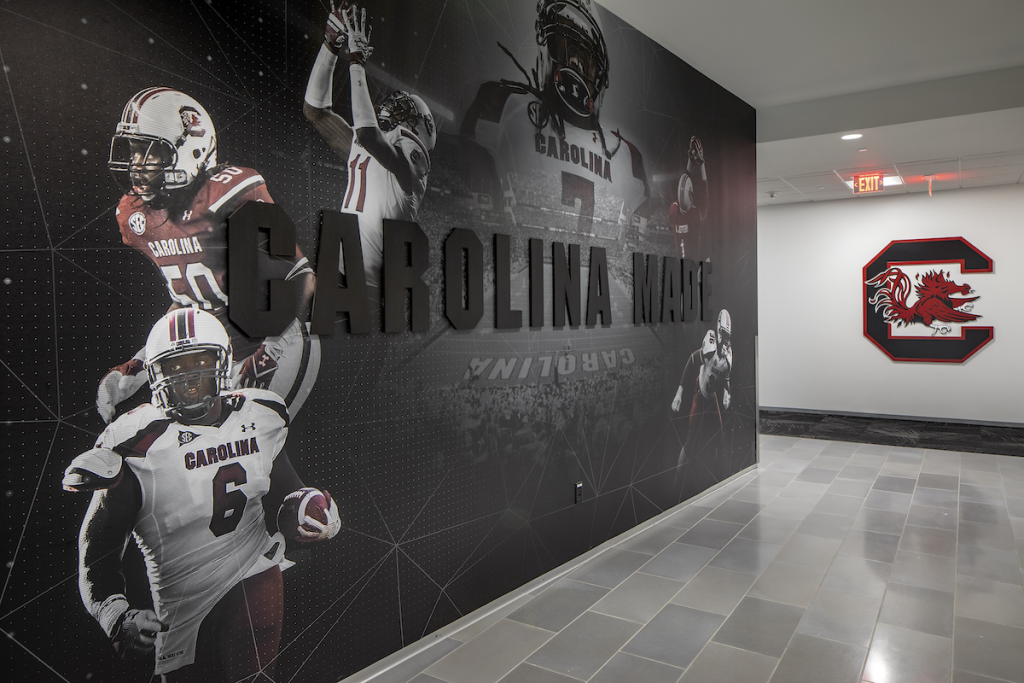 On order: an appealing, practical and durable facility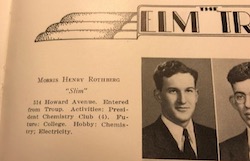 Construction of the $50 million Long Family Football Operations Center at the University of South Carolina (USC) was a two-year project that began in 2017. Architects Gensler, Washington, D.C. and Quackenbush Architects, Columbia, S.C., designed the 110,000-sq.-ft. (10,219 m2) contemporary facility to house everything the USC Gamecock football program would need for success. The substantial interior was to include locker rooms, a dedicated weight room, a room for hydrotherapy treatments and a sports medicine area, as well as coach and staff offices, meeting rooms, a players' lounge and flexible dining and event areas. Overall, the center was intended to be a game-changer for the football program's efficiency, effectiveness and recruiting.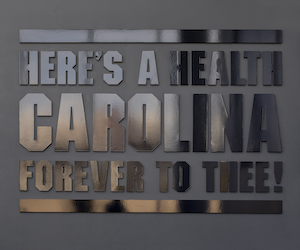 Surfaces throughout the modern facility had to be appealing, practical and durable. Therefore, the architects specified widespread use of tile and stone to cover 30,000 sq.ft. (2,787 m2) in neutral colors that would complement the facility's overall sleek aesthetics. Areas where tile and stone were to be installed included lobbies, corridors, stairways, restrooms, showers and the hydrotherapy area.
Preventing cracks: the main challenge
The main challenge of the tile and stone work was determining the best way to keep these surface materials from cracking over time. Cracked tile or stone is not only a terrible eyesore that typically becomes the focal point of an otherwise flawless installation, but it can become also a potential hazard that leads to deterioration. The problem is often caused by cracks that materialize if the substrate beneath isn't properly prepped prior to tile installation, particularly when using large-format tiles like the ones specified throughout the USC Football Operations Center.
This was a major concern, for project planners knew the new facility must withstand the brunt of year-round use, high traffic and harsh physical activities. Therefore, the challenge was clear: in order to prevent cracks from developing, the project's contractor would need to apply a crack-suppression (anti-fracture) product. This step was considered necessary to ensure proper protection and stabilization of the completed tile and stone craftsmanship. Planners also determined that the crack-suppression product would need to be applied quickly to avoid disrupting the project's complex construction schedule.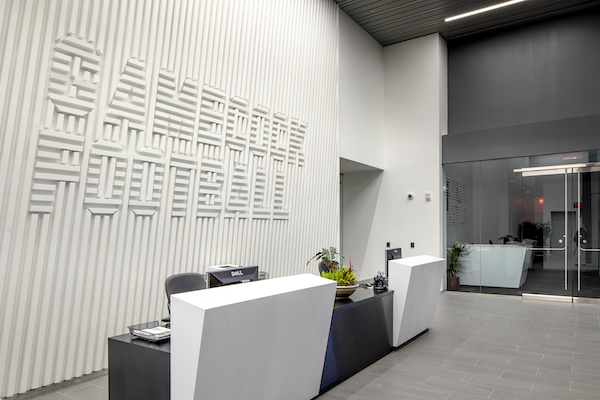 However, selecting the right product required some careful thought. That's because a variety of crack-suppression products are available on the market. These include peel-and-stick membranes, adhesive mortars and liquid crack-isolation membranes. The design team knew they would have to choose a proven, high-quality product that would ensure effective tile and stone protection for years to come. They also needed to select compatible tile-installation materials such as mortar, grout and a sealant.
So, they turned to Palmetto Tile Distributors for expert guidance. "We worked with the interior designers to help find the right LATICRETE products for each area," said Richard Oliver, Commercial & Architectural Sales Representative at Palmetto Tile Distributors.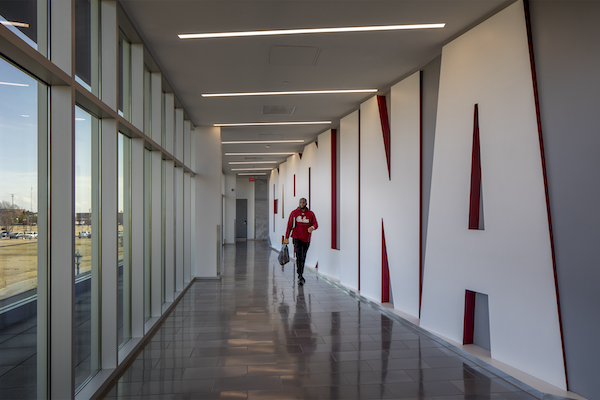 LATICRETE products score a touchdown
Ultimately, the design team chose to have HYDRO BAN® applied on the concrete surfaces where tile and stone would be installed. HYDRO BAN is a thin, self-curing liquid rubber polymer that forms a flexible, seamless waterproofing membrane that provides anti-fracture protection of up to 1/8″ (3 mm) over shrinkage and other non-structural cracks.
Not only can HYDRO BAN help protect the large-format tiles from potential cracks in the concrete substrate, but its ease of application – not requiring fabric in the field, coves or corners – also helped the contractors – Watford Tile, Inc., Chapin, S.C. – stay on schedule. All of this resulted in a seamless application process that produced excellent results.
In addition to HYDRO BAN, six other LATICRETE® products were also selected and used for this project. This ensured a complete, warranted system solution from a trusted manufacturer.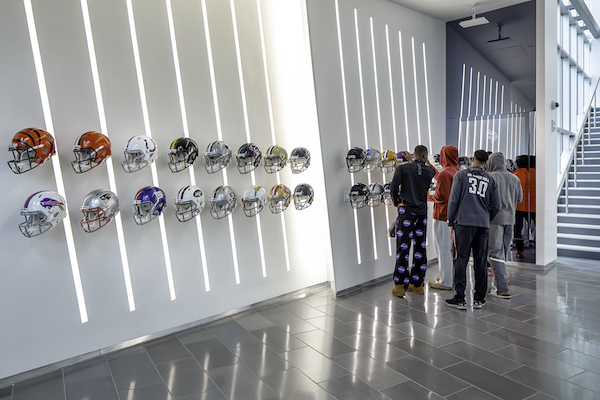 NXT® Level Plus, a high-quality, fiber-reinforced, cement-based, free-flowing self-leveling floor underlayment, swiftly transformed the floors in the main lobbies, bathrooms and locker rooms into flat, smooth and hardened surfaces ready for the large-format tiles in less than 12 hours.
After that, two types of polymer-modified adhesive mortars enabled a quick, one-step tile installation: LHT® for the large-format porcelain tiles and 254 PLATINUM™ in wet spaces, like the hydrotherapy area and showers, due to its superior performance in submerged applications.
The project wouldn't be complete without SPECTRALOCK® PRO Premium and PERMACOLOR® Grouts. With the ability to withstand wide temperature ranges and exposure to harsh chemicals like an indoor spa and pool, SPECTRALOCK® PRO Premium Grout, a patented, high-performance epoxy, was utilized in the hydrotherapy area. Simultaneously, PERMACOLOR Grout, a high-performance, fast-setting polymer-fortified product made for high-traffic environments, was used in the bathrooms and locker rooms. Both formulations produced full, durable grout joints with excellent color uniformity.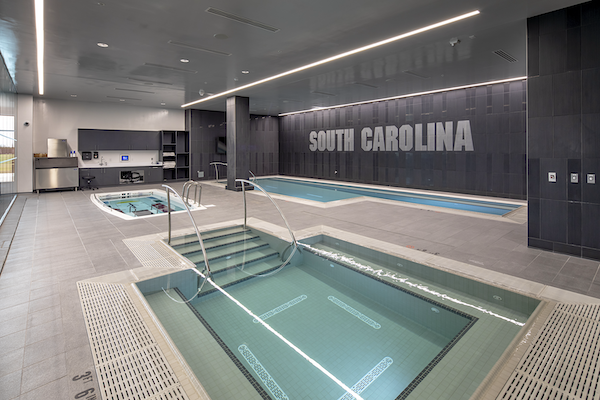 Finally, LATASIL®, a high-performance 100% silicone sealant, was strategically applied to strengthen the expansion joints throughout the project – a finishing touch to a thoroughly planned and executed system solution.
"We are proud that multiple LATICRETE products were selected for the USC Football Operations," said Chris Condeni, National Account Manager for LATICRETE. "One of our brand promises is to transform our industry with new solutions for architects, designers, and installers. So, we are honored to know that several of our innovative products were used to construct such a demanding and innovative facility. It's really a perfect fit."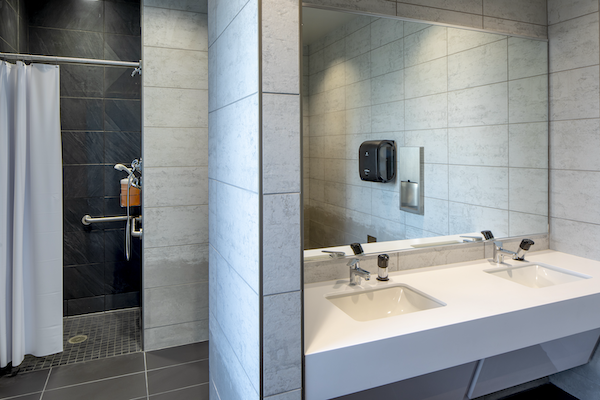 Project performance: tough as nails
The Football Operations Building was completed in January 2019, and continues to serve as the flagship of USC athletics. Located adjacent to an indoor practice facility and outdoor practice fields, the handsome structure accommodates student-athlete instruction, training, nutrition, physical therapy, and various social events.
The building is used daily, enduring extreme wear and tear from USC's physically demanding, tough-as-nails football program. Yet, the tile and stone work throughout this facility continues to look flawless – just as it did when it was first installed. The LATICRETE installation solutions have been exceptional in isolating potential cracks that may form in the concrete over time, due to seasonal changes and other movements. Without a doubt, the tile and stone surfaces will endure indefinitely, and remain as strong and resilient as the university's Gamecock spirit.