"The number one skill in life is not giving up."
– Bryant McGill
Happy New Year! Weren't we just wishing that to each other only 365 days ago?
Here we are again, at the beginning of a blank book of possibilities spreading before us for the next 365 "pages." What are your hopes and aspirations for the coming year? How are you hoping to grow, shape or hone your business? Where do you go for inspiration, help, assistance, guidance? It's our hope that NTCA is one of those places, and that we are supporting you in the wide range of facets of your business – education, marketing, benefits, camaraderie, working for change within the industry, technical assistance. If you haven't browsed the NTCA website at tile-assn.com for a while, please do so this month. We have features there to prosper and support you.
January marks the beginning of the "show season" – where every week it seems there is a new trade show or conference for national or regional audiences. This month, many of us will greet each other in Las Vegas at the Surfaces/TISE West show, but there's also World of Concrete, The NAHB Builder's Show and KBIS on the horizon. Take a look at the Industry Calendar in this issue for a listing of shows and events throughout the year.
And only a few months down the road, we return to the Orange County Convention Center in Orlando, Florida for Coverings '19, from April 9-12. There's a lot of preparation at NTCA and the industry for this industry powwow – and one of those things is a story planned for our Coverings issue of TileLetter: Making the most of Coverings. I put these questions before those of you who have attended or attend on a regular basis:
What kind of system do you have to help you work through this massive show?

How do you prioritize which exhibitors you will visit or conference sessions you will attend?

Do you bring colleagues along with you? Why or why not?
What do you most look forward to?

Do you take the booth tour offered by NTCA while at the show?
What do you hope to gain by attending Coverings?
I would be most grateful for your feedback at [email protected] to help me build this story into something that will be useful information for Coverings newbies or those who want to make the most out of their visit to Orlando.
Speaking of industry events – be sure to read the Training and Education story in this issue, which focuses on the dynamite regional NTCA Five-Star Contractor Trainings at Grazzini Brothers & Company and David Allen Company last fall. These two programs were the culmination of regional training NTCA put in place in 2018 and brought tremendous value to both a large union and an open-shop contracting company – as well as other locales around the country. The NTCA Workshop/Regional Training Programs for 2019 will be updated, honed and improved (if you can improve on perfection!) this year, with a new format you'll be learning about next month. Please do yourself and your business a favor and attend one of these free events when they come your way.
Wishing you all a great new year, and hope to see you on a show floor at some point this year!
God bless,
Lesley Goddin
[email protected]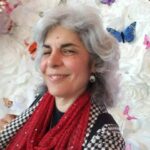 Editorial Director and Senior Writer for TileLetter and TileLetter ARTISAN
Lesley Goddin has been writing and journaling since her first diary at age 11. Her journey has taken her through a career in publishing and publicity, landing her the editor position of TileLetter and its special publications in 2006. Her goal is to educate, inspire, recognize and encourage those in the tile industry -- especially the tile and stone contractor. Other interests include the soft, purring marvels known as cats, labyrinth walking, drumming and percussion, and a range of spiritual, musical and artistic pursuits.