Dallas, TX – January 26, 2018 – Expert craftsman, celebrity designer and host of HGTV's Elbow Room, Chip Wade, will be on hand in the Daltile booth on day one of Surfaces 2018 talking about design trends and debuting the Daltile Virtual Home that he has helped bring to life in coordination with the brand. In his trademark fun and personable style, Wade will conduct full digital "tours" of the 360-degree virtual home.  Wade's walk-throughs will be projected onto a 600 square foot animated LED floor/wall screen on the Daltile main stage and also broadcast to the greater Surfaces exhibit floor audience via overhead screens encircling the outside of the booth.   The goal of the Daltile Virtual Home is to show how tile can be used throughout an entire home, inside and out, as well as the many unique ways in which tile can be showcased in a home.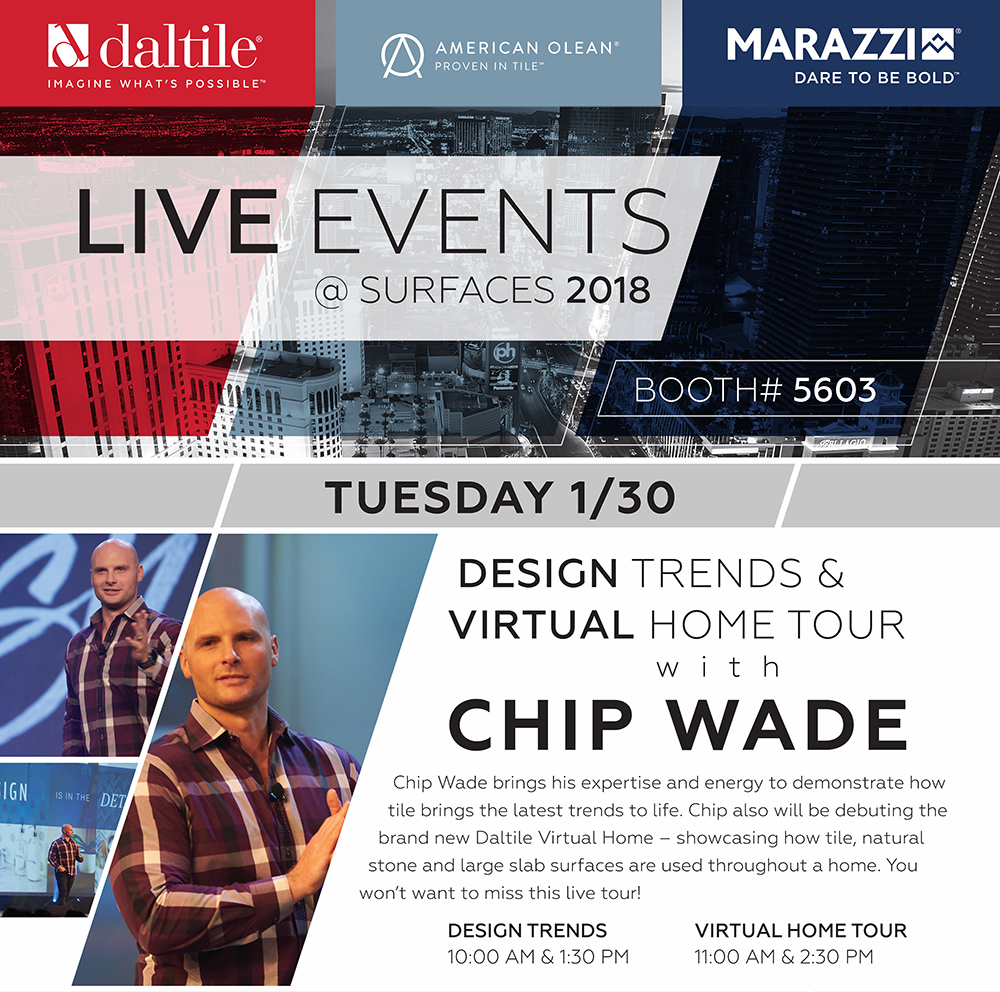 "We are very excited to have Chip Wade help us debut the Daltile Virtual Home in our booth during Surfaces," said April Wilson, director of brand marketing for Dal-Tile Corporation.  "As always, Chip is a fan favorite and everything he presents becomes an enjoyable experience for attendees. And, the home itself is fabulous! We have designed it to be a 'flex home' in a Modern Farmhouse look and feel. Today's popular flex home concept accommodates the multi-generational lifestyle where older parents may live with their children and grandchildren, or students may leave for college and then come back home to live during graduate school or while getting established in their first full-time job.  Chip will not only host the walk-throughs of the virtual home, but he will also talk about why he selected the products used in the home's design."
The following is Wade's presentation schedule on Tuesday, January 30:
Design Trends        10:00 a.m. and 1:30 p.m.
Virtual Home Tour        11:00 a.m. and 2:30 p.m.
"The Daltile Virtual Home is just one touchpoint for the brand to reach consumers," added Wilson.  "Daltile is an innovative brand, not only with our products, but in our digital outreach. Today's consumers spend a great deal of time online conducting research before and during the selection process. Digital inspiration like the Daltile Virtual Home helps them imagine the possibilities of tile."
Daltile booth #5603
# # #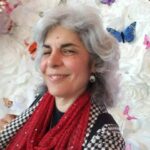 Editorial Director and Senior Writer for TileLetter and TileLetter ARTISAN
Lesley Goddin has been writing and journaling since her first diary at age 11. Her journey has taken her through a career in publishing and publicity, landing her the editor position of TileLetter and its special publications in 2006. Her goal is to educate, inspire, recognize and encourage those in the tile industry -- especially the tile and stone contractor. Other interests include the soft, purring marvels known as cats, labyrinth walking, drumming and percussion, and a range of spiritual, musical and artistic pursuits.