Backsplash feature walls are strong areas for tile
This year we take a departure from a straight color story to explore the 2020 Houzz Kitchen Trends Study*. Yes, tile and stone are used in more areas of the home than kitchens, but kitchens are a key space for tile, and trends in kitchens will help shape the direction of tile style for the next year.
Large islands continue to be a prominent feature in renovated kitchens, according to the 2020 Houzz Kitchen Trends Study. The survey of nearly 2,600 U.S. homeowners using Houzz who are in the midst of, are planning, or recently completed a kitchen project, found that nearly two-thirds of renovated kitchens feature an island (61%). One third of homeowners add an island during renovations (33%), while nearly a quarter upgrade an existing island (22%). Islands are sizable features in kitchens, with a third measuring more than seven feet long (32%) and another 39% six to seven feet long. In addition to their substantial physical presence, islands are a hub of activity from dining (58%) to entertaining (49%) to socializing (45%).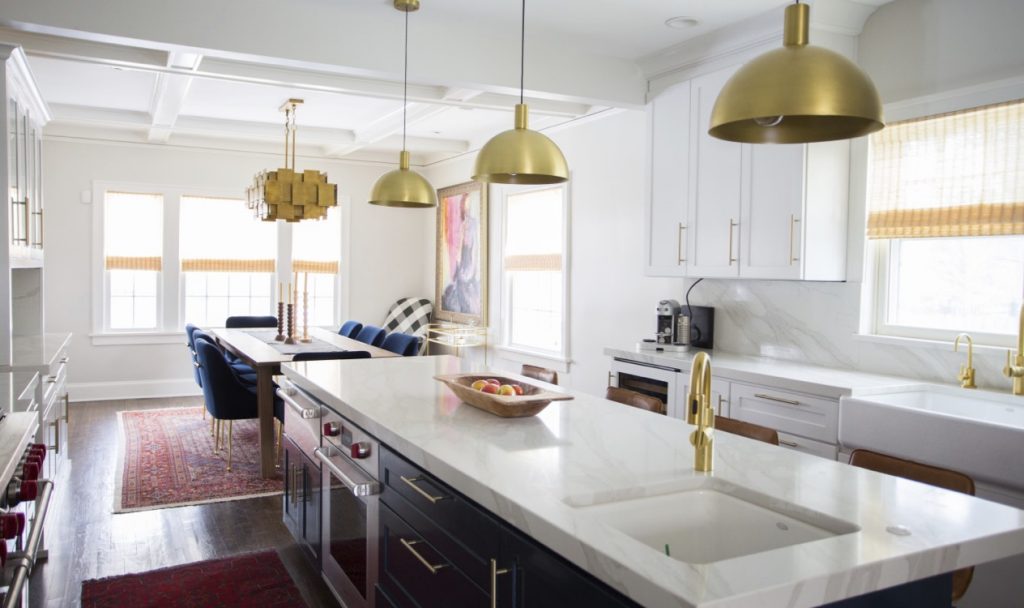 This is an important detail for tile setters, since installing tile around a kitchen island takes planning and layout savvy. It's fortunate then, that NTCA is offering a new workshop topic in its 2020 national road shows – "The Ins and Outs of Layout." In the March issue of TileLetter, Becky Serbin, NTCA's Education and Curriculum director, explained that islands will be addressed specifically in this new workshop. "We will have a mockup of a room, and contractors will do a layout with foam blocks to simulate a kitchen island, to help them figure out how to install around it," Serbin said.
Cabinet colors inform tile selection; countertop colors contrast
Countertop renovations were cited by 89% of respondents, followed by 84% who upgraded backsplashes, the two top areas for updating, and both a target for tile and porcelain slab products. When it comes to appearance, many choose island finishes that stand out from the rest of the kitchen. Two in five homeowners adding or upgrading their island cabinets opt for an island cabinet color that contrasts with their main cabinets (39%). Top island cabinet colors are: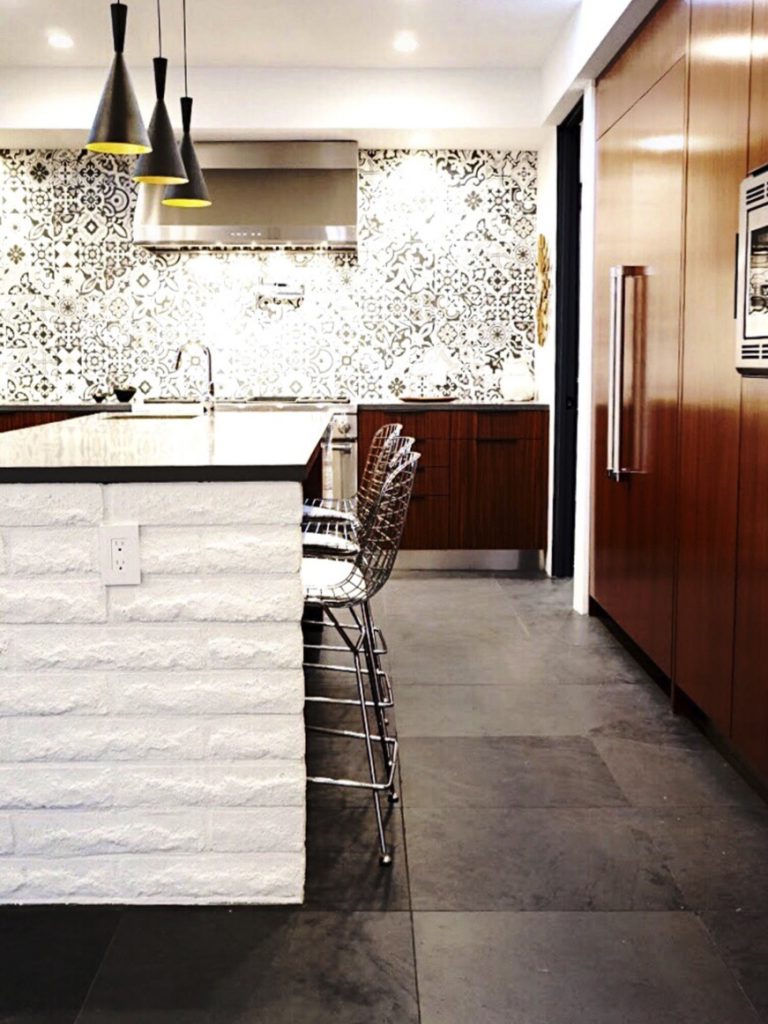 Gray (26%)
Blue (19%)
Black (11%)
Contrasting countertop colors are also common among those updating their kitchen island countertops (29%), including white (23%) and medium wood (21%). Among homeowners choosing contrasting countertop materials when updating their island (26%), butcher block tops the list (41%). Nearly all new islands have storage features (98%), and over half (52%) have built-in appliances including microwaves (32%), dishwashers (31%), garbage disposals (24%), cooktops (21%) and beverage refrigerators (9%).
Kitchen upgrade spending impacted by tariffs on Chinese products
Financial investment in kitchen projects continues to grow, with median spend on major kitchen remodels** completed in mid-2019 at $35,000, up 17% from a year ago ($30,000). However, while many homeowners opt for complete kitchen overhauls, the breadth of kitchen renovations has been scaled back for the second year in a row. For example, upgrades to countertops and sinks are not as widespread (89% and 83%, respectively) compared with two years ago (94% and 90%). Similarly, structural upgrades are not as frequent, including opening the kitchen to other interior rooms (46%), changing kitchen layout (46%), or adding square footage (35%).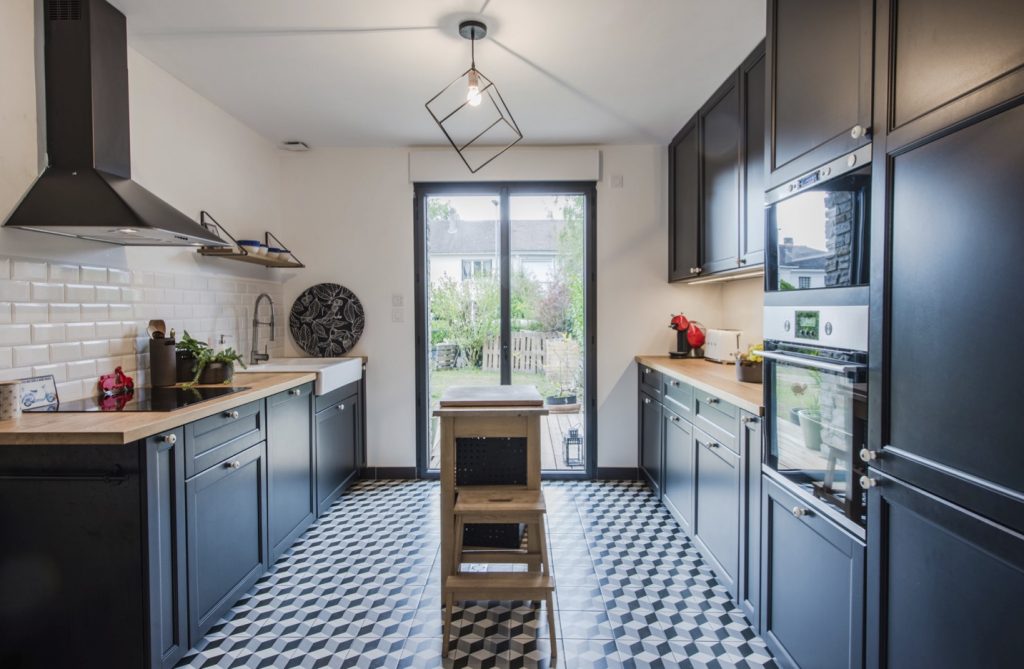 "It is remarkable to see median spend on kitchen remodels grow by double digits for the third year in a row," said Nino Sitchinava, Houzz principal economist. "Combined with a two-year decline in the scope of kitchen remodels, spend increases confirm our findings of significant price inflation in the home remodeling industry due to changes in international trade policy. Homeowners are dealing with increasing product prices by substituting materials, as indicated by slower growth in the use of engineered quartz and a decline in the popularity of engineered flooring materials, highly impacted by tariffs on imported materials from China."
Trending styles in kitchens
Houzz reported the following trending kitchen styles, features and finishes. Customers are looking for a wow factor with tiled kitchen backsplashes that rise from countertops to ceilings. And though vinyl flooring is on the rise in kitchens, 23% of respondents said ceramic or porcelain tile is still their top choice for kitchen floors.
• Styles trend transitional: Among the 85% of renovating homeowners who change their kitchen style, transitional, contemporary and modern top the list (21, 16 and 15%, respectively). Farmhouse style appears to have peaked last year, with a surge in 2018 to 14%, then falling to 11% in 2019.
• Backsplash feature walls make a statement: One in ten homeowners upgrading a backsplash goes bold, installing it all the way to the ceiling (11%). Another 63% install tile from their counter to upper cabinets or range hood. When it comes to color, white is the most popular (35%), followed by multi-colored (20%) and gray (15%). Ceramic or porcelain tile continues to dominate in kitchen backsplashes (57%), followed by marble (10%).
• Vinyl flooring on the rise: Vinyl flooring, the third overall choice in renovated kitchens, continues a three-year climb from 10% in 2018 and 12% in 2019 to 14% in 2020. Leading flooring choices, among those upgrading their flooring, are stained or unstained hardwood (29%). Ceramic or porcelain tile holds the number two spot for floors thought it dropped 3% from 26% in 2019.
• White and shaker cabinets hold steady: White continues to be the most popular cabinet color (45%), followed at a distance by medium wood (11%) and gray (10%). Shaker cabinet door styles are by far the most popular among upgraded cabinetry (61%), followed at a distance by flat-panel and raised-panel (21 and 18%, respectively).
• Recessed lights reign: Recessed lights continue to be the most popular light fixture upgrades (69%), followed by under-cabinet and pendant lights (65 and 56%, respectively). Not surprisingly, 92% of homeowners upgrading their islands choose new lighting above the island, with pendants being the most common option (66%).
• High-tech growth slows: While high-tech features remain popular among those upgrading faucets and appliances, their growth has slowed slightly. Half of upgraded faucets are high tech (51% versus 57% in 2019), boasting water efficiency, no-fingerprint coating or touch-free activation. Similarly, a quarter of major appliances feature high-tech features (25% versus 30% in 2019), with wireless controls leading the pack. 
Hiring of professional help has remained steady over the past several years, with more than four in five homeowners hiring professional help for their kitchen renovations (85%). General contractors top the list (51%), followed by kitchen designers (22%), interior designers (13%), architects (11%) and kitchen remodelers (10%).
Download the full 2020 U.S. Houzz Kitchen Trends Study at http://bit.ly/houzzkitchenstudy.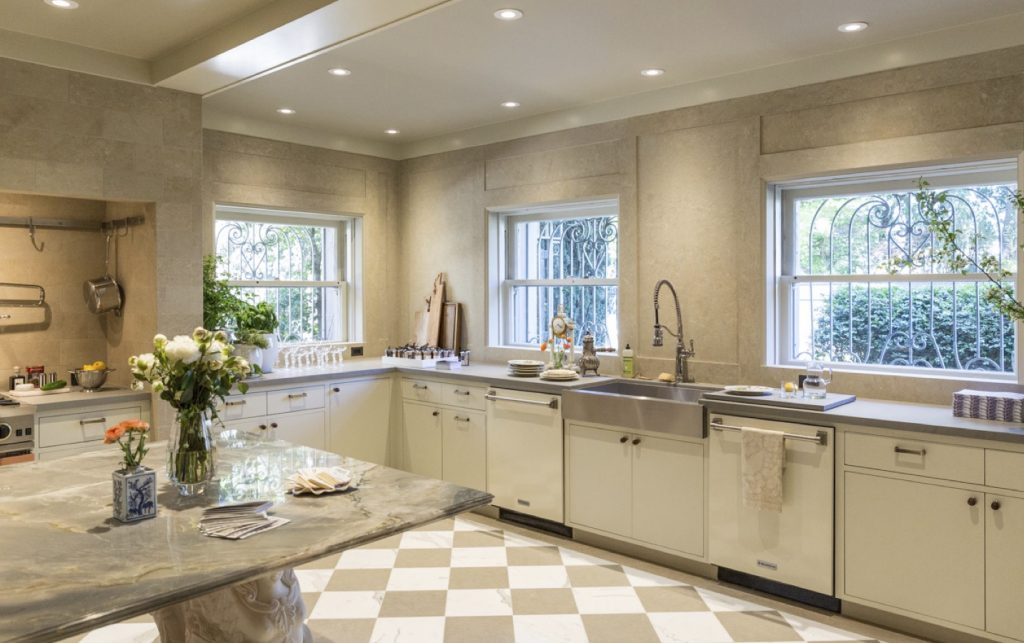 *The "U.S. Kitchen Trends Study" is an online survey that fielded 2,598 U.S. Houzz users between June and July 2019. .
**A major kitchen remodel refers to a remodel in which at least all the cabinets and appliances are replaced.
Houzz is the leading platform for home remodeling and design, providing people with everything they need to improve their homes from start to finish – online or from a mobile device. From decorating a small room to building a custom home and everything in between, Houzz connects millions of homeowners, home design enthusiasts and home improvement professionals across the country and around the world. With the largest residential design database in the world and a vibrant community empowered by technology, Houzz is the easiest way for people to find inspiration, get advice, buy products and hire the professionals they need to help turn their ideas into reality. For more information, visit houzz.com.