"The future will either be green or not at all." – Bob Brown
Home sweet home. How deeply we revere our space, our haven, our dwelling, our shelter and refuge. Oh, and we love our houses too, but I'm really referring to our planet, which supports our lives and our livelihoods.
Our August TileLetter is traditionally the "Green Issue" where we touch on how we can take good care of the earth as it takes good care of us. In our Technical story, CTEF's Scott Carothers takes a look at how tile contractors can clean up after themselves on the jobsite, leaving the space as visually and environmentally clean as possible.
In our cover feature, various UL GREENGUARD Gold certified LATICRETE setting materials were selected for low chemical emissions in an extensive restaurant project, with the boost of Microban antimicrobial protection in a consistently damp environment for a restaurant on the San Diego waterfront.
In our Business section, we look at an upcoming Schluter class – "Mind Your Business" – supported by Daltile, to be held in Dallas this fall. This inaugural launch is exclusive to new NTCA members – those who have joined in the last year – and is solely focused on the business aspect of a tile contracting business – covering a range of seven topics that includes designing a sustainable business for the owner, as well as promoting topics that include a different type of sustainability – creating a business that is sustainable for the owner.
We also have an A&D focus in our August issue, and this year, we look at that sector of the industry from a number of different angles. First, we have a reveal-in-print of the UNLV School of Architecture bench project that architecture students, NTCA, Coverings and a team of industry sponsors and supporters have been working on since the winter. See the finished benches that were unveiled at Coverings, and read what some of the students learned from the experience!
In our A&D Corner story, we learn about Florim USA's Designer Advisory Council initiative for MILE®stone tile that connects and collaborates with the A&D community to promote design excellence and curate ideas. We also learn about Florim's dedication to education, and its decision to bring in a panel of industry experts, NTCA staff, and Five-Star Contractors to dialogue with designers about their questions, technical issues and reveal the support qualified labor can provide to the A&D community – and Florim's goal to become an environmental leader in porcelain tile manufacturing.
We get to meet a few folks in this issue too – Matt Saltzman, CEO of Louisville Tile, who Bart Bettiga interviews in his One-to-One feature, and we learn about the expansive growth on the horizon for this tile distributor. Also meet Randall Johnson, owner of The Tile Geek in Meridian, Idaho, and learn about his relatively new path through the tile industry. Johnson established his business in 2019, after only 1.5 years in the industry. Discover what motivates and inspires him. In NTCA News, we have a short preview of our incoming NTCA President – Sam Bruce of Visalia Ceramic Tile – and some comments about Sam's journey in tile from NTCA Assistant Executive Director, Jim Olson.
We also send Howard Mees of Mees Distributors, Inc., on his way with good wishes in our In Memory section. Howard left us last month, but his influence at Mees Distributors and all who knew him continues on.
Enjoy our issue, and stay cool!
God bless,
Lesley
[email protected]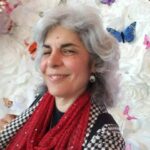 Editorial Director and Senior Writer for TileLetter and TileLetter ARTISAN
Lesley Goddin has been writing and journaling since her first diary at age 11. Her journey has taken her through a career in publishing and publicity, landing her the editor position of TileLetter and its special publications in 2006. Her goal is to educate, inspire, recognize and encourage those in the tile industry -- especially the tile and stone contractor. Other interests include the soft, purring marvels known as cats, labyrinth walking, drumming and percussion, and a range of spiritual, musical and artistic pursuits.