– sponsored content –
A growing number of commercial and large residential projects include Gauged Porcelain Tiles (GPT) / Gauged Porcelain Panels (GPP) installation. Tiles are gauged porcelain products below 1 meter by 1 meter, panels are larger than this. Collectively they're referred to as gauged porcelain tile panels/slabs (GPTP). Floors and walls with these panels appeal to designers, architects, and owners with their modern look.
These projects can be a great way to grow your business. But these jobs are entirely different when it comes to estimating, planning and installation. You may win a job with a low bid, but it could end up costing you if you haven't done your due diligence. Below are the top five things to know before you try to take on your first GPP bid.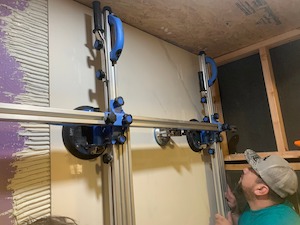 Gauged porcelain tiles/panels present big challenges
Don't underestimate the need for additional manpower when working with GPTPs. You'll need a minimum of three people for a GPTP project, but many contractors will schedule four or more. Teamwork is important on a GPTP project, even just to lift it off the ground. Panels that are considered GPTP are manufactured differently from most tile, and are of a gauged thickness between 3.5-6.5mm thick and can have dimensions up to 5'x10'.
Inspect your location
Given the size of a GPTP, you need to make sure the logistics are covered from the moment they arrive on site. Determine exactly where the panels will be delivered and safely stored, if they're not being installed the same day. Walk the exact route the panels will travel at the job site and be sure to remove any obstacles in the way. Going to a different floor can be a challenge. GPTPs can sometimes be too big to fit into elevators. If you need to take the stairs, make sure they are both tall and wide enough for the panel and watch out for any tight corners. You may only be able to get one panel at a time to your installation area.
Invest in the correct tools
Projects with these panels cannot be accomplished without specialized tools. If you don't have these tools, be sure to consider the expense when submitting your bid. Because the panels come in oversized crates, you'll need either 44" or 96" forks for unloading or you risk breaking the panels. Ensure you have suction-cupped frames and racks. These are made specifically for GPTPs. Lastly, make sure you have a heavy-duty table on site that can support the whole panel with clearance on all sides.
Learn the surface prep and substrate requirements
Before bidding on a GPTP project, be sure to review the strict set of requirements for substrates set by the IRC (residential) and IBC (commercial). ANSI has the complete requirements, but we'll provide some tips here. Substrates must be clean, dry, and bondable surfaces. GPPs can never be bonded to a wood frame surface. For floors, only bond to clean, stable concrete floors and cured bonded and unbonded mortar beds. If your floor has saw-cut joints, don't let them dictate your soft joints. Use HydraFlexTM waterproofing and crack isolation membrane, the only product approved to bridge those joints. As a bonus it requires half the application time compared to competitive products – helping you win your bid.
Troweling is different for GPTPs
The specialized techniques are best learned through practice, but here are a few keys to remember. For GPTPs, only use a slant notch or euro notch trowel. These types of trowels create ridges that are designed to collapse on their own, minimizing the chance for air pockets. Additionally, make sure you use a long open time, 'pseudoplastic' mortar that provides excellent coverage, is easier to trowel and has fast recovery time for no sag/no slump. TotalFlex® 150 is a new mortar from TEC and provides the characteristics you need for your GPP installation. In fact, it can be used on 99% of applications. It also has ultra-long open time, which can help with the time it takes to move a GPP panel into place.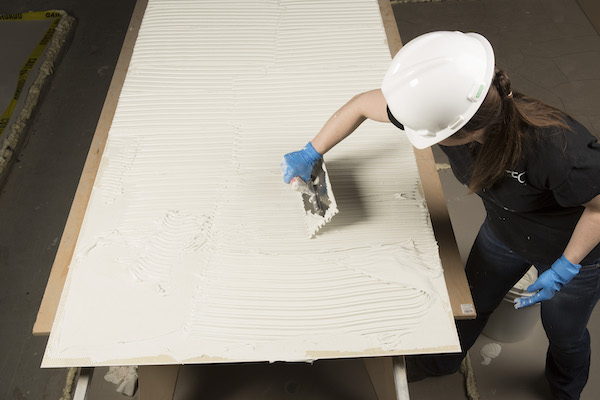 These tips should get you started on your first bid. Once you have that under your belt, you can tap into the high growth potential that GPTPs can bring to your business. For a detailed guide on how to install Gauged Porcelain Tiles (GPT) and Gauged Porcelain Panels (GPP), download the TEC Installation Guide.
Article written by Mike Del Vacchio